Indiana Region's Reflections on a Pilgrimage to San Luis Potosi, Mexico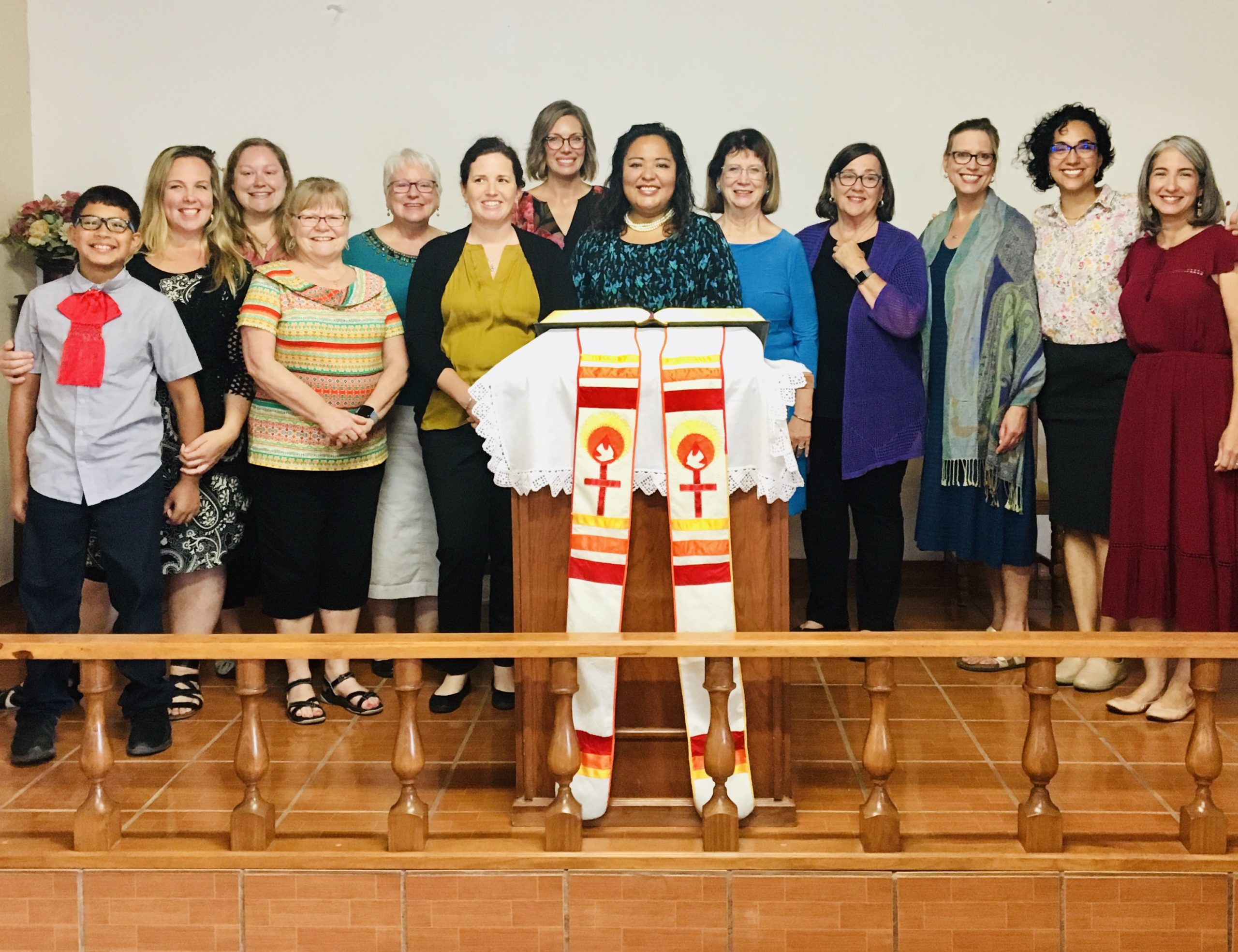 As part of their Mexico Initiative, the Christian Church (Disciples of Christ) in Indiana and Global Ministries partnered in a pilgrimage to San Luis Potosí, México, September 28 through October 5, 2019. The participants  immersed themselves in the culture of the area and learned about the work of the Mesa Conjunta (Round Table for Mission Development in Mexico), a space of dialogue and mission from various expressions of Disciples of Christ and United Church of Christ congregations in Mexico. These are their daily reflections. 
Family
Saturday, September 28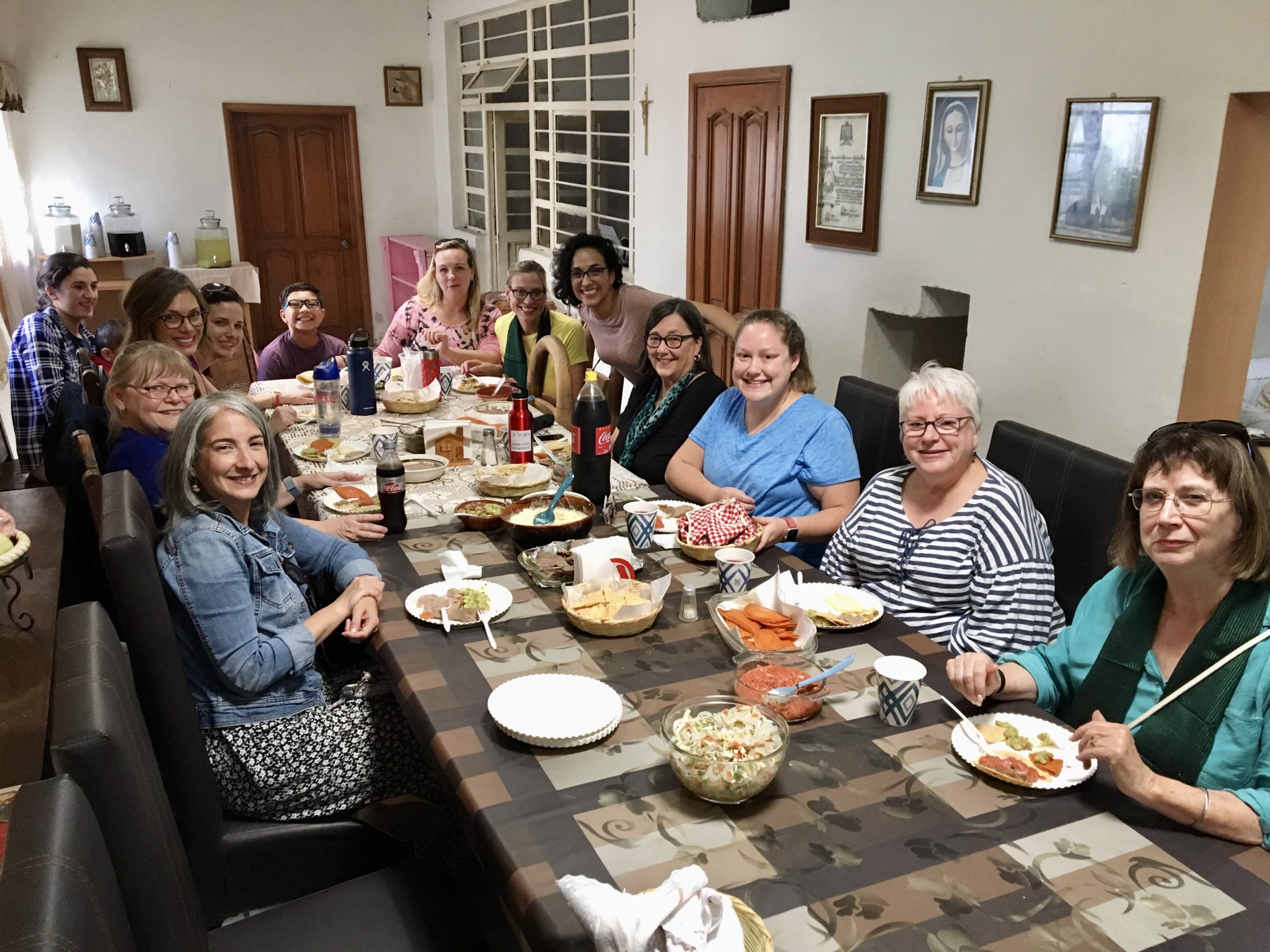 After an early start for our journey to San Luis Potosí, Mexico, we were grateful to meet fellow travelers and group leaders. When we arrived to our destination, we were greeted at the ariport with smiles and hugs from our hosts, and a beautiful scarf! This was one of the many ways we were made to feel welcomed.
From the airport, we had a short drive to the place that would become "home" during our time in Mexico. It was walled, gated area with a main structure for meetings, rooms for lodging, a kitchen, office, and two separate apartment buildings. I am told that our rooms could be compared to being at church camp. Lunch was served in the gathering area where we had meetings, devotions, reflections, meals, and had the best WiFi connection. It could be said it was our family room.
Our dinner experience was unforgettable, much more than I could have ever imagined. We traveled to the home of Pastor Bere's grandmother in the center of San Luis Potosí. Bere's family and friends were there to lovingly welcome us to a delicious meal and a great fiesta. They quickly became our family in Mexico. Love in any language is spoken with hospitality, food, hugs, and a mariachi band!
Rana Russell
Worship, Joy, and Hospitality
Sunday, September 29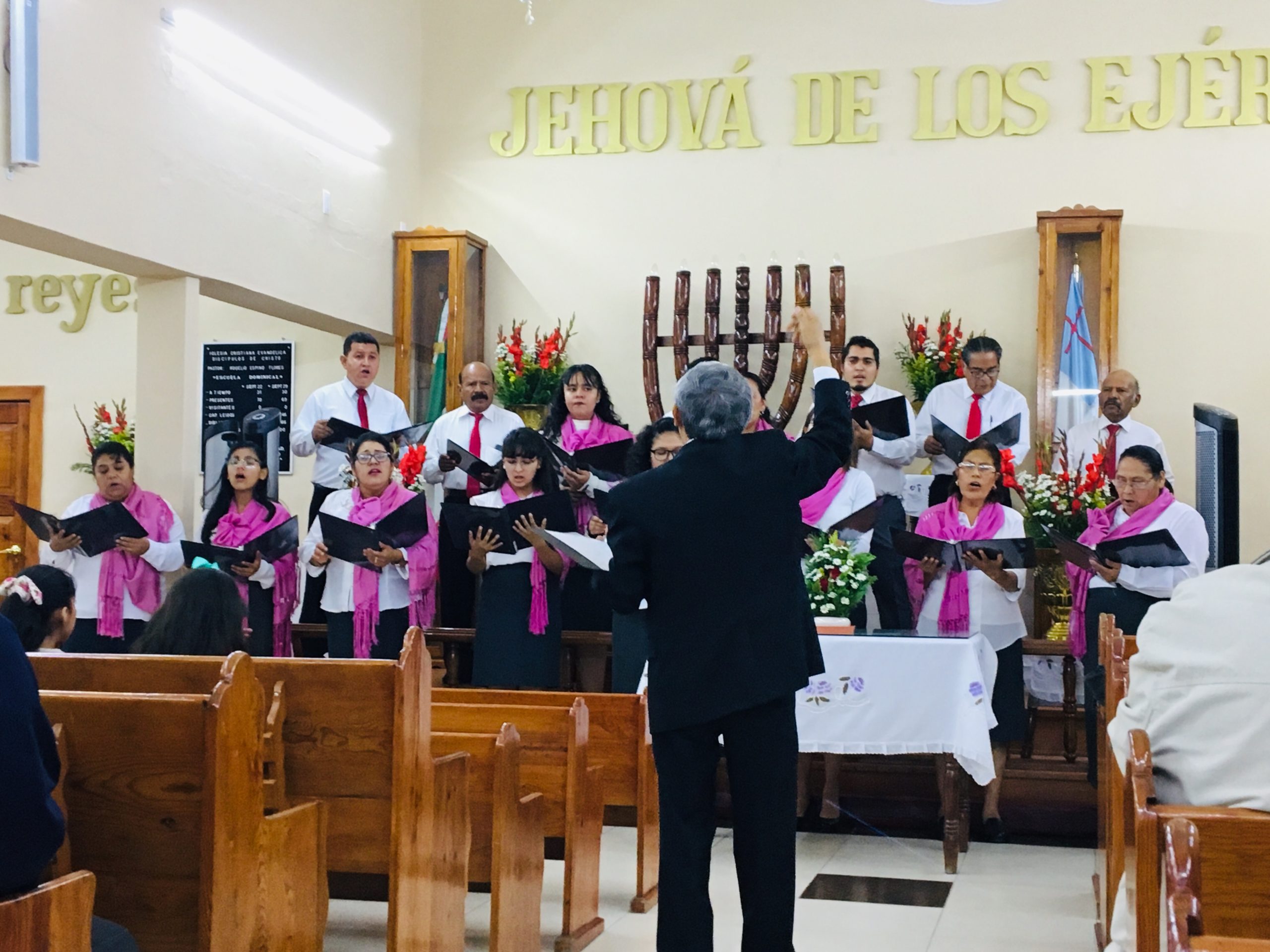 This was our first full day in San Luis Potosí, Mexico. We woke up to a wonderful breakfast prepared for us at CET, where we were staying.  We enjoyed our first traditional Mexican breakfast.  Then we had our official introductions as we learned about our hosts for the week and introduced ourselves. 
Then we set off to our first worship service of the day.  We worshipped with Iglesia de Porvenir and their pastor, Lisania Martínez.  There we found a tremendous welcome and enjoyed the music and worship experience.  Pastor Lisania invited one of us, Anita, to come forward and bless the children as they went to their class and Anita's son also joined the class.  Later when asked how Sunday School was, he said, "I didn't know what they were talking about but we just smiled at each other a lot."  Our group decided that this was a beautiful sentiment that is rooted in the gospel.
Pastor Lisania impressed each of us with her thoughtful and powerful sermon.  She preached in both Spanish and English which was not only impressive but also a tremendous act of hospitality.  She preached on how time in the desert forms us.  How we leave behind the things we do not need.  She talked about how the desert can be difficult but it teaches us things we need to learn.  Our group agreed that it was a powerful message that we would be thinking about and unpacking for a long time to come. After worship, the church hosted a lunch for us including some really delicious food.  We had Nopal (cactus) for the first time.  We enjoyed getting to know the congregation and having fellowship with them. 
When we left Porvenir, we had some time to rest and touch base as a group before heading out to exchange money and to worship with Iglesia Col. Juliá Carrillo.  We were welcomed warmly by the congregation which is the home congregation of our fellow pilgrim, Bere Gil-Soto.  We enjoyed beautiful music from their choir as well as a passionate sermon given by their pastor.  After a moving worship service, we were invited upstairs for a delicious dinner.  Over dinner we visited with members of the host congregation.  Not only was the dinner delicious but we had so much fun, there was so much laughter as we enjoyed each other's company. Our first full day in San Luis Potosí was punctuated by worship, joy and hospitality.  What a wonderful introduction to this incredible place!
Cheryl Russell
Holy Ground
Monday, September 30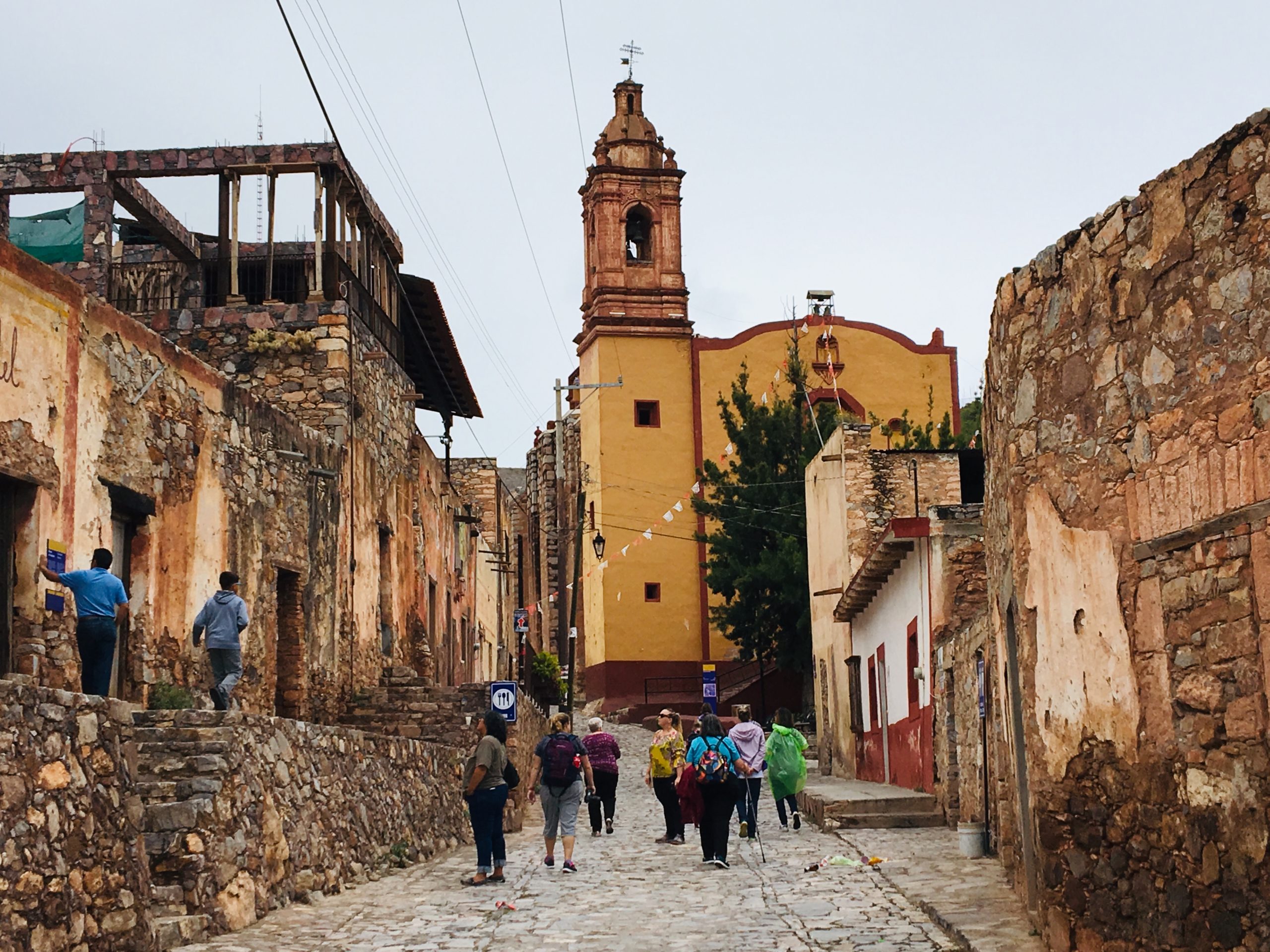 On our way out of San Luis Potosí, we rode past soccer fields, vegetable fields, properties walled off by cement and brick, cattle, horses and dogs. Somewhere along the way, fields gave way to mountains and the paved roads turned to stone.   As we bumped along the mountain road, we came upon a town that looked medieval in my mind.  And thus began our tour of Cerro de San Pedro.  This is an ancient civilization of the Huachichil (pronounced whah-chee-chee-less) that archaeologists have dated as far back as 10,000 B.C.E.   To think of the footprints that walked these mountains throughout the ages! 
There are many minerals in these mountains and thus mining was an important industry for the Huachichil for thousands of years. Before WWII, the USA owned the mine and not surprisingly made a lot of money. And also not surprising is that big business abused the laborers and treated them unfairly.  Among other abuses, they paid the workers very poorly and so, in the 40's, the workers went on strike.  The US-owned company went bankrupt because of the strike and so they burned it down! In other words, we can't take our toys home, so we will make it so no one can use them. So there everything sat – burned out and unused – until the 90's when a Canadian company, New Gold, bought the mine and mining once again resumed in this ancient town. 
It is important to note that this Canadian company does not pay taxes.  Workers are paid approximately $6 a day (for 12 hours of work).  The town, while beautiful, has little by way of resources (like access to water).  There is little happening for the sustainability of the town or the people working the mine.  There is much propaganda (at the company museum) wrapping the whole experience in "pretty paper" but not far below, it is obvious that companies have abused the riches of the hills for hundreds of years.  So many (whites) make so much money off the backs of the Mexicans.  It reminds me a lot of coal towns in Appalachia (except even in Appalachia they get paid more than $6 a day).  A very small group of people making A LOT of money on the backs of other human beings without regard for safety, health and well-being.   I heard the word "brutiful" and that is the lens through which I saw this place.  The town, the topography, the history are all beautiful and rich.  And yet, not far below the scenery, the beautiful people (who take great pride in their work) are not treated with the basic humanity every human deserves.   The land is being destroyed so that we can wear pretty jewelry (among other things).   The issues are complex and interconnected, but ultimately, the people and the land are treated brutally.  
After we left Cerro de San Pedro (and a little bit of our hearts too), we head back to S.L.P. for lunch and then off to the Migrant House (which is in S.L.P.).   On the way there, I knew this would be a powerful experience, but little could prepare me for what I actually experienced.   Quite honestly, I feel there is no adequate way for me to explain our time there.   There is so much to process I feel I can only do a little at a time.  Upon entering Migrant House I couldn't help but feel that I was entering onto holy ground.  It's a modest building, but the stories those walls could tell!   The hope despite the despair and struggle.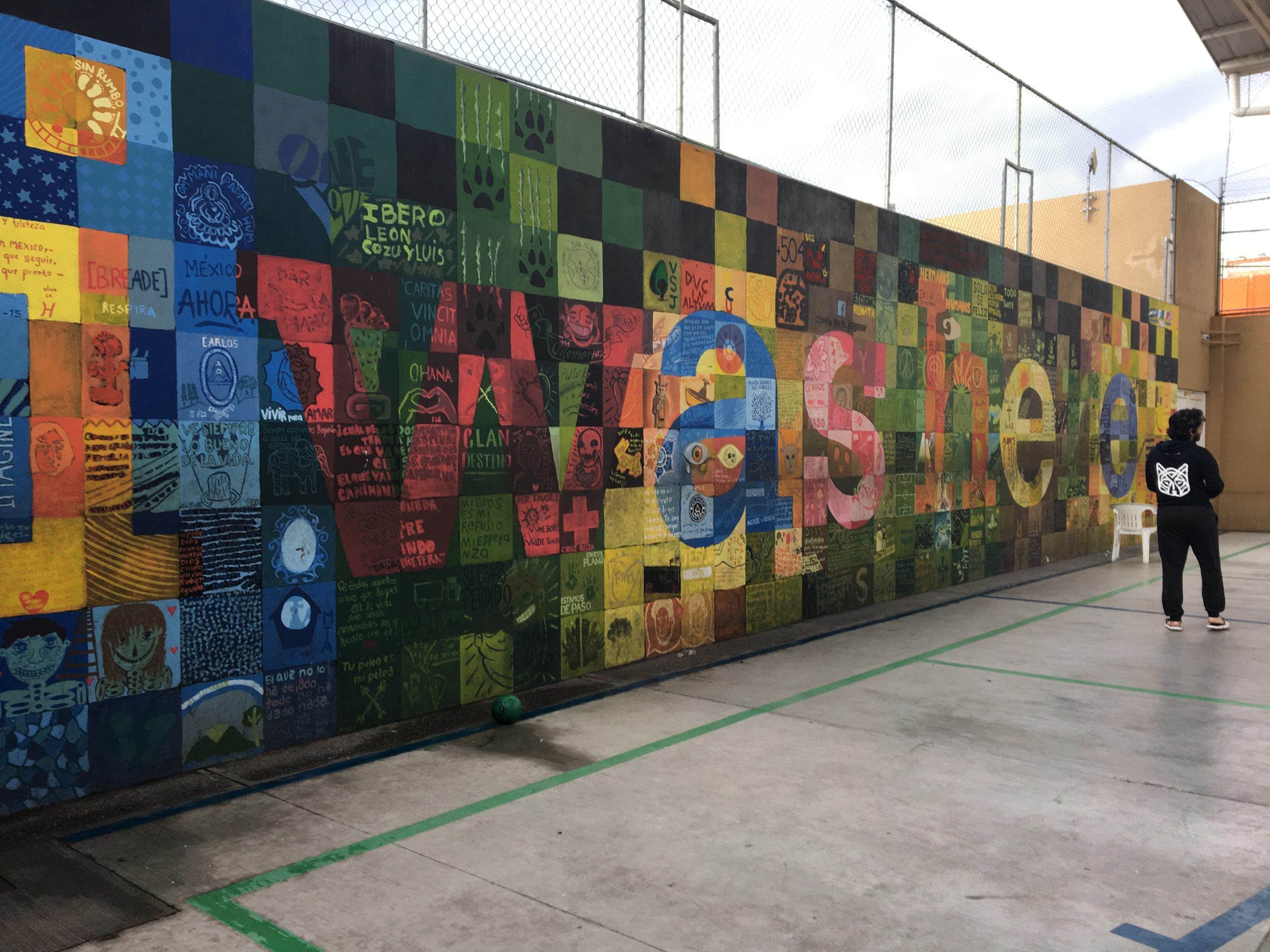 We enter into Migrant House and settled into a conference/meeting room.   Geraldine gave us a lot of information.  I took over 5 pages of notes!   M.H. is a full service resource that provides more than food and housing.   It provides health care, employment connections – you name it, they will help you with it.  A migrant has 3 days (typically) to process through.   They are open 365 – 24/7.  One cannot be intoxicated or have weapons of any kind to stay at M.H.  240 people are housed at a time though they have housed up to 1000 in crisis situations.   The train that most people are traveling on (its important to note that they travel on the train and not in it) is called "The Beast" and has a stop right outside M.H.   The little "peephole" door (just off the train tracks) that workers open up to talk to people wanting to stay will forever be an image burned in my memory.  It's a doorway of impossibility yet one of infinite hope.    Hope for a better life.  
We learned about the people who migrate and the reasons why they choose to do so.   Our media layers these decisions with their own presupposed guilt or greed in choosing to do so.  And yet, I think about all the times I have chosen to move and they were seemingly for logical reasons.    New job.  Better location.  Good schools.   The list goes on for the decisions my husband and I make for our life together with our children.   Why are these people met with suspicion and assumed guilt?   Why are they not met with the same innocence as I am with the choices I a make?     My experience at the Migrant House was full of so many emotions as we toured the facility and talked with staff and travelers.  I felt sadness and shame.  I felt hope and joy.   It will take me some time to process all of this.   One thing of many things that will stick with me forever was the time we spent in the women and children's room.   As we prepared to leave, a teenager asked us if we wanted some merengues they had.  We turned them down at first because they have so little.   And when she insisted, we relented and enjoyed the sweet treat.   For me, I viewed this moment as holy communion.  We were invited around a sacred "invisible" table that welcomed a place for all.  Out of so little, this teen gave to us – out of hospitality, out of grace, out of our common humanity.  As a pastor, I hope that is what I share every time I invite someone to the Table of Grace.   The time at Migrant House changed me forever.
Rebecca Sundquist
Abundant Welcome and Hospitality
Tuesday, October 1st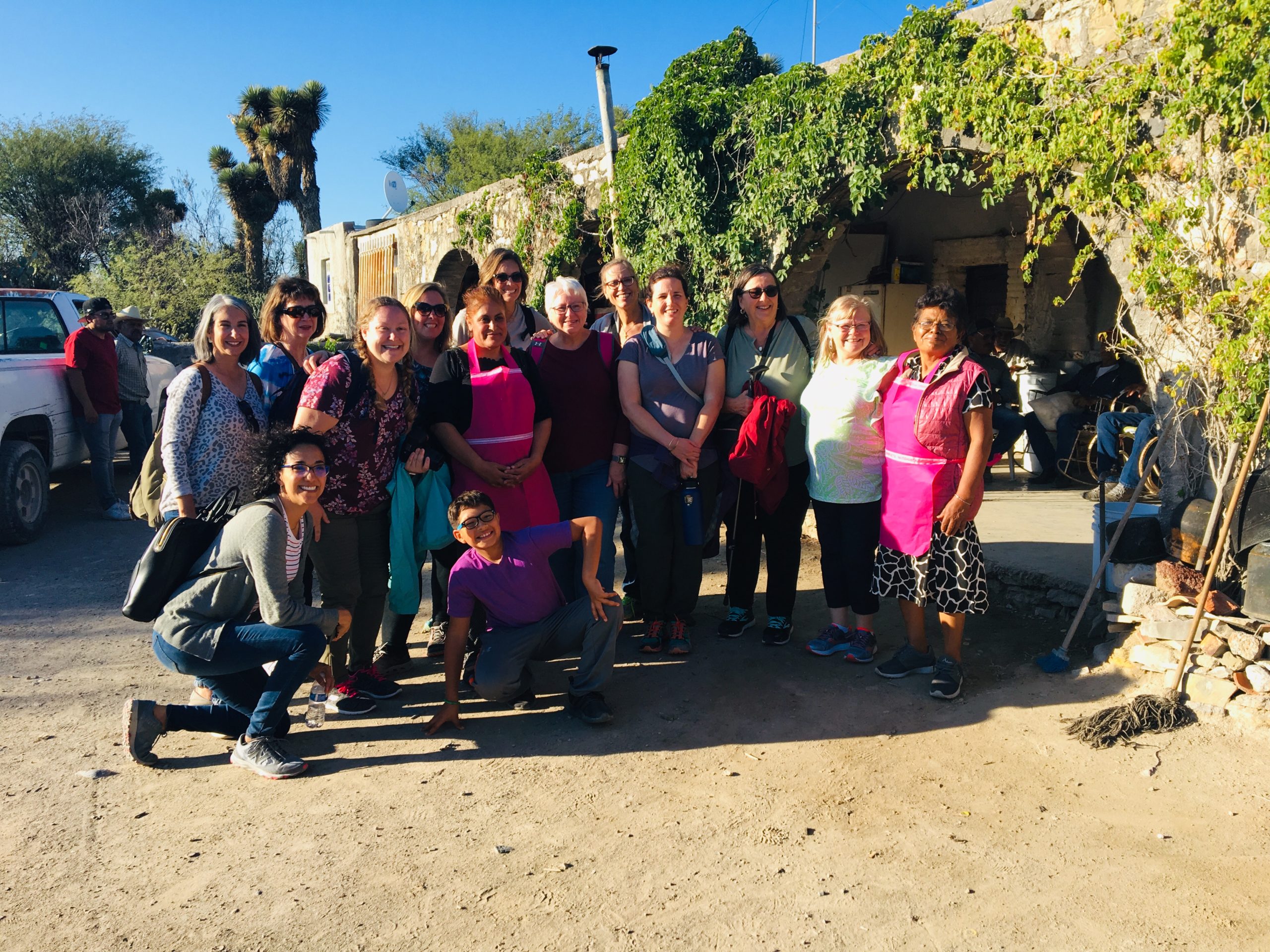 We woke up and had a delicious breakfast before heading out for our four hour car ride to the rural home of the Martinez family, where we saw an area which is mostly deserted now after waves of migration to the city. 
Pastor and Global Ministries' Board Member, Lisania Martinez, has an aunt and uncle still living in the region, and upon arriving, we began our visit in the beautiful church which has been there for years and is still a gathering place. I was deeply inspired by Pastor Lisania Martinez, who is the product of her grandparent's tremendous legacy of service and love. We had the opportunity to learn more about the deep roots of her family in San Luis Potosí, which included her grandfather who is considered "the grandfather" of the Disciples movement in this region of Mexico.  Her 90 year old grandmother (Valentina) was with us throughout the day and shared the depth of her history with the church, which is intertwined with medical clinics and schools started by the family to help empower the people. Ms. Valentina had nine children and many of them have served the church. Their family legacy reminds me that we are called to plant the seeds and trust God for them to grow and multiply. 
I was in awe of the abundant welcome we received from this family, who extended tremendous hospitality to our group. Our hearts were full from our history lessons and empowering fellowship, and our stomachs were full from the delicious goat they served us which was cooked in a hole in the ground for a day before we came. We even got to witness how cheese was made from scratch, and tasted a tremendous rice pudding dessert we all loved. We stayed until almost the sun was setting over the rural area and the family thanked us extensively for coming to see them and learn about their history. We loaded up in the back of a pick up truck just in time for the picturesque site of the sun setting over the valley.  On our long car ride home, we talked extensively together about our experience and explored what it means to truly love our neighbor.  
Anita Adams
Transformation
Wednesday, October 2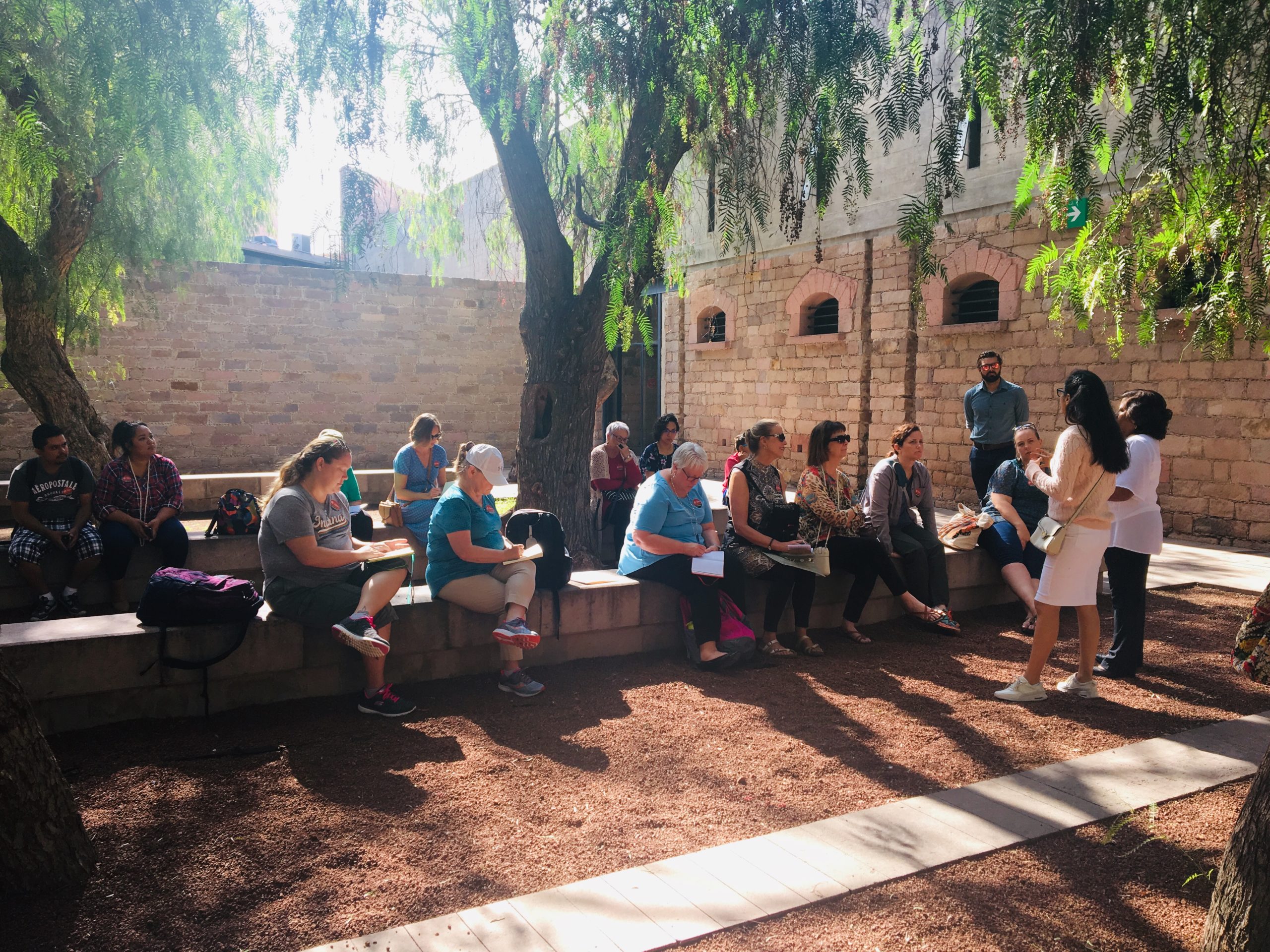 Wednesday dawned as another beautiful morning, and three of us began our day exercising with the poised, energetic, and graceful Juanita, the grounds keeper.  Following a hearty breakfast of savory and sweet crepes, the group headed into the heart of San Luis Potosí and the Centro de las Artes. The transformation from an overcrowded early 19th century prison to a gorgeous inspiring 21st century art museum and premier school of the arts was remarkable.  Although we did not learn the entire process involved in making this facility occur, one can imagine it involved countless hours of meetings, fighting for funds, physical work, and obtaining civic and government support.
Unfortunately we did not tour the schools, but the exteriors appeared lovely, and we learned it is  now the destination school of the arts in Mexico. The grounds and location are conducive to creativity, relaxation, and community. In addition to the schools, visiting the museum and seeing the work of Alejandra Lopez Yasky and Leonara Carrington displayed stunningly was quite stirring in juxtaposition to the photos of the original cells, that sometimes housed 10 prisoners per room!
After our departure from the Centro de las Artes, we were able to roam the beautiful Guadalupe Road,  view the Water Reservoir (La Conservera), and experience Tangamanga Market where we enjoyed ice cream and sorbet, a gift from our host Daniel. Back to the Seminary for lunch and rest before our education into the Protestant missionary strategies of the 19th and 20th centuries, and the division that occurs within the Christian kindom (sic) over land, people, and personalities. This lecture was an essential foundation to prepare us for comprehending the conversations and events on Thursday and Friday.
By evening, at the time of our daily reflection, one in our group reminded us that although the prison had been transformed to a place of growth and beauty, we do not know that the lives of the prisoners, transferred to new facilities, were given the same opportunity.   Likewise, the brokenness within the Christian expressions reveals that transformation to wholeness and unity takes effort, resources, time, and desire. There is much to ponder from today for months ahead.
Kay Nannet
New Beginnings
Wednesday, October 2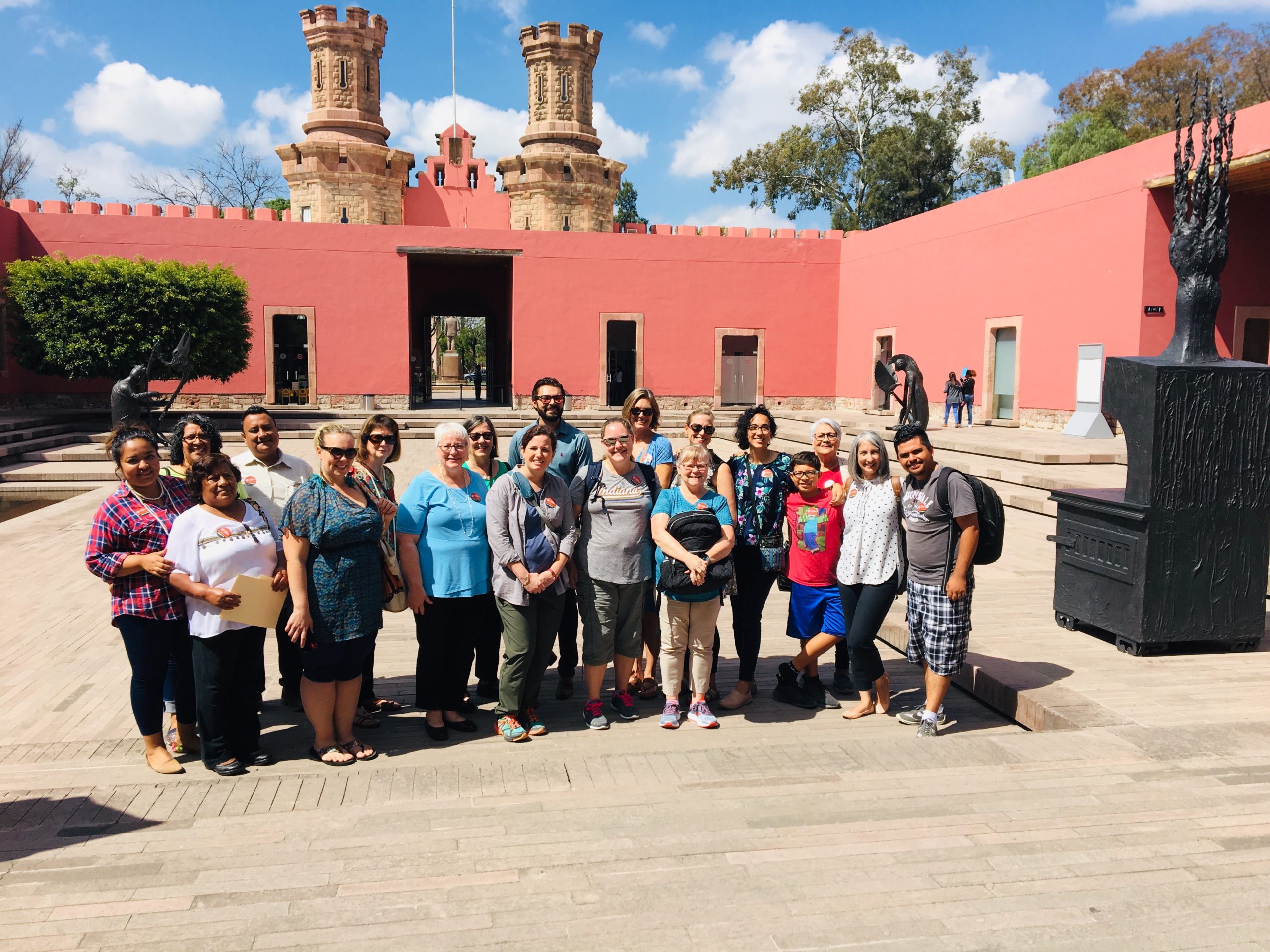 We started the day with a visit to a prison-turned-art-center, Centro de las Artes.  The complex is large.  We walked through a patio area, then between two buildings and one courtyard before stopping in a second courtyard.  Sitting under shade trees with the sun bearing down on us in perfect sweater weather, we listened to the history of the buildings and the very courtyard where were.  The large tree to our right was one of the hanging trees and a second one was slightly in front to the left.  Bodies were left hanging for several days as reminders to other inmates of what their fate could be.  Construction started in 1824 and at completion had a capacity of 700 prisoners.  However, when it was decommissioned in 1999, more than 1,900 prisoners were transferred to other facilities. 
Restored, remodeled, and repurposed, the facility now houses one of the finest art schools and museums in all of Mexico.  Each wing is used for different performing, visual, or technical arts.  The former cell blocks are now beautifully restored galleries showcasing paintings, drawings, and sculptures.  Toward the front of the complex is the Lenora Carrington museum, a new-to-me artist.  Lenora was a British-born Mexican artist and sculptor who lived in Mexico City most of her adult life.  She was part of the Surrealist movement of the 1930's and a founding member of the Women's Liberation Movement in Mexico in the 1970's.
After exiting Centro de las Artes, we walked for 30-40 minutes down a tree-lined promenade in the middle of a busy city street, a perfect opportunity to reflect both silently and with each other.  Prisons are not happy spaces and their walls hold stories of isolation, sadness, and death.  But today, those same walls show beauty and celebrate the creative human spirt. 
Later in the afternoon, we gathered to learn of another contrast – this time in the church.  Jesus Luna, lay leader and president of the Fellowship of Disciples Churches, recounted the history of the Disciples in Mexico, dating back to 1885 when Disciples first entered the country.  Until the 1960's, there was significant involvement of missionaries from the U.S. In 1963, Mexican Disciples organized themselves into the Association of Evangelical Christian Churches and held its first assembly (like the General Assembly in the US and Canada). 
Then the law in Mexico changed in 1993.  Until that time, churches were not allowed to own property.  The registration process to establish property and legal rights, resulted in separate Disciples organizations being formed in different parts of the country.  Mexican Disciples refer to these groups as different "expressions" of the church.  We listened to stories of division and disappointment before learning of the "Joint Table," organized in 2005.  Three of the disparate groups came together in a coordinated relationship with Global Ministries, acknowledging their common history and supporting their different ministries. Through the Joint Table, they covenant together in support of Women to Women projects, youth, and other ministries.
After learning the complex history of Disciples, we ended the day feeling hopeful.  The talented committed pastors and lay leaders, who were now our friends, have a shared commitment to strengthen each other and continue the conversation.
This was a day of contrasts…. shackles and division; new life and new beginnings.  Sometimes it's about a building…sometimes it's about complex human relationships. Always there is hope and promise. God is good.
Ellen Annala
Women Leading the Way
Thursday, October 3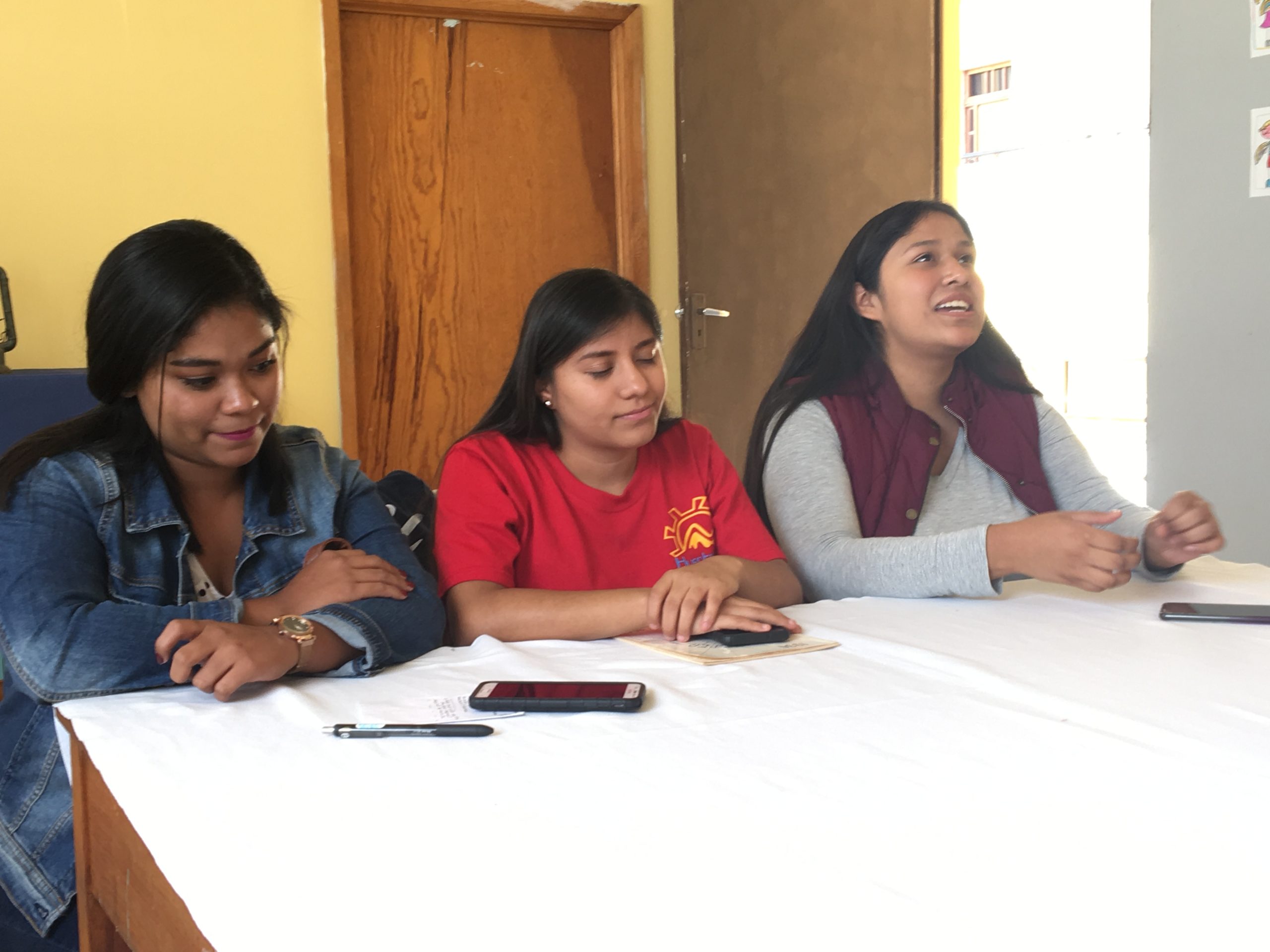 Our group traveled to Central Christian Church on Thursday morning. We met with three youth female leaders, each representing one of the "expressions" of the Joint Table. Nes represented the Congregationalist, Suhey, represented CICE, and Keyla from the ICDC for Mexico and All the Nations.
Each of the youth told us a little about themselves and some of the work in which they were involved with youth in their churches. They are committed to strengthening the ties between them and deepening relationships among the three expressions of the church. They have spent time in listening to the youth in their congregations to gauge their needs, hopes, dreams and the issues concerning them. Many youth do not feel understood or heard by their church and even, for some, by their families.
As I reflected on this open-hearted, honest conversation with these three young women, I was impressed with the depth of their faith and their commitment to the ministry they shared. They face some similar issues that congregations in the U.S. face—namely how to create a space in our church where youth and young adults are valued, accepted, appreciated and give a place to lead. The youth in Mexico also face issues of employment, financial resources, suicide, emotional/mental health challenges, organized crime, drug addiction, etc. Migration (internal and external) also is an issue as it is caused by youth moving from rural areas to cities to find work, continue education, etc. Many don't return to the rural area of their birth.
These three know that they are leading the whole ministry of the Disciples in Mexico into a future that, they hope, is more united and more committed to hearing and responding to the needs of young people. This work will be challenging given the history between the three expressions represented on the Joint Table. They pray that the youth will not get lost in the world and the church will provide a climate where young people can serve and feel loved.
These young leaders will persevere in the work they have been called to do. They are imaginative, hopeful, resourceful, gifted and energized. They are leading now, and they will continue to do so in the years ahead. This brought our group much hope to hear their stories.
Following our time with the youth leaders, we heard from some of the leaders of the Women-to-Women Mexico projects. The Woman-to-Woman began in 2013 under the leadership of the Joint Table but is an independent group from the Table. It was born out of visit with women from the U.S. and Rev. Felix Ortiz. Instead of attempting to do one project with each expression being a part of it, it became evident that each expression would submit its own project. There was an initial injection of funds ($21,000) from Global Ministries that was divided between the three projects. One woman (Ana Yolanda) was designated the point person to send reports back to Global Ministries about the projects.
Much learning came out of the first phase of projects. The first phase also generated new relationships. During the three years of the first phase, all three projects worked well. However, only one of the projects continued beyond the initial phase. The women have learned a great deal. They are now in phase three of the process, and looking forward to providing more women an opportunity to generate income that would impact their households and their communities. 
Carolyn Reed
A Pilgrimage Poem
Friday, October 4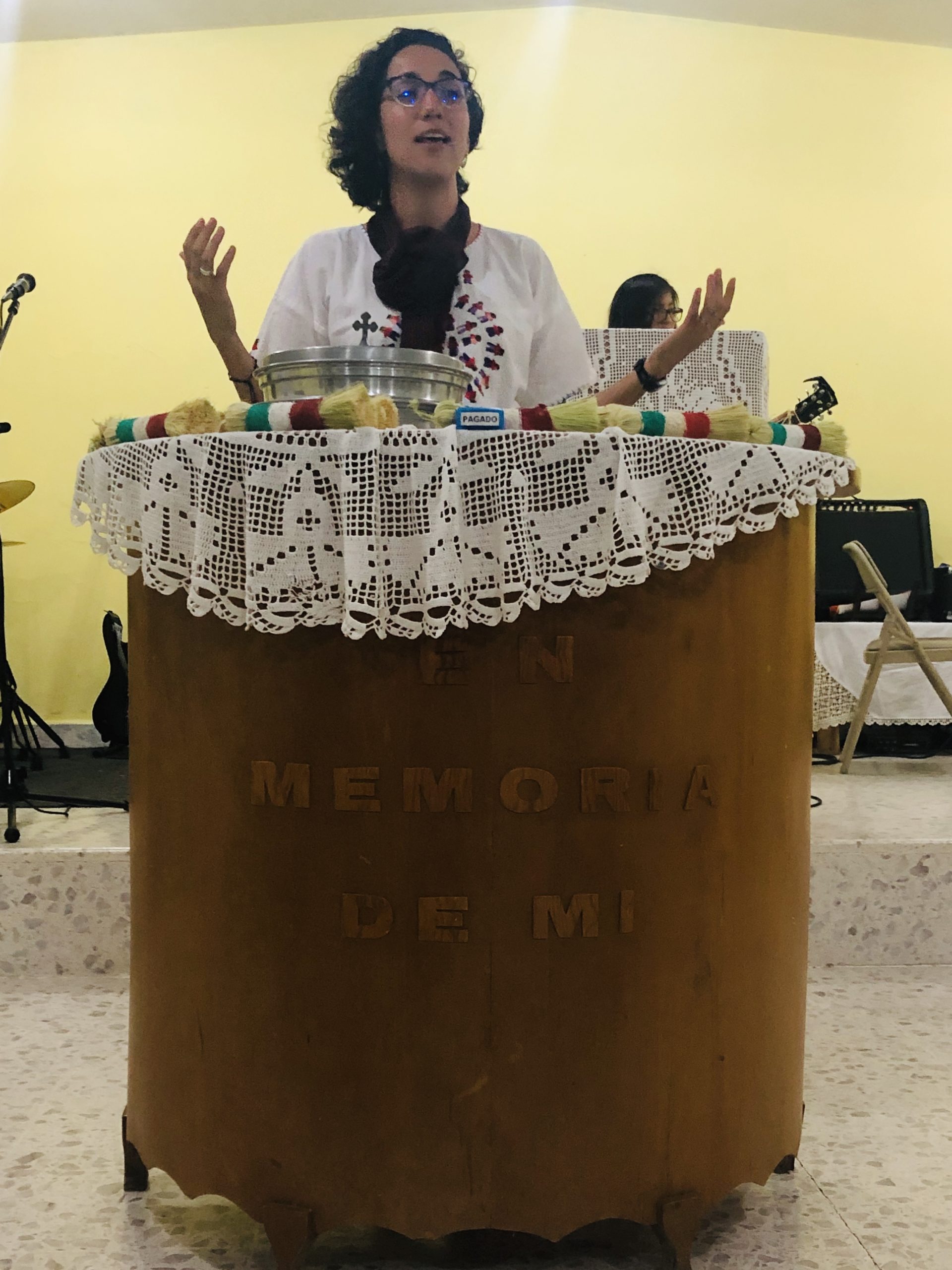 At the end of the week, I reflected on all our experiences, emotions, and impassioned pleas to share the story. We did and learned so much that I am still processing, but for now:
From…
Indiana to Mexico
Mariachi to mines
The desert to discernment
Pastora to preaching
Language barriers to walls broken down 
Burdens to blessings
Passive to participation
Sermons to stories
Child's play to serious issues
Brokenness to beauty
Deported to determined
The Beast to deep breaths
Mission to merengue
Heartbreak to hope
Repentance to forgiveness
Death to dignity
Questions to answers
Answers to questions
External to internal
Indigenous to international
Anger to abrazos
Eyes open to stereotypes shut down
Prison to performance
Surrealism to reality
Tears to laughter
Education to experience
Youth leaders to saints of the Church
Three expressions to one Joint Table
The table to the Table
Sheep to sacrificial lamb
Filled to full
Hosts to hospitality
Women to women
Worldly pain to women's projects
Big ideas to making do
Nothing to everything
Migrant House to greenhouse
El campo to celebration
Farm to faith
Feet of Christ to handmade cheese
Prayer to praise
Courage to compassion
Unknowing to some understanding
Wander to wonder
Guides to God
Twelve Disciples to united pilgrims
Friends to familia
People to People
Mexico to Indiana
Grateful for the journey from here to there and back.
Sarah Renfro
This Was Mexico
Saturday, October 5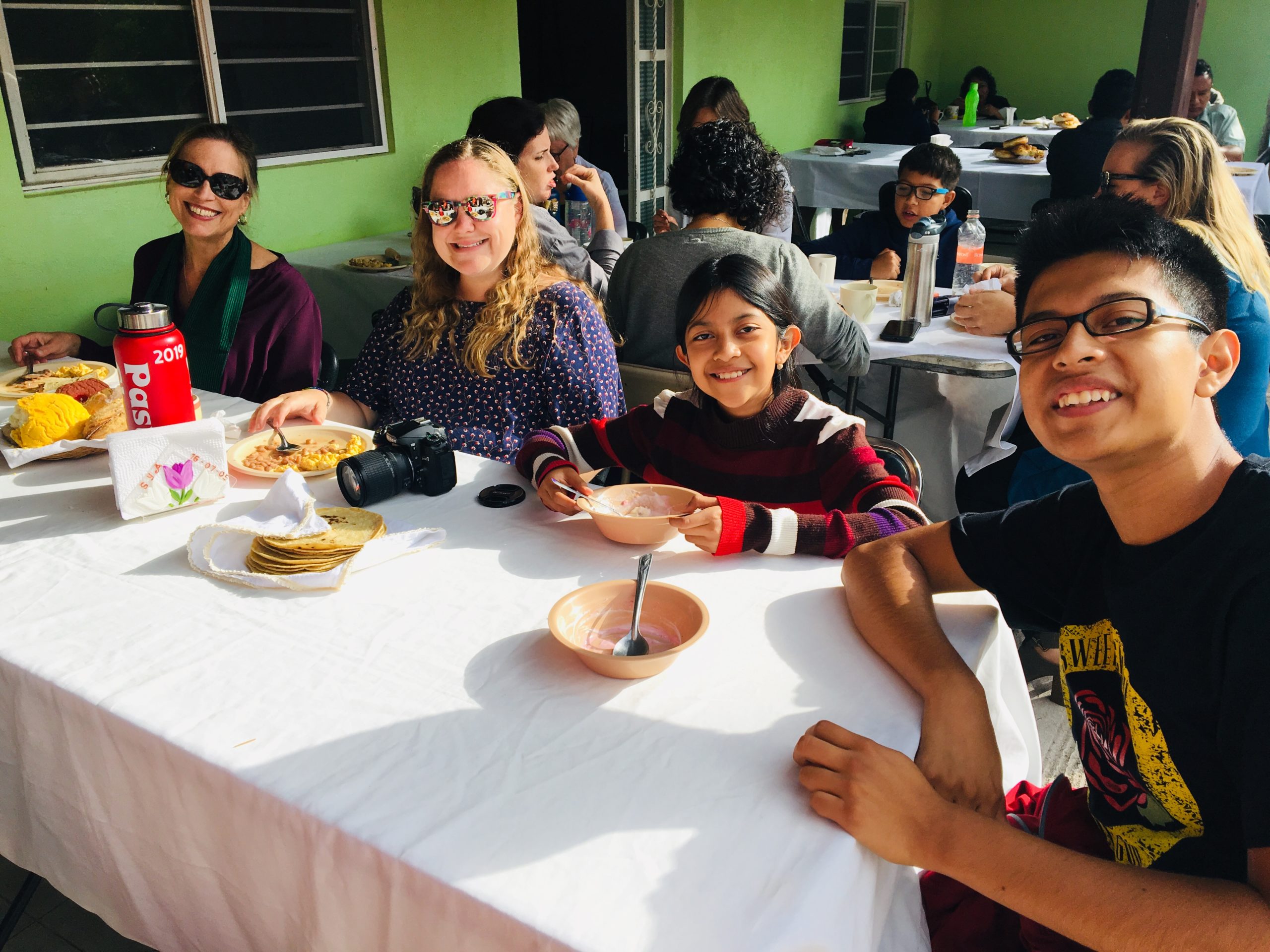 Day 1
Part 1
Early morning and two flights
Warm greetings with gifts of welcome…
This was Mexico.
Part 2
Mariachi dancing
And a blessing from Granny…
This was Mexico.
Day 2
Sweet, brown-eyed children
Unpacking in the desert…
This was Mexico.
Day 3
Migrants boarding trains
Murals filled with faith, hope, love…
This was Mexico.
Day 4
Shells in the desert
And towns refusing to die…
This was Mexico.
Day 5
Part 1
Dancing tour guide
Stories of prison and art…
This was Mexico.
Part 2
The church in three groups
Meeting at the Joint Table…
This was Mexico.
Day 6
Part 1
Youth and women
Speaking of their future dreams…
This was Mexico.
Part 2
Afternoon shopping
At indigenous markets…
This was Mexico.
Day 7
Mujer a Mujer (Woman to Woman)
We celebrate successes…
This was Mexico.
Day 8
More than just a week
Lives transformed forever…
We Thank God for Mexico!!
And for every day
Cactus and goat meat
Eating is an adventure…
This was Mexico!
One final impression
Friends who stayed with us
To the last airport check point…
This was Mexico.
Maribeth Westerfield