International Day of Peace with the United South Sudanese Urban Refugees Community (USSURC) in Uganda
The United South Sudanese Urban refugees Community (USSURC) in Uganda, with sponsorship from AACC Ecumenical Accompanier for South Sudan office based in Uganda, organised the celebration of international peace day in their centre in Kampala Uganda. Each year the International Day of Peace known as peace day is observed around the world on 21 September. The peace day was established in 1981 by utmost UN resolution with the goal of providing a globally shared date of humanity to committed peace above all differences and contribute building culture of peace. The UN General Assembly declared this as a day devoted to strengthening the ideals of peace, through observing 24 hours of non-violence and cease-fire.
A very impressive and significant scientific crowd of more than 40 South Sudanese refugees, their host communities around Kampala, the South Sudanese ambassador to Uganda, religious leaders, human rights activists amongst, promoters on interfaith harmony headed by Bishop Mula Finish, elders as well as youth and women from different walks of life, participated in this grand event. All came together under one roof to express their utmost wish to promote peace in Uganda, prayers for total return of peace to South Sudan as well peace around the globe.
The celebration was under the announced by the UN, the 2020 theme for the International Day of Peace "Shaping Peace Together" to celebrates the day by spreading compassion, kindness and hopes in the face of the COVID -19 pandemic.
Activities of day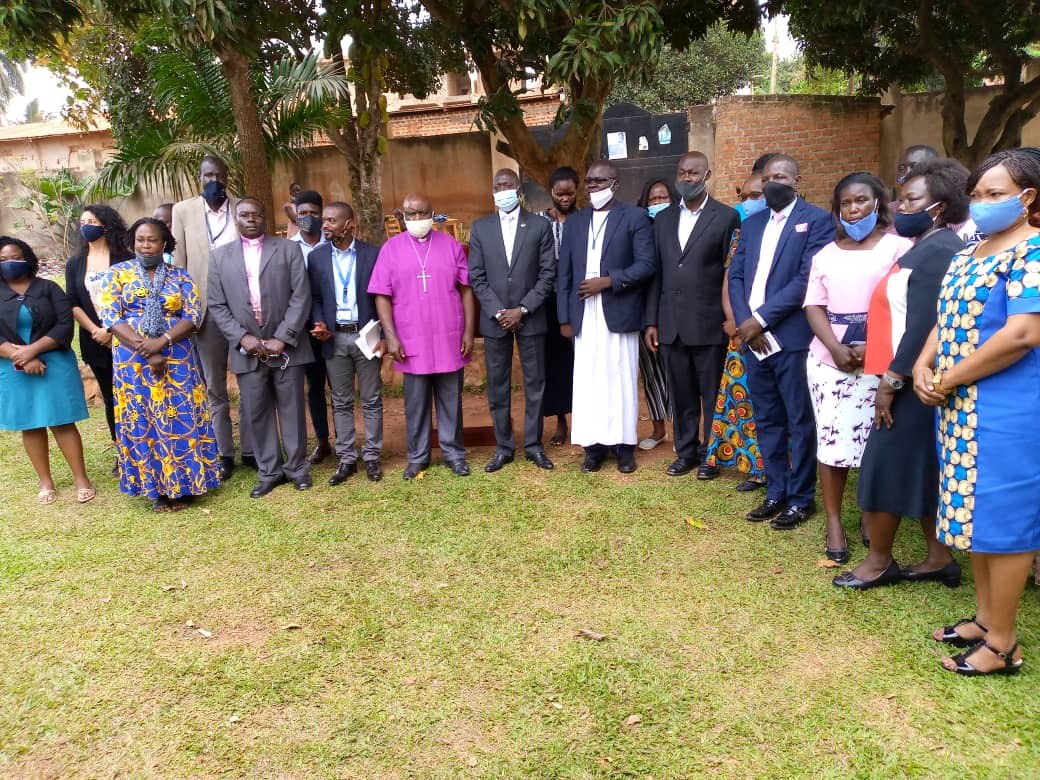 The program started with prayers offered by Bishop Mula Finish. He referred everyone to the words of Jesus Christ in the gospel according to Saint John 14:27; "peace I leave with you, my peace I give you". Mula emphases the love of GOD and peace as the most needed thing amongst us
The local council chairperson (LC) Mr. Mawejje Tom who is the government representative offered welcoming remarks to the gathering; he appreciated the United South Sudanese Urban refugees (USSURC) for organizing this AACC sponsored international day for peace in his area. He assured every one of total peace and security while celebrating the day in his area. He was also grateful seeing the COVID-19 guidelines were followed in this scientific gathering. He further appreciated AACC support to the people of South Sudan through Ecumenical Accompanier for South Sudan office based in Uganda.
The youth representative Mr. Franco Simon speaking on behalf of youth, appreciated the guest of honour H.E. Simon Duku Michael for sparing his time to come and attend the occasion noting that this signifies real love to his people. He further appreciated everyone's attendance and registered a vote of thanks to Bishop Emeritus Yona M Katoneene for standing with us in this difficult time where every South Sudanese is crying for help. He further said young people need guidance to live meaningful lives and get disengaged from hostile environment such as drug abuse, early pregnancy among teenagers and idleness. Finally he said many South Sudanese left South Sudan for various reasons, some came for education, others for medical reasons and many came seeking protection due to the war that broke out in 2013-2016. He concluded in his remarks by calling for total peace in South Sudan so that the refugees can go back home.
Mrs. Rhoda Alison representing the refugees women said the absence of peace back home in South Sudan was the main reason that forced many South Sudanese to flee the country for safety in the neighbouring Countries. She noted that although peace agreement which was reached in 2015 failed within a year, the Revitalized peace agreement was mediated by IGAD in 2018. However, she noted, that the parties are still slow and struggling with its implementation, yet innocent people of South Sudan more especially women and children continue to suffer as a result.
She observed that although the government of Uganda has a better refugee policy that has given a conducive environment including International NGOs support, the needs of the refugees have not been addressed to their expectations. These challenges led to the need to establish this community centre to capacity build themselves towards self-reliance. She mentioned that activities aimed at empowering refugees to be self-reliant were carried at the centre; and these actives included tailoring , liquid making, candle making, book making, and during this COVID-19 pandemic, face mask making and so on. She concluded with this message to South Sudan Ambassador to Uganda, Your Excellency, our message to you is this: t "WE WANT TO GO BACK HOME, WE NEED PEACE IN SOUTH SUDAN SO THAT WE GO BACK TO RAISE OUR CHILDREN AND FAMILY AT HOME IN SOUTH SUDAN".
The Mr. Joseph Kenasuk Kuji representing Elders on the international peace day raised questions as to what have gone wrong with the world. He noted that every morning when you tune to world news in CNN, BBC in many TV channels you hear wars, refugees fleeing to seek for protection in other countries. He noted that others flee away from their Countries because of poverty, destruction and human abuse, absence or compromised Justices and corruption all over.
Mr. Kenasuk was of the view that peace starts at home, can be embraced by individuals, promotion of equality, Justices, respect to human rights, joining the world governments and the UN, NGOs to fight eradication of poverty as a means to peace, promotion of interreligious and intercultural dialogue among the conflicting communities; especially those in the refugee settlements. He further stressed the need of peace in all shapes of life particularly on political fronts as well as social and cultural fields and last but not least among the South Sudanese warring parties. Furthermore he noted that peace could not be achieved without justice, reduction of poverty and equality between women and men, because inequality is among the major challenges. He appreciated the tireless work by the churches searching for lasting peace in South Sudan, especially AACC through Ecumenical Accompanier for South Sudan office based in Uganda. He noted that celebration of this peace day provides a unique opportunity to embrace values of forgiveness and reconciliation, to forgive those who have wronged us or offended one another in one or the other. He concluded with these remarks: "The cry for peace will be a cry in the wilderness so long as the spirit of nonviolence does not dominate millions of men and women in the world".
Mr. Douglas Bulongo the Congolese Refugees leader who was an invited guest started speaking in French and then quickly switched to English. He appreciated the work of AACC for sponsoring this international day for peace. He also appreciated the guest of honour the South Sudan ambassador to Uganda for attending the occasion by himself which showed a good spirit.
Mr. Bulongo emphases that the leaders should work hard for peace in the world. "Addressing the Ambassador of South Sudan to Uganda, he said, "Mr. Ambassador you have heard the cry of your people. They need peace, they need help. I'm a refugee from DRC and we all together share the same pai. We all need peace in our countries where come from so that we get back to participate in the development of our various countries."
Mr. Francis Lodi the USSURC chairman, on behalf of the United South Sudanese Urban Refugees Community (USSURC), acknowledged the presence of the Ambassador of South Sudan to Uganda, His Lordship Bishop Emeritus Yona Katoneene, Bishop Mula Finish and the government representative. He noted that the day provided opportunity to be together in the spirit of shaping peace in the world. We are so grateful to the AACC especially the office of Ecumenical Accompanier for South Sudan headed by Bishop Emeritus Yona Katoneene for supporting USSURC and help to sponsor this international day of peace today the 21st September 2020.
Addressing the South Sudan Ambassador, he had this to say, "Mr. Ambassador, I would like to bring to your attention that USSURC here is a multicultural centre embracing all refugees regardless of their ethnic or tribal background. We are all tribes of South Sudan, united as one family and we are working to support ourselves regardless of politics. What we want is peace as you have heard from many speakers today PEACE, PEACE.PEACE WE WANT. We are suffering, we want to go back home.
Bishop Emeritus Yona M Katoneene brought messages of hope and solidarity from the ecumenical family- AACC, WCC (in particular the program for peace building in Africa region), Uganda Joint Christian Council and the South Sudan Council of Churches; assuring them of their ceaseless prayers for God's comfort in their current situation where for many years they have been displaced by the protracted violence from their own Country.
As AACC economical accompanier for South Sudan based in Uganda, he brought special greetings from the general secretary of the AACC the Rev Dr. Fidon Mwombeki and his team at the AACC Secretariat in Nairobi. He assured the people of South Sudan the AACC and unreserved commitment to continue being involved in the search for lasting peace in South Sudan. He noted that AACC has been journeying with the people of Sudan, South Sudan since as far back as the 1970s in their journey for search of lasting peace. He concluded assuring the refugees in Uganda that he has faith in GOD that one day they will return back to their home country, reminding them of the Congolese proverb, "no matter how long the night is the day is sure to come".
He called for continued prayers for the smooth full implementation of the signed revitalised peace agreement and also for the government to address the remaining key issues so that there is lasting peace in South Sudan; to allow the refugees return back home and participate in the reconstruction and development of their Country.
Finally he appreciated the Ambassador for honouring his invitation by coming in person to address this peace day celebration. He assured the ambassador of the AACC and the whole ecumenical family commitment to work together to shape peace in South Sudan.
The South Sudan Ambassador to Uganda, His Excellency Simon Duku Michael, used this unique opportunity of the celebration of the peace day to meet the South Sudan refugee's community in Kampala.
In his message and responding to the concerns raised by the refugees and various speakers on the delayed or stagnated implementation of the peace agreement, affirmed the government of South Sudan's commitment to the continued implementation of this peace agreement, saying that the apparent stagnation or delay was due to the invisible enemy-the COVID-19 pandemic which has disrupted many activities.
The ambassador appreciated the role of the church in shaping peace. He remembered the day of prayer organized by the AACC and UJCC for South Sudan on 7th July last year 2019, just before South Sudan Independents Day. He noted that although the implementation of the peace agreement is slow, he assured everyone that everything will be put in place and sustainable peace will be achieved in the nearest future. He advised the South Sudanese refugee's community to embrace peace among themselves and with their host communities. He said that those willing to return back home voluntarily could do so by surrendering their refugee statues and he assured them on facilitating their travels back home. He also made reference to the recent clashes between the refugees and their host communities in West Nile region where ten (10) refugees were left dead; and many wounded which was deeply disturbing. But he assured them that the situation was under control.
Conclusion
In conclusion, we thank everybody who participated in the organization of the celebration of the international day of peace on the theme "Shaping peace together". Special appreciation to the members and leadership of USSURC, under the chairmanship of Francis Lodi. Thanks also go the general secretary Mr. Keyidri Idri who was also the master of ceremony on this day and introduced the slogan USSURC – United and United USSURC, the Vision and Mission of USSURC. Thanks also go to Joseph Kenasuk and Keyidri Idri for their leadership for the compilation of this report. Thanks to everyone who attended this function. Special thanks also go to our special guests including the Congolese Mr. Douglas Bulongo and the government representative Mr. Mawejje Tom.
Finally we thank the Bishop Emeritus Yona Katoneene for his continues presence among the South Sudanese refugees in Uganda and for gracing this day. We do not have enough words. to thank H.E the South Sudan Ambassador to Uganda who brought an encouraging message of hope; and his readiness to facilitate the repatriation of South Sudanese refugees in Uganda back home to South Sudan.
Blessed are the peace makers, for they shall be called the children of God (Mathew 5-9).