International Woman's Day – The Faces of Jesus in Africa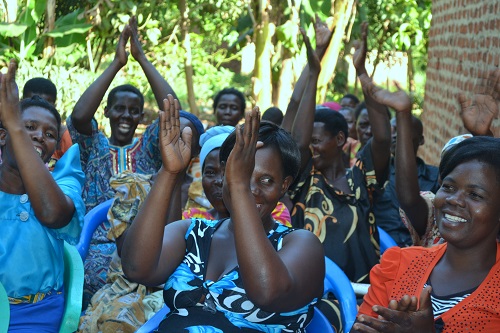 Today is International Women's Day and we celebrate the wonderful contribution of women throughout Africa. Some of these women we have worked closely with, others we have never met. Yet, in spite of their circumstances, they have done and are doing dynamic work in their communities. I want to share with you a story about a woman we know and another story about the faces of Jesus in Africa.
Florence was known in the community for brewing "waragi". This is a local brew, and the consumption of waragi wreaks havoc on families as some fathers use what little money they have to buy waragi. This leaves the family without money to buy food, pay for rent, school fees, etc. It is one of the chief causes of road accidents in the villages and the leading cause of kidney problems and other health problems. Since waragi is cheap and easily accessible to school children, it is easy for children to buy and become addicted to it.
Rev. Patrick Mwilolo the pastor of The Centre for Evangelism in Uganda with the help of the OAIC started a program in the community to improve the livelihood of members as well as those in the surrounding community. Florence Naigaga took part in the workshop on improving agriculture. Over a two-year period she planted crops that were drought resistant during the long dry season. Florence became so preoccupied with taking care of her crops she did not have time to brew waragi. Over a period of time the crops yielded enough for her family as well as for selling. Florence not only discovered she enjoyed farming, but she also saw it could bring income into her family. Florence gave up brewing waragi, joined the church, and devoted her attention to her newfound passion of farming. 
When we visited the church and community in Uganda, Florence proudly stood up in the open meeting, pointed across the field and said "I put money into that house."  This is to say that the income she made from selling her crops enabled Florence to contribute along with her husband to build a house for their family.  Florence transformed her family and community through agriculture and entrepreneurship. As we celebrate Florence – a person we met, a name we know, and a face we can see – I can't help but think of the multitudes of other women whose names we don't know. Women who find themselves living in extraordinary circumstances, yet, they still manage to stand in the gap for others in the community.
The OAIC received a distress call from Nigeria last week saying, "Women have been abducted again. We have over five million people displaced in northeastern Nigeria. Southern Nigeria is facing a crisis also as women and men in search for economic opportunities are paying human traffickers in hopes of being taken to European countries. Instead they are enslaved, many dying before they make it to their destination. Women can expect to be raped at each town on their journey to a better life. Please work with us as we address these issues in Nigeria."  
The man from Nigeria sending the distress call went on to describe the deplorable condition in the camps for internally displaced people (IDP) in the northeast region. People are too afraid to return home and to begin planting their crops before the upcoming rainy season. There is fear of outbreaks of measles and meningitis in the camps. At the same time, the women living in the camps are caring for children whose parents are missing. Nigeria has been featured in the news, we see the "face" of a nation that is in crisis. If we are not careful we will miss the face of dignity of the women, the face of tenaciousness, the face that upholds the value of family, the concept that children belong to the community, and the responsibility of their care belongs to the community.
This year as we celebrate International Women's day, I can't help but admire the mirror image of Jesus I see when I look at these women. In spite of their desperate situation, they still reach out to others.
Rev. Phyllis Byrd serves with the Organization of African Instituted Churches as the Director for the Just Communities Program. Her appointment is made possible by your gifts to Disciples Mission Fund, Our Church's Wider Mission, and your special gifts.