Justice and Merit from Higher Education in Venezuela
The Venezuelan Evangelical Pentecostal Union (UEPV) and its Venezuelan Center for Theological Studies (CEVET) celebrate the achievement of Bishops Gamaliel Lugo and Élida Quevedo as new Doctors in Management for Intellectual Creation from the Simón Rodríguez National Experimental University (UNESR). This doctorate constitutes a recognition of the educational task carried out by these two Venezuelan Pentecostal leaders for the communities where the UEPV works.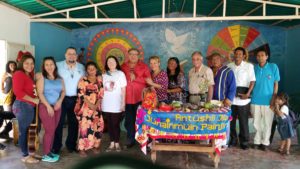 The doctoral program in question is known as "Open Studies." In it, students can accredit work experiences and insert them through academic requirements. These educational requirements consist of seminars for integrating experiences with proper tools for research and analysis, an autobiography from the perspective of the work experiences and the learning that the student has acquired, and a portfolio of evidence supporting the experience in the field object of the degree. Letters from employers, certificates from institutions, professors, community leaders, and others could be part of that portfolio. Then, the student submits a final degree project whose line of research is related to some of the experiences included in the Autobiography and Portfolios. Each participant receives precise and timely guidance on each of these academic requirements.
The merits of this doctorate degrees come from my own educational experience at the UEPV. The Church has developed a similar "Open Studies" program. Through it, UNESR and UEPV/CEVET created a socio-theological process where dozens of community leaders have access to high-quality education. They could grant academic degrees consisting of Certificates, Diplomas, and Master's Degrees accessible to marginalized people. Most graduates could embrace their true vocations and improve their employment opportunities. Global Ministries, through the Latin America and the Caribbean Office, has provided scholarships and financial support to give viability to the program.
In a recent report Bishop Elida Quevedo shared with Latin America and the Caribbean Office, she said that "the history of the struggle of our people in Venezuela continues. Amid our crisis, the Socio-theological Education and Training that we promote through UEPV/CEVET intends to be increasingly relevant, deeply alternative, contextualizing, transformative, and liberating for Venezuelans. The vision provides vital tools to vindicate the history of our shared Christian faith as one that acts effectively and pertinently in decisive historical times." Global Ministries congratulates Bishops Elida and Gamaliel for this achievement and hope to continue walking alongside our brothers and sisters of the Evangelical Pentecostal Union of Venezuela in its effort to provide accessible education for all.