Ministry in Times of Pandemic
Ricardo Mayol serves with the Ecumenical Christian Council of Guatemala (CECG).
In the first months of 2020, before the pandemic began, we were excited to find communities organized as guardians of creation in 6 countries. They take care of their rivers and mountains, seeking sustainability for future generations. We were expecting to connect churches in Canada, the United States, and Puerto Rico as allies with these communities. We prepared a one-and-a-half-month trip with contacts from the three locations. The theme would be "With Faith and Action be the Guardians of Creation." Right before that journey, the pandemic came to us.
We experienced a plague that sickens and kills us and that spreads throughout the world. The borders of all countries were closed, we were locked in our homes, and our mouths and noses were covered with masks. That plague puzzled us. It wanted to destroy us. However, we didn't allow it. We kept busy preparing materials to demonstrate the attacks on Mother Earth and her children (album of songs, 7 Bible studies, a model liturgy, written and audiovisual testimonies, videos). We shared the resources and campaign in the 8 countries where RECONPAZ is active. We met in person and virtually with the guardian communities to reflect on the word and pray for them. We realized that, while they had us cloistered, isolated, and prohibited public demonstrations, the mining and hydroelectric companies continued in their exploitation and looting.
Read what the seven guardian communities in Guatemala shared at the time of the pilgrimage of prayer.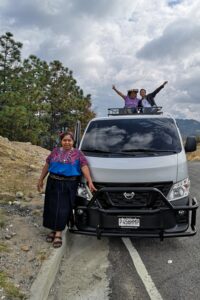 1. Santa Rosa
In the mountains where the tributaries of the Los Esclavos River are born is the ancestral land of the Xinca Natives. This is also the land of Doña Paty, a member of the Xinca Parliament, with her husband, Manuel. Both are founders of the Peaceful Resistance against the Canadian Pan American Silver mining company, El Escobal. The struggle of these organized communities led the Constitutional Court to order the closure of this mine. It is closed until the Xinca people determine if they want this mining project in their territory. As the people prepare for this decision, Doña Paty says, "They are intimidating us. They shot comrade Julio. Our lives are in danger."
2. La Puya
La Puya is located on the border between San José del Golfo and San Pedro Ayampuc. You pass through the Progreso Siete Derivada mining project entrance while traveling on a dirt road from one municipality to the other. This area is known as La Puya, and the resistance has adopted that name. Doña Licha, a woman of determination and leader of the struggle, poetically says, "We are resisting and defending. God is present, and the people are with el pueblo. We must continue to resist bravely. Resist, even if it includes suffering." She adds that the police repression continues. As the people prepare the required consultation of the Constitutional Court, they continue to be intimidated.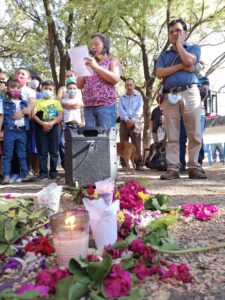 3. Aldea El Calvario
El Calvario village is on a steep mountain of coveted sand. Siblings in the Catholic Church united with siblings of Evangelical churches to defend their territory against the extraction of sand and minerals from a company that deceitfully entered their territory. The extraction process causes respiratory diseases. They invite all Christians to join in protecting creation.
4. Cahabon
In the ancestral lands of the indigenous Q'eqchies in Cahabon, Alta Verapaz, María, a leader, demands the release of her brother Bernardo Ca'al Xol. He was unjustly imprisoned for organizing protests against the Oxeb SA hydroelectric plant on the Cahabon and Oxeb rivers. The crimes of this company in the Q'eqchi territory include piped rivers, more than 15 hectares of natural forest destroyed, and sacred hills stripped. Our delegation of churches, in unison with María and our Q'eqchies siblings, demand the freedom of Bernardo and that they stop the death threats against the defenders of the rivers.
5. San Miguel Ixtahuacán
San Miguel Ixtahuacán is an 8-hour trip from the capital. For more than 30 years, the Marlin Mine of Montana Exploradora and the Canadian Gold Corp extracted gold and silver in this area. Maudilia López Cardona shared that the mining companies entered with deception, offering development and progress, but generating divisions. She shared how they polluted the environment and sickened workers with heavy metals in their blood and became rich at the cost of ecocide. The mine repressed the community, censuring teachers and nurses who made critical judgments against it. If the communities criticized it, the mining company would withdraw subsidies for education and health. In 2017, the mine closed but left its garbage, contamination, and diseases in the territory. It was not held responsible for repairing the damage. However, Maudilia affirms that we must remain vigilant so that frozen exploitation licenses are not activated. We must also continue to speak out so that our words and experiences serve to warn other communities where companies arrive with false social responsibility claims. To the churches of North America, Maudilia shares, "You who have investment funds in mining companies, we call you to withdraw your resources from them. Do not let your money wreak havoc on the life of our communities. Make sure your money and your spirituality are consistent."
6. San Juan Sacatepéquez
The community of Pajoques de San Juan Sacatepéque is an ancestral land of the Kaqchiquel indigenous people. In the past, the community had plenty of water, but now it's without the precious resource. Don Francisco Guamuch's family, Kaqchikel monolinguals, live in an open hut on a piece of land where the Cementos Progreso company wants to build. The family is determined to keep the ancestral heritage of their grandparents and not to allow the company to intimidate them and usurp their territory.
7. San Buenaventura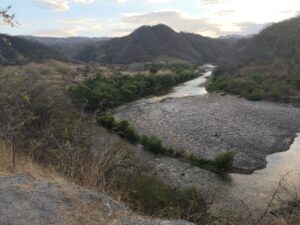 In San Buenaventura, Guatemala there is a playful river that is enjoyed by families of that town. When the El Sisimite hydroelectric plant was begun, the town united to defend the Motagua River against development. Don Adolfo told us how he, his wife and daughters, and the community stood united to protect the river which led to the project's closing. The community is vigilant, but still enjoys swimming and splashing in the Motagua River every day.
Amid the pandemic, there were violations of justice in Guatemala, where the judicial system is allied to power. Communities that defend human and environmental rights have suffered increased attacks, in clear violation of international agreements such as ILO Convention 169. That convention established the obligation to consult indigenous peoples about their willingness to receive projects before introducing them into their territories. During the pandemic, people of faith stood with the guardian communities. They said with gratitude, "It strengthens us that they come and be with us." Even in during the pandemic, we strengthened national and continental understandings of guardians. Now a continental network of female guardians and another of youths is beginning to crystallize.
Join and help strengthen the guardians of nature. Canada, the United States, and Puerto Rico have come together. Believers and good people of the region, let us unite with the guardians of the rivers and forests as they fight for the common home we all share. Join the campaign so that we have rivers to enjoy.
---
El ministerio en tiempos de pandemia, por Ricardo Mayol-Bracero
En los primeros meses del año 2020, antes de que iniciara la pandemia, entusiasmados estábamos de haber hallado en 6 países del continente (CO, SV, HD, GT, MX Y PR) comunidades organizadas como guardianas de la creación, las cuales cuidan sus ríos y montañas, procurando la sostenibilidad de las futuras generaciones. Estábamos a la expectativa de ir a sumar las iglesias de Canadá, Estados Unidos y Puerto Rico como aliadas con estas comunidades. Teníamos preparado un viaje de un mes y medio, con los contactos en esos tres países ya establecidos, a los cuales iríamos con la campaña, "con fe y acción sé guardián de la creación". Casi para salir a esa jornada, que iba a ser durante todo el mes de abril y la mitad de mayo, nos llegó la pandemia.
Algo nunca visto, una plaga que nos enferma y mata y que se propagó por todo el mundo. Se cerraron las fronteras de todos los países, se nos enclaustró a todos en nuestras casas y nos taparon las bocas y narices con mascarillas. Nos desconcertó esa plaga, quiso desconcentrarnos. No obstante, no lo permitimos, ocupamos el enclaustramiento en preparar materiales para evidenciar las agresiones a la madre tierra y sus hijos (álbum de canciones, 7 estudios bíblicos, una liturgia modelo, testimonios escritos y audiovisuales, videos), los cuales subimos en una página Web, e hicimos la campaña en los 8 países en donde está RECONPAZ. Fuimos presencial y virtualmente a donde están las comunidades guardianas, para reflexionar con ellas la palabra y orar por ellas; y estado con ellas nos dimos cuenta de que mientras nos tenían enclaustrados, aislados, amordazados, prohibiendo manifestaciones públicas, empresa mineras e hidroeléctricas agresivamente intensificaban la explotación y el saqueo de los bienes comunes.
Oigan lo que dijeron, en Guatemala, 7 comunidades guardianas en el momento que las acompañamos con la peregrinación de oración.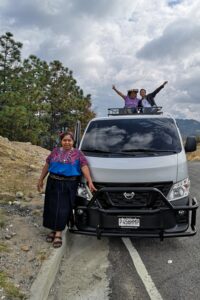 Las montañas donde nacen los afluyentes del río Los Esclavos, tierra ancestral de los indígenas xincas es la tierra de doña Paty. Ella es una mujer morera de ojos azules, miembro con su esposo Manuel del Parlamente Xinxa, ambos son fundadores de la Resistencia Pacífica contra la empresa minera El Escobal de canadiense Pan American Silver. La lucha de estas comunidades organizadas provocó que la Corte de la Constitucionalidad ordenase el cierre de esta mina, hasta tanto y en cuanto, se consultase al pueblo xinca de si quieren ese proyecto minero en su territorio. En plena preparación de esta consulta, dice doña Paty, "nos están intimidando; balearon al compañero Julio. Nuestra vida corre peligro".
La Puya se ubica en el límite entre San José del Golfo y San Pedro Ayampuc. De un municipio al otro, por camino de terracería, se pasa por la entrada del proyecto minero Progreso Siete Derivada. Ese enclave geográfico se conoce como La Puya, y ese nombre adopta la resistencia. Doña Licha, mujer de temple, madre sostenedora de la lucha, con voz de poeta, dice, "resistiendo y defendiendo, seguimos de pie. Dios presente, el pueblo con la gente. Resistente sigues valiente, resiste, aunque sufras". Añade ella, sigue la represión de la policía. Se vive la intimidación en el tiempo que pueblo prepara la exigida consulta de la Corte de Constitucionalidad.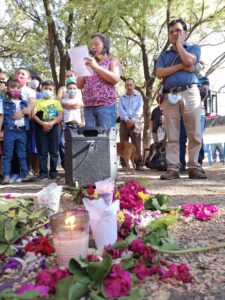 La aldea El Calvario, un barrio originario al cual se extendió el crecimiento urbano, está en una montaña escarpada de codiciada arena. Hermanos de la iglesia católica unidos con hermanos de iglesias evangélica defienden su territorio contra la extracción de arena y minerales de una empresa, que con engaños entró en su territorio. Ellos invitan a que todos los creyentes se unan a defender la creación, porque enfermedades respiratorias afectan a todos y el oro blanco que ambiciona la empresa hace que decaiga la fuerza de la creación.
En las tierras ancestrales de los indígenas q´eqchies en Cahabon, Alta Verapaz, a 6 horas de la capital de Guatemala, María, líder de conciencia, exige la liberación de su hermano Bernardo Ca´al Xol, a quien encarcelaron injustamente por dirigir la defensa de los ríos Cahabon y Oxeb contra la hidroeléctrica Oxeb SA. Entre los grandes delitos de esta empresa en el territorio q´eqchi están el que entubó los ríos, taló más de 15 hectáreas de bosque natural y despojó cerros sagrados. Nuestra delegación de iglesias al unísono con María y nuestros hermanos q´eqchies exigimos la libertad de Bernardo y que paren las amenazas de muerte con los defensores de los ríos.
Llegamos a San Miguel Ixtahuacán, luego de 8 horas de viaje desde la capital a la tierra de los indígenas man, a las vírgenes montañas que, por más 30 años, la Mina Marlín de Montana Exploradora y la canadiense Gold Corp ultrajaron para sacar oro y plata. Allí escuchamos a Maudilia López Cardona, una mujer de fe que toca guitarra y canta y que vive la fuerza espiritual cristiana y maya. Maudilia denuncia que la empresa entró con engaños, ofreciendo desarrollo y progreso y generando divisiones; que contaminó el ambiente y enfermó a los trabajadores con metales pesados en la sangre y que se enriqueció a costa del ecocidio. La empresa reprimía la comunidad, censurando a los maestros y enfermeros que emitían juicios críticos contra ella; si criticaban retiraba las subvenciones a la educación y la salud. En el 2017, la mina cerró la explotación de los metales, pero dejó en el territorio su basura, su contaminación, sus enfermedades, no se responsabilizó de remendar lo dañado. No obstante, Maudilia afirma, los que abrimos los ojos y nos organizamos para alzar la voz y hacer conciencia, seguimos vigilantes para que no se vayan a activar licencias congeladas de explotación. Seguimos pronunciándonos para que nuestra palabra y experiencia sirva a otras comunidades, a donde las empresas llegan con su falso discurso de responsabilidad social. Maudilia encara a las iglesias de Norteamérica: a ustedes hermanos y hermanas que tienen fondos de inversión en empresas mineras, les llamamos a que los retiren de ellas, no permitan que su dinero haga estragos en la vida de nuestras comunidades, hagan que su dinero y su espiritualidad tengan coherencia.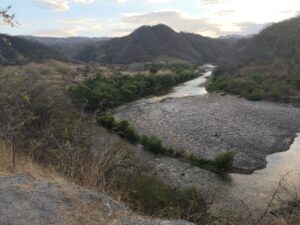 La penúltima comunidad que visitamos fue los Pajoques de San Juan Sacatepéque, la cual es la tierra ancestral de los indígenas kaqchiqueles, montañas ya secas, a una hora y media de la capital, antes con abundante agua, ahora sin el preciado líquido. La familia de Don Francisco Guamuch, monolingües kaqchikeles, vive en una champa abierta en un terrero por donde la empresa Cementos Progreso quiere atravesar su carretera. No obstante, la determinación de familia es de no abandonar la herencia ancestral de sus abuelos y de no permitir que la intimidadora empresa usurpe su territorio.
La última jornada de la peregrinación en Guatemala fue a San Buenaventura. Ahí, un río juguetón es el disfrute de las familias güeras de ese poblado, quienes se unieron como un solo cuerpo para defender el río Motagua contra la hidroeléctrica El Sisimite. Don Adolfo con esposa y sus hijas nos narró cómo la comunidad unida defendió el río y clausuró el proyecto. Está vigilante la comunidad, pero tiene su río Motagua y sale a nadar y chapotear en él todos los días.
En plena pandemia, en Guatemala se vulneró la justicia, se impusieron magistrados aliados al poder y se aumentaron las agresiones contra las comunidades que defienden los derechos humanos y ambientales, violando acuerdos internacionales firmados, como el Convenio 169 de la OIT, que establece la obligación de consultar a los pueblos originarios acerca de su disposición de recibir proyectos antes introducirlos en sus territorios. En plena pandemia, los pueblos de fe nos hicimos presentes con las comunidades guardianas; presencia que ellas agradecieron, diciéndonos, "nos fortalece que vengan y estén con nosotros". En Guatemala y en los países en donde RECONPAZ está activa el atropello es el mismo e igual es la determinación guardiana de defender los bienes comunes. En plena pandemia, fortalecimos las articulaciones nacionales y con la continental. En tiempos de Covid está comenzando a cristalizarse una red continental de mujeres guardianas y otra de juventudes.
Únete, tú, y ayuda a fortalecer a los guardianes de la naturaleza. Canadá, Estados Unidos y Puerto Rico, únanse. Creyentes y gentes decentes de nuestro continente, unámonos con los y las guardianas de los ríos y los bosques, porque luchan por la Casa Común que debemos de cuidar. Une tu fuerza para que tengamos ríos que disfrutar.
Ricardo Mayol serves with the Ecumenical Christian Council of Guatemala (CECG). His appointment is made possible by your gifts to Disciples Mission Fund, Our Church's Wider Mission, and your special gifts.