Multicolored Heart
Lydia Yang serves with the Presbyterian Church in the Republic of Korea (PROK).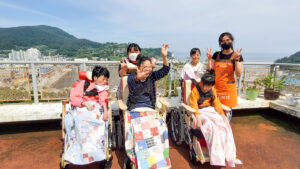 It's one thing to start a year of service in a whole new country; it's another when that country is like that one relative you've only seen about three times in your life and know that you are related but is really more like a stranger. My time in Korea has been a mix of excitement, curiosity, anxiety, and a dash of surprising comfort. As a Korean-American, much of my identity has been shaped by being born and raised in the United States. Living and serving in Korea with my Korean-American identity but with the outward characteristics of a Korean person has presented a slew of roses and thorns. I am challenged to live and learn in a country that, while I do have familial and ethnic ties to, much of the deep heritage, culture, and language is lost to me. But in the midst of struggling with the divides of my identity between two cultures and my broken Korean, I have found surprising comfort in being surrounded by people who look like me – where I am afforded this new ability just to blend in and not stand out.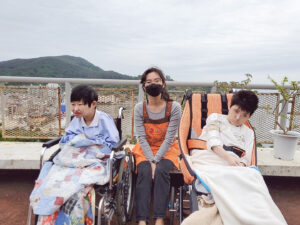 Since I've arrived, much of my time has been in the general office of the Presbyterian Church in the Republic of Korea (PROK). Being immersed in the middle of the busy office, I am learning how PROK operates, their connections with churches and organizations throughout Korea, and their ecumenical partnerships throughout the world. Among the several organizations affiliated with PROK, I had the opportunity to volunteer at Kojedo Aikwangwon down in Geoje Island for three weeks.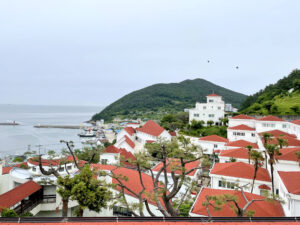 Kojedo Aikwangwon is a social welfare foundation and home for those who are intellectually and physically disabled. Their mission is to "become the most comfortable and cozy resting place for the intellectually and/or physically disabled and to give them wings of hope to move forward into a bigger world" through continuous rehabilitation and education. It is not simply only a place of comfort and safety but also a family of deep care and love. My first two weeks were spent at Mindulle Jip ("dandelion house"), the residential facility for those with more severe cases of intellectual and physical disabilities. These residents have difficulty with daily living tasks such as eating, walking, bathing, and dressing, so as a volunteer, much of the work was helping to transfer, feed and care for the residents wherever I could with the staff. While at Mindulle Jip, I became close with one of the residents. We would spend time with each other after dinner to work on spelling workbooks and make origami flowers. She was about 17 years old and would often excitedly tell me that she would be in her last year of high school next year and that she had many dreams and goals for her life. In the last couple of days I spent at Mindulle Jip, we worked on a Perler bead project together. What began as a standard blue heart ended up becoming a beautiful multicolored heart. There were times when the beads would fall off or were knocked over, and we would have to redo a part of the heart pattern, but we always just laughed and worked together to fix it again. When looking at the completed heart, there's a lot we can learn. The heart was made even more beautiful because of the different colored beads. Rather than just using only one color, all the different colored beads came together to create something different and beautiful. My last week was spent at Aikwangwon, the other residential facility for those who are intellectually disabled. My experience in this facility was very different from Mindule Jip as those who live in the Aikwangwon facility are much more independent and have the ability for daily living tasks. My days in this facility were spent working on arts and craft projects with the residents, going on walks, eating meals together at the cafeteria, and just spending time with each other over snacks and Korean mixed coffee.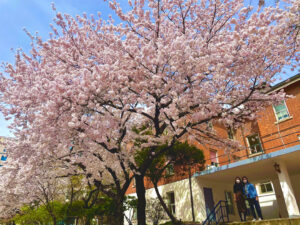 In Korea, there is still a lack of sufficient support for those who are disabled, and disability is often met with much shame and stigma. More than half of Kojedo Aikwangwon's residents are considered to have no family, so this is a safe and secure home for them. Kojedo Aikwangwon is like a multicolored heart. The more time I spend in Korea, the more I am learning about myself and a culture and country that for a long time seemed to be so distant. Often, I stumble along in conversation with my broken Korean, but I am learning. I'm learning that being a Global Mission Intern in Korea has presented a unique opportunity for me to explore my faith and its connection to my identity. I am learning that our differences are what is beautiful, like the multicolored heart. Kojedo Aikwangwon is a place that brings together people who are different, people from all over the world, and people from all walks of life. It is a place where love has no bounds, and everyone is loved and accepted for who they are. Even when sometimes there is anger, fear, sadness, and frustration, it is a community that comes together to support and care. It is a place of love – built with love and in love for all its residents.
Lydia Yang serves with the Presbyterian Church in the Republic of Korea (PROK). Her appointment is made possible by gifts to the Disciples Mission Fund, Our Church's Wider Mission, WOC, and your special gifts.