Ohio Event Supports Anti-Human Trafficking Ministries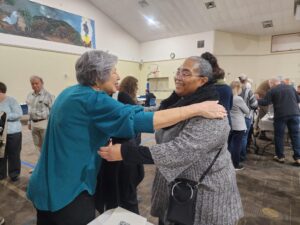 On February 19, 2023, a luncheon event organized by Global Ministries board member, LaVerne Thorpe, was held at Gender Road Christian Church (GRCC) in Canal Winchester, Ohio, to raise funds to help prevent human trafficking. Seventy-five percent of the event proceeds were designated for human trafficking initiatives through Global Ministries, and 25% were designated for the Choices shelter in Columbus, Ohio. In addition to GRCC, David's United Church of Christ (UCC) in Canal Winchester and Woodland Christian Church in Columbus participated in the event. Participants in the event purchased raffle tickets for the chance to win donated artwork and jewelry. There was also a table of donated items that attendees could bid on in a silent auction.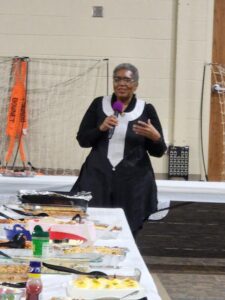 "I believe the more that people learn and know about the wonderful work Global Ministries is doing, the more people will support Global Ministries, resulting in more lives being saved," shared LaVerne Thorpe. "Mission partners are involved in all types of ministries that are actively addressing the needs of people in a positive way. One ministry partner I visited rescued children from enslavement, and returned them to their families. They assisted the families to develop sustainable ways to support themselves. This is why Global Ministries matters to me, along with our mission partners. We are actually making a positive difference in the lives of others."
Many friends of Global Ministries were also present at the event, including Rev. James Semmelroth Darnell. He currently serves as the pastor of David's United Church of Christ in Canal Winchester, Ohio, but later this spring will transition to serving as the International Recruitment and Training Coordinator for Global Ministries.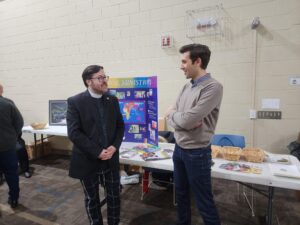 James shares, "Global Ministries matters to me because it fosters and nurtures relationships with partners beyond our own national borders. It reminds me that we are all connected in one Universal Church, the Body of Christ. Global Ministries helps us share the love of Jesus Christ through service and mutuality."
As for the event, James added, "I was inspired by the story of LaVerne's experience in Ghana, and how dedicated and driven she is in providing smokers to families in Ghana. This project empowers families and helps them to avoid the trafficking of their children."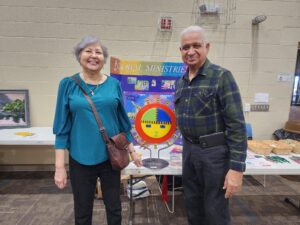 Global Ministries is grateful for LaVerne's work and witness, and the shared support of Gender Road Christian Church, David's UCC, and Woodland Christian Church.
Is your congregation interested in hosting a similar event? Please contact the Global Ministries Office for Resource Development to learn more about what your congregation might do to share in support and hope with global partners.