Union of Evangelical Churches (Germany)
The Evangelical Church of the Union traces its origin to 1817 when, to celebrate the 300th anniversary of the Protestant Reformation, the Prussian King Friedrich Wilhelm III decreed that the Reformed and Lutheran parishes in his domain should be united in a single church.
German church life experienced a severe crisis under the Nazi government, beginning in 1933 and extending through World War II. Official church leadership was in the hands of the "German Christians." Those who rejected government control established a separate emergency church structure, the "Confessing Church," based on the Theological Declaration of Barmen (1934)–action declared illegal by the Nazi authorities. The EKU looked to Barmen and the Confessing Church as the foundation for its development in the pist Waorld War II years. This more recent history also includes the political division of Germany from 1948 until 1990, producing further challenges to the life of the churches. In 1969, political pressures forced church structures to be organizationally divided. As a result, EKU-West and EKU-East functioned as separate churches in the two countries, nevertheless maintaining a high level of consultation and coordination across the political barrier and Berlin Wall. In 1992, the offical reunification of the church was completed.
In 1981, the United Church of Christ's General Synod declared a relationship of "church communion" (Kirchengemeinschaft) with the Evangelical Church of the Union (EKU). The EKU was an historic union of the Lutheran and Reformed traditions in Germany and the ancestral church of many German-American pioneers who founded the "Evangelical Synod in the United States"—one of the UCC's antecedent traditions. In 2003 the member churches of the EKU voted to disband the EKU and join with other United and Reformed churches in Germany to create a larger body: the Union of Evangelical Churches (UEK). The commitments of the 1981 declaration of Kirchengemeinschaft were transferred by the action of both churches to the new UEK.
Click here to read more about Kirchengemeinschaft.
"The Evangelical Churches in the GDR and their Participation in East-West Cooperation," by Christa Grengel
Support this Ministry
To make a gift for this ministry online or by check use the online donation page.
100% of your gift will be directed to Union of Evangelical Churches (Germany)
You will receive updates on the work in this area as they become available
Share in the vision of God's abundant life for all people
---
Related Content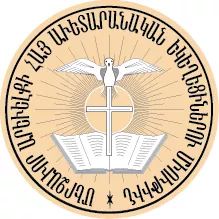 The Union of the Armenian Evangelical Churches in the Near East issued the following statement on...
Read More