Pastoral Care and Disaster Relief in Mexico
A powerful earthquake struck near the Pacific resort city of Acapulco on September 7, 2021. One person died as a consequence of it. It also caused buildings to rock and sway in Mexico City hundreds of kilometers away. The U.S. Geological Survey said the quake had a preliminary magnitude of 7 and was centered 17 kilometers (about 10 miles) northeast of Acapulco. Jesús Luna, President of the Fellowship of Christian Evangelical Churches/Disciples of Christ in Mexico, told me minimal damage. However, the earthquake was strong in that area. He also referred to an emotional situation that surfaces with this kind of phenomenon. In Ciudad de Mexico, people have been reacting very badly, as they remember the one from 2017, which killed 500,000 persons. In addition to that, atypical torrential rains have left flood damage in the area they call Ecatepec. On September 6, the water rose to two meters (78.740 inches), destroying a good part of the strip called "Colonia La Esperanza" (The Hope Neighborhood). From there, the water moved through and caused a river to overflow in Tula, Hidalgo, where the floods were also more significant because of the river's overflow. Even a local hospital could not be evacuated in time. With the electrical power shutdown, 15 COVID-19 patients lost their lives since they were connected to respirators when the ventilators stopped working due to a lack of electrical power. Today, the official figures speak of 150,000 people affected in Ecatepec and the same number in Tula, Hidalgo (where a river overflowed), and in the state of Guerrero (in Acapulco, where the epicenter of the earthquake).
I had a meeting with Rev. Dr. Dan González Ortega, President of the Theological Community of Mexico, scheduled for September 8. That morning, I received a message from him saying that "the Theological Community of Mexico cannot remain inactive in the face of pain and fear experienced by the most vulnerable and affected people in our city. For this reason, today, I will travel to the Ecatepec area along with a team of chaplains from the CTdeM to see the real possibility of support that we can give. I am particularly concerned with the psycho-spiritual situation, as many people have nervous breakdowns and are reliving the traumas from what they suffered in 2017. I am sure you understand that it will be impossible for me to be in today's meeting. However, I will be attentive to the cell phone and any contribution they need from me at the time of the meeting."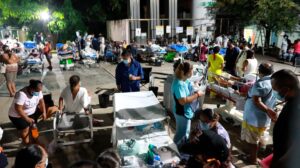 Dan coordinated the intervention personally there. They provided purified water, cleaning and sanitation supplies and products, and food for the performance of the affected individuals' functions until the minimum subsistence pattern was reestablished. After the visit to Ecatepec, he told me, "we had to attend to about 100 people due to nervous breakdown or simple relief due to fear or trauma. It was four chaplains and me from the Theological Community of Mexico (CTdeM) providing this semi-improvised work. It is impossible not to bond with such a need for empathy. We have tried to assess what we, as CTdeM, can realistically do to support this emergency, and we believe that it is beyond us. Today we have very few resources available. The COVID crisis prevents us from putting the chaplains and their families at too much risk with daily visits to the place. In addition, the road to Ecatepec requires two hours of travel and some logistics to get to the places, as roads are still damaged because of the flood. However, we will try to provide emergency support for the remainder of September 2021."
The Theological Community of Mexico will continue its work in solidarity with the people of Ecatepec. They will continue delivering purified water, cleaning, and sanitization products and food until there can be a restoration of the minimum subsistence pattern (at the rate of 1800 calories per person daily). They will assist in preparing meals for families, taking special attention to biologically vulnerable groups. Prioritized attention will be given to children under five, pregnant and lactating women, sick and elderly. They will receive an additional ration or food to meet their particular needs. But the most essential element they want to provide support is to deal with psycho-spiritual attention through pastoral care visits with chaplains twice a week.
We live in times in which disaster relief will become more frequent, given the impacts of climate change and our irresponsibility as human beings in adjusting to the limits of the planet's resources, among other causes. Definitely, it is necessary to allocate resources for the attention of the reconstruction of properties and buildings. However, it seems fundamental to me to work to rebuild the lives and the hearts of the people, to nurture empathy, solidarity, and a sense of future and hope.
To accompany our partner, The Theological Community of Mexico, you can make a financial contribution to support their ministry of accompaniment to victims and families. Information on sending gifts to Global Ministries online, by check in the mail, or by phone can be found at www.globalministries.org/give.