Philippine Churches Statement: Stop the slaughter! End impunity!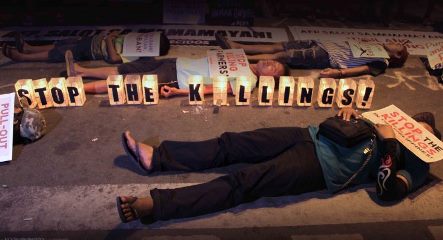 September 11, 2017
It is the kind of news every parent dreads when their children go missing: not only were they found dead but also the gruesome manner of their death. It is murder most foul.
We hoped and prayed that Kian Loyd Santos would have been the last one. But, four more young people suffered the same fate in a span of less than two weeks: Carl Arnaiz, 18 years old, student; Reynaldo "Kulot" de Guzman, 14 years old, student; both from Metro Manila; Obillo Bay-ao, a Lumad Grade 6 student at the Salugpungan Community Learning Center in Mindanao; and, Vaughn Carl Dicang, 17 years old student in Baguio City. While the case of Dicang is still under investigation the cases of Arnaiz and de Guzman have been attributed to the police while that of Bay-ao to a suspected military agent.
The National Council of Churches in the Philippines condoles with the bereaved families of these young people. We pray that God's holy comfort overshadow them now and in the days to come.
Be it in the name of the war against drugs or the all-out-war under Oplan Kapayapaan, terror and impunity stalk many of our communities. While we re-iterate our support to the campaign against illegal drug use, we are appalled at the way such war on drugs is being conducted. Young people and the poor have become vulnerable to impunity while suspected big-time drug syndicates have their day in court.
The slaughter has to stop. Impunity has to end. Let justice be meted out.
Because human beings are created in God's image, the dignity that is inherent in that image is diminished each time a human right is violated. And greater offense is committed by those who kill and commit murder for God alone is the Author of life. May all who aspire for peace and justice in our communities and in our country, be diligent in learning the truth and to have no fear. Our Lord assures us, "nothing is covered that will not be revealed, or hidden that will not be known" (Matt. 10.26). At critical moments such as this, Jesus encourages us on, "whoever gives to one of these little ones even a cup of water because he is a disciple, truly I say to you, he shall not lose his reward."( v. 42)
JUSTICE RAOUL V. VICTORINO, Ret.
Chairperson
BISHOP RODOLFO A. JUAN
Vice-Chairperson
MS. SHARON ROSE JOY RUIZ-DUREMDES
Vice-Chairperson
MS. LISSA BELLE R. BROWN
Vice-Chairperson
REV. REX RB REYES, JR.
General Secretary
MR. REYNALDO M. NATIVIDAD
Corporate Treasurer