CONASPEH Scholars and Development Projects
Haiti
See the latest update about CONASPEH
Read CONASPEH's Vision and Mission Document from May 2014
The National Spiritual Council of Churches of Haiti (CONASPEH), made up of 6,000 churches, is an umbrella organization for Protestant churches and associations throughout the country. Established in 1986, it seeks to be, not only an advocate for its member churches, but also a preacher of the gospel to all peoples everywhere, particularly those in the remote areas of Haiti, and particularly those in critical need. In recent years, CONASPEH has faced a variety of hardships.
Several CONASPEH projects have been identified and are being supported by a group of friends of CONASPEH in the Kansas City area. They include:
Haitian Scholars Program: this program is designed to fund college education for graduates from the St. Andrew School who cannot afford college. College in Haiti is very reasonable, costing $1000 a year. Doctors are a seven-year program; other degrees are two- and four- year programs. The scholarship students will apply to and report to CONASPEH throughout their higher education.
Chicken Coop: the purpose of the chicken coops is to provide sustainable food production as well as a way to generate income. The basic operational premise is to buy 1000 baby chickens, raise them for 42 days, and then sell enough of the chickens to purchase the next 1000 baby chicks and another 42 days' worth of chicken feed. The strategy allows the chicken coops to become self-sustainable.
Community Garden: because of the climate in Haiti, it is believed that shade houses are necessary to effectively grow vegetables. A shade house is covered in shade cloth which blocks 30 percent of the sun's rays, providing a less hostile environment to grow vegetables. Funds will be supplied a community garden's first harvest. By using heirloom seeds, it is hoped that these community gardens can become self-sustainable.
Feed an Orphanage: $100 will buy enough food to feed 40 children for a week in Haiti. There are orphanages related to CONASPEH member churches that CONASPEH sponsors for support.
Food for Learning: the K-12th St. Andrew School at CONASPEH has a program called "Food for Learning." Essentially, children who can't afford food are given one simple meal each day at school. The improvement in academic performance of children in this program has been dramatic. The feeding program is currently only funded for students from kindergarten to 7th grade. There simply are not funds to feed the older children. The cost to feed a child for a year is $260.
Costs associated with these programs are:
$1,500 will provide material and labor for the Chicken Coop
$3,000 will provide 1000 chicken and feed
$1,500 will provide a shade tunnel and community garden
$200 will provide food for an orphanage
$260 will provide food for the Food for Learning Program for one student for one year
$1,000 will provide a college scholarship for one student for one year.
Update 2013
In 2013, 22 students were identified by CONASPEH to receive college scholarship assistance. For the coming year an additional seven students have been identified by CONASPEH for this scholarship support. Therefore scholarships of $1,000 each were disbursed to CONASPEH in October 2014 in order to support 29 university students for the 2014-2015 academic year. Fifteen of these scholars will be helping with the new Chicken Cooperative and Sewing projects.
The CHICKEN COOP PROJECT has raised a total of 4,000 chickens, cared for and fed under the responsibility of CONASPEH. CONASPEH has replenished the chickens regularly retaining 200 laying hens. Students help take care of the chickens and the profits from the selling of the chickens has resulted in scholarships in the amount of $291.00 for 15 of these students to help defray costs they incur at college. The eggs were furnished to the orphanages. It is estimated that 5,000 eggs were used by the orphanages. CONASPEH is planning on expanding this project by establishing chicken cooperatives with some of the churches.
The COMMUNITY GARDEN/SHADE GARDEN PROJECT has worked well with two growing seasons being identified. Crops realized from this project included corn which was ground into corn meal, tomatoes, and eggplant. More education is needed to increase the variety and quantity of crops being grown.
In the FOOD FOR ORPHANAGES PROJECT, CONASPEH has identified 3-4 orphanages that have a need for food assistance. Each month CONASPEH assesses which of the orphanages have the greatest need and assist them with food for that month. A full first quarter of assistance was provided in Fall 2014 and partially for the first quarter of 2015 as this project and process gets off the ground.
The FOOD FOR LEARNING PROJECT continues to successfully offer meals for the students at the San Andre elementary and secondary schools, bringing an important nutritional element to the lives of these children and young people.
The vision of the CONASPEH SEWING PROJECT is to educate students in the art of sewing and, at the same time, sew uniforms for the students at St. Andrew School. By sewing their own uniforms, this will save the students a significant amount of money as they acquire uniforms. The technical training will benefit the participants in new skills that will be useful in the future at work and at home. The sewing classes will be held at the Bridges of Hope Professional Center. Gifts are welcome for the initial purchase of sewing machines and supplies as this new class gets off the ground.
Read a donor story supporting the work of CONASPEH.
April 2017
Haiti Scholars
Thirty-five students are currently receiving scholarship support via the Haiti scholars program. This enables these students to receive a university-level education in a nation where going to university is often seen as a luxury. Scholars are selected by CONASPEH and are admitted into the program based on need and merit. CONASPEH shares that they are often inspired by the hard work and perseverance of these scholars.
Chicken Co-op
The chicken co-op is now a self-sustaining project and is providing a steady stream of income to the poultry farmers and to CONASPEH. Chickens are raised and then sold for meat or eggs within local communities. As food is often imported and expensive, it is helpful to have food that is raised locally and made available at a more reasonable price point. In addition, 100 chickens are regularly given to CONASPEH communities to help start other chicken co-ops around Haiti.
Vegetable gardens
In the same spirit as the chicken co-op, CONASPEH also has a few working vegetable gardens that are providing nourishing foods to farmers, communities, and CONASPEH member churches. The shade gardens continue in Port-au-Prince, and another garden in the countryside recently started growing black beans. So far, the black beans are flourishing and providing food for the community. They are currently in the process of planting more beans on an adjacent plot of land of similar size.
Sewing machines
CONASPEH now has some sewing machines that students are able to use for training and personal projects. One CONASPEH student, a junior in high school, has been using the machines to make backpacks. He sews the backpacks and then sells them in order to fund his education and help support his family. Other students are learning to use the machines through the Bridges of Hope Technical School.
Global Ministries continues to welcome gifts that support CONASPEH scholars and development projects.
Update: June 2019
Food for Learning Program
The CONASPEH Food for Learning Program at its Saint Andre school which covers pre-Kindergarten through high school continues to provide 152 children with a healthy meal each day Monday through Friday. This program contributes to the healthy physical and mental growth of each child, which supplements their progress in knowledge, social, psychological and spiritual well-being as they attend school. The current cost of this program is about $1,520 a month for CONASPEH.

Support this Ministry
To make a gift for this ministry online or by check use the online donation page.
100% of your gift will be directed to CONASPEH Scholars and Development Projects
You will receive updates on the work in this area as they become available
Share in the vision of God's abundant life for all people
---
Related Content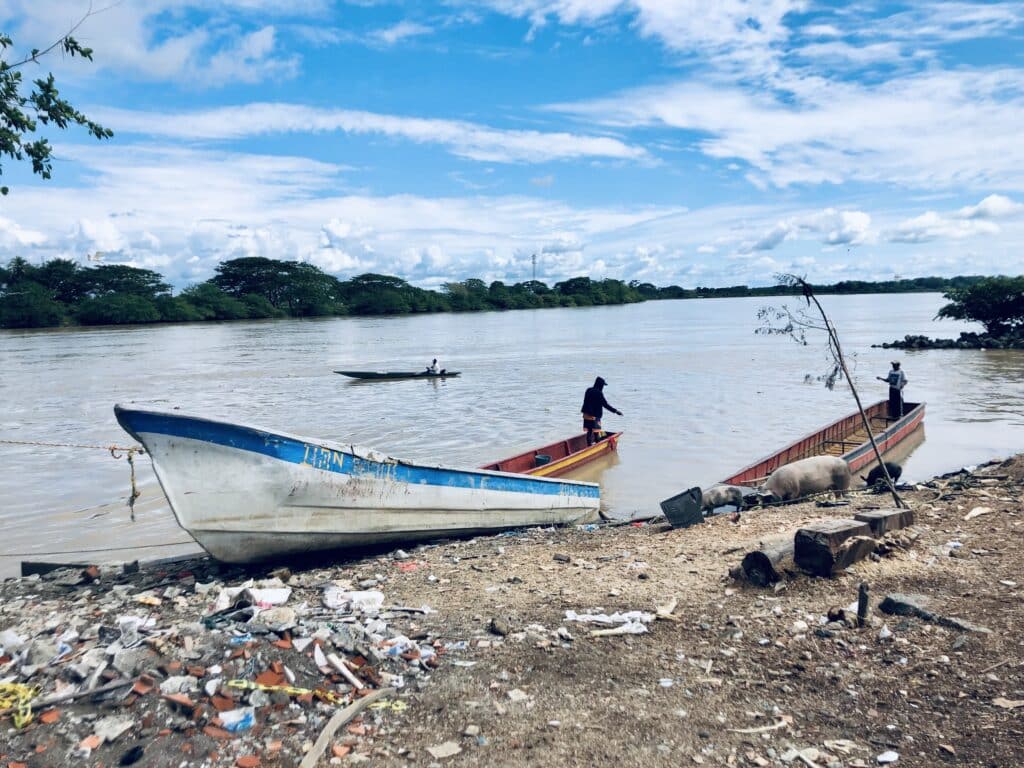 Alex Maldonado-Lizardi and Xiomara Cintron-Garcia serve with Justapaz in Colombia. Camilo...
Read More