CDCC Microcredit and Women's Training Center Project
Democratic Republic of Congo
Click here to read the latest update.
The Community of Disciples of Christ in Congo (CDCC) in what today is the Democratic Republic of Congo (DRC) was founded in 1889. The church has been affiliated with the Christian Church (Disciples of Christ) in the United States since its inception. The church functions with 22 ecclesial regions located in the Equator, Bandundu, East Congo, Lower Congo and Kinshasa regions.
The formation of Microcredit and Savings Projects among the women of the CDCC is a source of hope. The CDCC microcredit project is a program to establish groups who provide loans to one another so that participants can start an income-generating activity. These loans are then paid back to the group with interest. The interest then becomes income to others in the group women.
Women who have money to invest, buy "shares" of the project and the interest paid on these microcredit loans is distributed among women who have invested in the project according to the number of shares they have. Women who have initially borrowed funds may choose to buy shares once they have money to save from the profits of their investment but this is not a requirement for the loans. Funds are held for periods of six months and then distributed with interest. Women may choose to reinvest for another six months or may use funds otherwise.
The group is governed by women who hold shares with any funds being locked in a box with three locks. The funds cannot be accessed without the consent of the women who keeps the box and each of three women who have a key to each of the three locks. Loan decisions are made by the shareholders.
The Community of Disciples of Christ in Congo is seeking start-up funds to expand the network of microcredit and savings projects. Funds would be used to grant initial loans.
Update: April 2013
The Microcredit and Savings Project improves the lives of the participants, but it takes strict supervision, especially at startup, and a special fund to allow the movement of loans. Sometimes groups fail due to lack of teaching startup and lack of supervision over the business cycle. To succeed people must be hired who are paid initially by the program and then by group members as a percentage of profits. Twenty-one groups are successfully operating in the following areas: Mbandaka, Bolenge, Boende, Monieka, and Kinshasa.
Update: April 2016
The Microcredit and Savings programs of the CDCC continue to succeed and provide an income for many women and their families. The Microcredit and Savings program of the CDCC started several years ago in three districts of the church, and the program has expanded to five districts. Funds available through the microcredit program provide business loans and a line of credit to help women make ends meet. Funds received by the CDCC in 2015 from Global Ministries were placed with five micro-credit groups that demonstrated solid management and sound financial stewardship.
The CDCC Micro-Credit Program has enabled women and their families to afford basic necessities, educate their children and build on their means of production to earn a living.
One woman used her loan to open a boutique selling shoes, shirts and other clothes. The boutique is located across the street from her church in the center of town. A significant number of women like her are widows, and must provide for themselves and their extended families, which in many cases includes their children and grandchildren.
Typically, each of the women pays off her loan at the end of 6 months. They then are eligible for a new loan once the old loan is paid back. Another woman in the program uses her loan to plant agricultural products on her one hectare farm in Bolenge. To date, she has planted manioc, sugar, maize, peanuts, tomatoes and peppers (locally known as pili pili, used to make the hot sauce). The money she earns pays for school fees and access to healthcare.
Another woman in the program has been a widow for twenty years. Yet, she is still able to provide for herself and her family by making soap, baking bread and selling fufu flour. She became a first-time homeowner six years ago thanks to her involvement in her microcredit group.
A calculator, ledger book and a stack of money sit on the front pew bench in the CDCC chapel where the Emmanuella microcredit group is meeting. It's a smaller group with just 15 members, but they have been around for nine years. One participant from this group uses her funds to make and sell bread, in addition to selling sugar and milk powder in Bolenge. Most of the stores are in Mbandaka; so having staple items available in Bolenge is good for the people and a good business model. As a grandmother to 15 children, she uses her proceeds toward her grandchildren's education. It's a real problem to keep kids in school because of the cost. In the Equator Province only 60% of school age children are enrolled in school, the lowest percentage among all provinces in the Democratic Republic of the Congo.
Another participant makes beignets like you would find in New Orleans or Paris. These pastries are very popular and found throughout the city of Mbandaka because they are fried rather than baked. You can eat them any time of the day, but most people eat them for breakfast and many children eat them after school. In addition, she sells peanuts that she grows in her garden. Some of these peanuts are used to make fresh peanut butter.
These are just a few examples of the difference the microcredit program is making in the lives of women in Equator Province where the CDCC is largely located. The microcredit program is a great form of development that pulls together local resources to bolster an effort that starts and ends with the direct involvement of those who benefit.
The CDCC has churches in 35 districts, and the CDCC has set a goal to form microcredit groups in all 35 districts. Global Ministries welcomes new gifts to support the expansion of the CDCC's Microcredit project into more districts and churches.
Update: February 2017

The CDCC recently finished their second sewing training for women. This course was held from June to December 2016, and was created within the vision of developing the community to become stronger both spiritually and physically.
The church recognizes the important role microcredit can play in teaching skills to their members that can be used for them to better their lives. Women in the CDCC suggested sewing courses, so women could repair the clothes of their family, create new clothes for their family, and develop their own sewing businesses. Those who participated in the training are now capable of creating and selling new clothes and each graduate was given a certificate as proof of this accomplishment.
Once the training was complete, though, it was necessary to help the women get started in their new work. Therefore, each graduate of the course received a sewing machine on credit that she can use for 6 months and work to pay off. So far, 25 women – 15 women from the first training and 10 from the second training – have benefitted from the receipt of these sewing machines and are able to start their businesses.
Update: August 2017
In June, 15 women completed the third cycle of sewing training in Bolenge, Democratic Republic of the Congo (DRC), which was offered by the Community of Disciples of Christ in Congo (CDCC). This cycle was the first sewing training course to be offered for women coming from different areas. Of the participants, three women came from Bokungu, one woman from Lotumbe, one woman from Mondombe, one woman from MBandaka, and seven women were students from Bolenge. To mark their accomplishment, leaders of the local CDCC branch awarded certificates to newly-trained seamstresses in a joyful ceremony. Participants displayed clothing they had made throughout the training process, showing their newfound competency in a trade which they had known very little about prior to the training.
Local leader Maman Mboyo expressed her pride in the program graduates, "Before, they had no skills in sewing, but now they are able to do just about anything."
In addition to heartfelt congratulations and a sense of achievement, each woman left the ceremony with a sewing machine. Like the graduates of previous CDCC sewing programs, each of these women will have six months to pay off the cost of her sewing machine by running her own tailoring business or clothing boutique.
The CDCC has encountered some new challenges in its sewing training initiative, however. Due to rapid inflation in the DRC, the cost of sewing machines continues to rise. If the country's currency does not stabilize soon, the CDCC will have to cut back on the number of sewing machines available for loan to future trainees as well as the amount of machines purchased for use in training. At the end of this month, 30 new participants will begin training in the fourth offering of the sewing program, and it is the hope of everyone involved that they will all have an opportunity to own their own sewing machines upon completion of the training.
Sewing training is only one part of the CDCC's involvement in women's livelihood and wellness initiatives, however. Recently, CDCC national leaders visited the community of Ifumo Post where the Women's Awareness Campaign on Self-Management is underway. CDCC staff initiated microcredit loan training at that location, and the microcredit program will continue after their visit is over. Women and the community were happy to learn more about microcredit opportunities and attend training about efficient use of resources and spiritual capacity building.
For future activities of the Women's Awareness Campaign, the CDCC is considering the following areas for expanding support to women: spiritual care, managing self-care, encouraging local women's self-started projects, nutrition, and family planning. As funding allows, leaders would like to expand their range of career skills training programs as well to add masonry, carpentry, and other trades to their program selections in the future.
Global Ministries continues to welcome donations for the CDCC's microcredit projects and extends thanks to all those who have contributed to career skills training and women's empowerment programs in the DRC.
Update: September 2020
Beautiful Congolese bags, clothing, and placemats through the Microcredit project of the CDCC are available to you! In addition to receiving a special item made by Congolese artisans, the proceeds received through your order will support many women, children, and families through microcredit initiatives of Global Ministries partners. Browse these crafts here.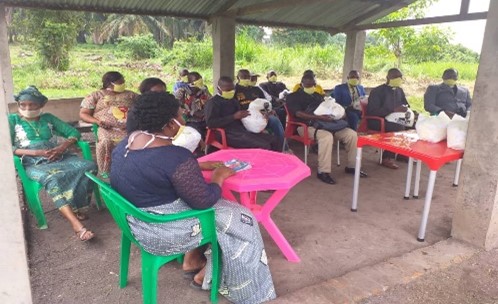 As the Coronavirus pandemic began to spread, the CDCC has been carrying out activities to prevent the spread of the virus and to protect those who are vulnerable to the virus. Specifically, the Women and Family Department of the CDCC has carried out grassroots public health awareness campaigns, made masks, and prepared spiritual activities for women and families to promote the health of families. Since March, the Women and Family Department trained pastors of parishes in Mbandaka and Bolenge on the best ways to prevent the spread of COVID-19 and has been working with women to be leaders in the fight against this virus.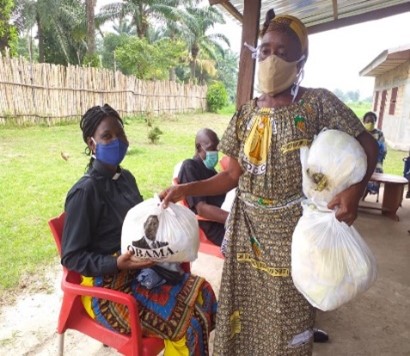 For several weeks, meetings of more than 20 people are strictly forbidden as well, meaning many of the women's microcredit and savings groups were not able to gather for meetings. Now, with travel becoming less restricted, women in the CDCC sewing program, located in Bolenge, have sewn thousands of masks to be delivered through the CDCC local parishes. The CDCC Women and Family Department has delivered over 6,000 masks made by women in the CDCC sewing program, as well as soap for the protection against COVID-19. The wearing of masks remains one of the most effective means to avoid contamination, and the sewing of masks has helped women in the CDCC sewing program, located in Bolenge. generate an income during this time.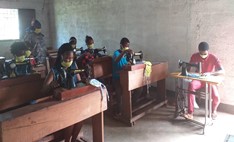 Update: October 2021
In 2021, women at the CDCC Women's Training Center have been learning new tailoring skills. As a result, the women have produced and are selling clergy gowns, stoles, and shirts.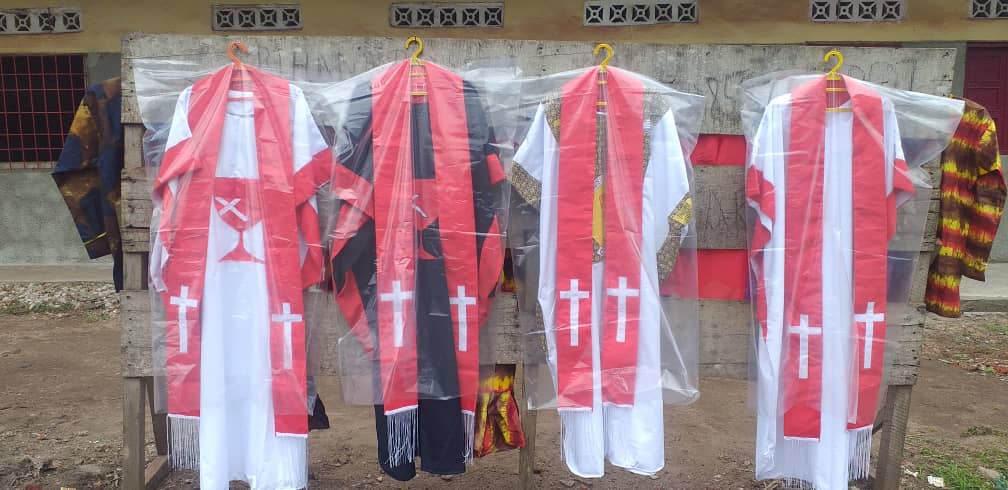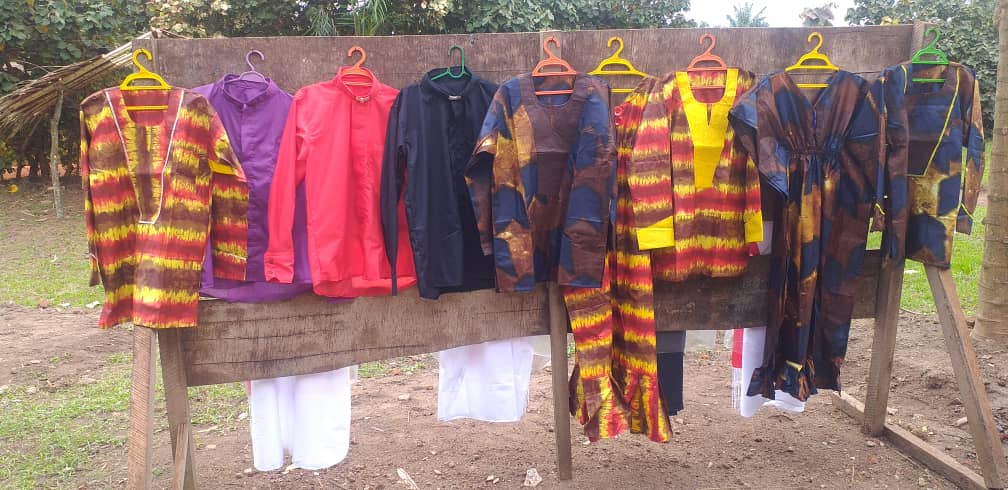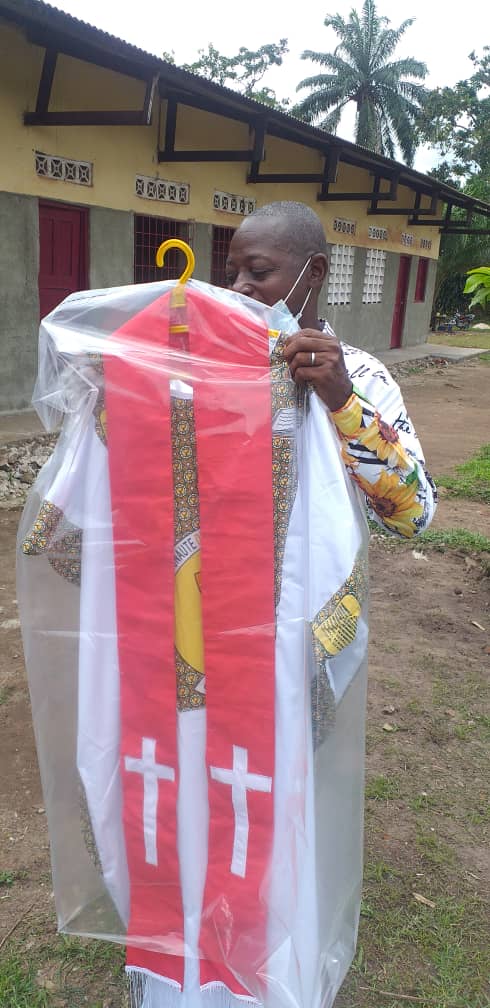 ---
Update: May 2022

The Community of Disciples of Christ in Congo (CDCC) has set up a Women's Vocational Training Center to strengthen the capacities of young women and adults idle in the trade who can help them find the income for their self-care. This Center has worked within the Department of Women and Family of the CDCC for five years. The women who have taken the training have found the trades and are able to sew clothes for their families, pay their children's school fees and feed their families. They contribute effectively to the life of their households.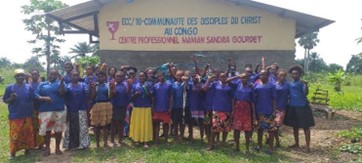 Thanks to support from Global Ministries, women receive a sewing machine after training to support their new work in the community. This Center is the pride of the community. The number of women learners continues to grow. To date, 180 women have been trained and are working in their own workshops to improve their living conditions.
Currently, 65 young women are enrolled in the training programs, and seven are staying at the Center. The Center offers a sewing program and intends to open a carpentry program in 2022, as has been identified as an interest and need in the community. Support of the CDCC Microcredit and Women's Vocational Training Center provides sewing machines for women who complete their training, machine maintenance for the sewing machines used in the program, new carpentry training materials, as well as housing and medical care costs for women staying at the center.
Update: January 2023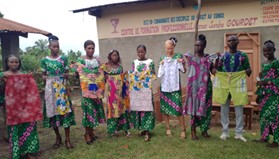 In 2022, the Community of Disciples of Christ in the Congo (CDCC) continued to run courses on sewing and carpentry at the vocational training center.
One special course was able to be offered this year. This was a training for wives of seminary students on sewing, in addition to the purchase of fabric and materials for cutting and sewing. The regular course schedule includes two course sessions per year – February through April, and May through November.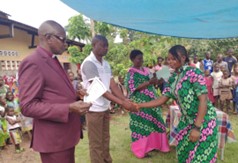 In April, 45 women graduated from the sewing training course, and in November, 60 women graduated from the center's sewing course. The CDCC would like to continue the tradition of providing each graduate with a sewing machine to begin their income-generating sewing services, however, in 2022, the CDCC only had 20 sewing machines available to give to graduates. The CDCC is continuing to work on providing the remaining graduates with sewing machines.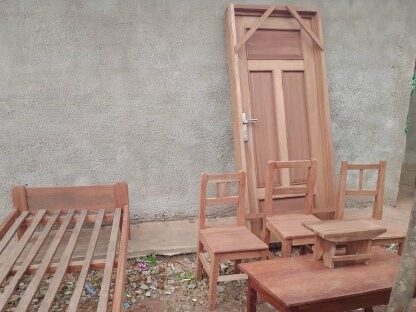 Students in the carpentry course have learned how to build bed frames, doors, chairs, tables, and stools.
For 2023, the next course began in January and will continue through June. A new course, in addition to sewing and carpentry is being offered this year to train individuals on construction.
Support this Ministry
To make a gift for this ministry online or by check use the online donation page.
100% of your gift will be directed to CDCC Microcredit and Women's Training Center Project
You will receive updates on the work in this area as they become available
Share in the vision of God's abundant life for all people
---
Related Content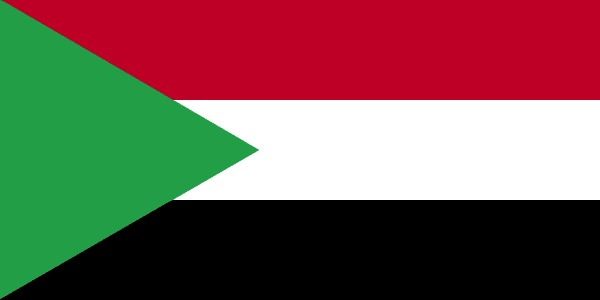 As communications of civil unrest abound, Global Ministries voices our concern and condemnation of...
Read More