Post-Disaster Rehabilitation Project
Philippines
Click here to read the latest update.
On November 8, 2013, Typhoon Yolanda (Haiyan), the strongest ever recorded in history hit the central Philippines. With a sustained winds of more than 146 mph with gusts of more than 170 mph, it ravaged the islands of Leyte and Samar, the northern part of Cebu, Panay, and Palawan before it exited toward the West Philippine Sea. Tacloban City in Leyte experienced the heaviest brunt of the disaster– the strong wind that caused a gargantuan storm surge obliterated the entire urban center.
Two months after typhoon Yolanda devastated the Visayas and Southern Luzon, the number of fatalities in its wake continue to climb, reaching 5,818 with 1,759 missing, in the latest update issued by the National Disaster Risk Reduction and Management Council (NDRRMC) in January 2014.
The economic cost is likewise appalling: the NDRRMC reports the damage caused by Yolanda is estimated at more than $600 million, including $300 million to infrastructure and more than $270 million to agriculture. The wide-spread economic impact has affected more than 2 million families or around 11 million people in 12,000 villages. As the slow pace of recovery is taking place, around 50,000 families or 220,000 people still are staying in 1,095 evacuation centers. According to GMA News, NDRRMC declared that Yolanda destroyed more than 580,000 houses and damaged another 588,000.
Approximately 11,000 UCCP church members were affected by the disaster in varying degrees of damage to houses and livelihood. The effort of the UCCP to respond to the disaster-stricken communities in the Visayas has become a national campaign. Following the call for immediate relief, the United Church of Christ in the Philippines mobilized its disaster response program through its local churches and conferences. With the help of local and international partners, the UCCP has distributed relief goods to 10,993 families covering various communities under its six conferences on the islands of Leyte, Samar, Panay, Cebu, and Bohol.
Medical Services were rendered to 2,128 individuals, including many children. The activities were made possible through the cooperation of church-owned health institutions. Likewise, 2,897 individuals, underwent trauma healing initiated by volunteer psychosocial counselors and practitioners from partner education institutions of the UCCP. Other services provided by the UCCP include financial assistance to damaged churches, distribution of power generators for communities, and chainsaws for clearing of debris from knocked-down trees and structures.
The strength of Typhoon Yolanda and the magnitude of its impact not only overwhelmed the capability of various disaster response agencies, primarily the Philippine government, but likewise shed light on the low level of preparedness of the general public. Therefore, the concept of community-based disaster management will be reflected on the priorities and modes of intervention of the UCCP Rehabilitation Project.
The UCCP Rehabilitation Project will focus on activities by which the damaged infrastructure and livelihoods of the affected communities are restored to their "functioning" level or condition before the disaster occurred. The project will include structural and non-structural elements. Objectives of the Rehabilitation Project are:
Hasten the recovery and rehabilitation of identified service areas to strengthen the capacity of vulnerable sectors
Mobilize efforts of the national constituency and partners, and raise the organizational capacity of churches and the communities they serve
Structural elements of the rehabilitation effort include: rebuilding damaged churches, rebuilding damaged houses, installation of potable water sources, and providing electricity (renewable energy).
Non-structural elements of the rehabilitation effort include: distribution of seeds, distribution of livestock, educational assistance to children, and providing fishing boats/nets.
As mentioned above, the UCCP is requesting help in church rebuilding and installation of one solar generator to supply the power needs of each church. It is estimated that it will take approximately $14,000 to rebuild each church and there are 57 churches that need this assistance. Solar generators are estimated at around $600 each.
Another area of need identified by the UCCP mentioned above is provision of small motorized fishing boats for fisherfolk whose livelihood was destroyed by the typhoon. A single fishing boat includes a one cylinder, air-cooled, 4-stroke, overhead valve engine with maximum power 16hp and a fishing net. Hundreds of families rely on fishing for their livelihood. As soon as fishing boats are provided to these people, they will be ready to start fishing immediately, unlike farmers who will have to plant rice and other food crops and will have to wait for a period of time for harvest. One fishing boat with motor and net costs approximately $1,000.00. There are approximately 220 families that need fishing boats and nets.
Thirdly, funds are needed for the distribution of seeds and farm animals. The focus for this rehabilitation effort is on farming communities where UCCP local churches are located. Aerobic rice and vegetable seeds as well as hogs to be raised will be distributed to families for income generation. With so much damage to crops and livestock, the agriculture sector in disaster area will take a long time to recover. Rice, a staple for most families, will be scarce and is essential need to avert hunger. From February on it is expected that there will be several lean months for planting due to the expected coming of an unusually prolonged summer period. Water also will be scarce especially for rice planting. Aerobic rice is suitable in this kind of context. It is a renewable way of growing rice in a non-submerged condition in aerated soil. It is grown like any other crops such as corn or sorghum on dry soil with surface irrigations provided when necessary with intensive agronomic practices. Costs of items to assist these families are:
$100 will buy a sack of aerobic rice seed
$80 will buy vegetable seeds
$80 will buy one piglet
Approximately 700 families have been identified as needing this assistance in agriculture and livestock from the UCCP.
A final project includes distribution of 300 units of DC10 solar generators for household lighting. Electricity is not yet fully restored in remote places in the mountains that were affected by the disaster, unlike in the urban area or near the highways. For households in these areas, of which the majority are poor, living in darkness is still an everyday struggle. The DC10 generator is a portable solar-powered device that can provide the bare minimum electricity required for simple households in mountainous areas, particularly for ordinary light bulbs, radio, and for cellular phone charging. Approximately $110 will provide one solar generator per family. The UCCP have identified 300 families that will need solar generators.
Update – May 2014
The United Church of Christ in the Philippines (UCCP) rehabilitation projects are underway with the implementation of activities focused on achieving a "functioning" level for communities affected by the disaster. The project highlights structural and non-structural elements to hasten improvement towards economic recovery and rehabilitation of identified service areas to strengthen capacity of vulnerable sectors.
In the first quarter of the project cycle, the UCCP has distributed 128 fishing boats to poor fisherfolks in the provinces of Leyte, Samar, Antique and Cebu. The fishing boats will enable the fisherfolks to return to their livelihoods and send their children back to school after Typhoon Yolanda (Haiyan) wrought incalculable damage and suffering on the people.
Also, 285 small farmers in the same provinces were given a livelihood package containing: aerobic rice, open pollinated varieties of different vegetables and a piglet for raising. Training seminars were recently held in Carigara, Leyte and Culasi, Antique on the propagation of aerobic rice technology, open-pollinated vegetable seeds and methods of organic farming.
Aerobic rice is suitable for growing in lands where the soil is well-drained, non-puddled and unsaturated. With the prolonged dry season due to the impact of climate change, aerobic rice is appropriate for upland farms and lands that are rain-fed and without supplemental irrigation. This assures farmers of a year-long, uninterrupted cycle of rice production.
With the proliferation of genetically modified organism (GMO) and hybrid seed varieties in the market, the farmers were encouraged to "return to the basics" with the use of open-pollinated variety (OPV) seeds especially with vegetables. Apart from ethical issues surrounding GMOs, OPVs assure farmers of quality (vigor and longevity) and sustainability (cheap and organic, can be replanted) with higher farm yields.
The use of a vertical fed biomass cookstove was also introduce during the seminar. Cited by the UN Foundation for its health-wise and environment-friendly technology, it is a home-grown Filipino invention that highlights the efficient use of fuel and reduction of CO2 emission during household cooking.
The training seminars were attended by around 130 farmer beneficiaries of the UCCP rehabilitation project and just the kick-off of a series of trainings that will be conducted in rural areas affected by the disaster. The activities were made possible through a partnership between UCCP and AGHAM (Advocates of Science and Technology for the People), with agricultural engineers from AGHAM as resource persons.
See more photos from the update
Update – April 2015
Approximately one and a half years later, the Philippines continues to rehabilitate their island. In Visayas, they have broken new grounds for the farming of aerobic rice, they are bringing solar light technology to poorer villages , distributing piglets to local farmers in Antique, and distributing more fishing boats in Leyte, Antique.
Click here to read the complete details of each new update and see the photos.
Support this Ministry
To make a gift for this ministry online or by check use the online donation page.
100% of your gift will be directed to Post-Disaster Rehabilitation Project
You will receive updates on the work in this area as they become available
Share in the vision of God's abundant life for all people
---
Related Content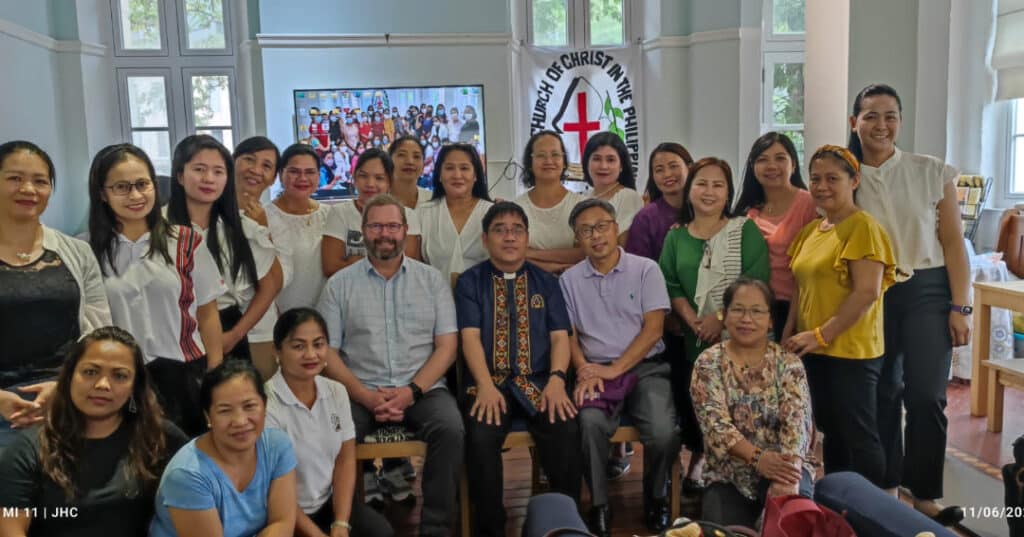 Written by: G Lou, Mission Co-Worker in East Asia & Pacific Region The Hong Kong...
Read More