Project Rekindle Hope
Mexico
At 11:49 p.m. on Thursday, September 7, 2017, an earthquake measuring 8.2 on the Richter Scale struck the southwest states of Mexico. Tremors were felt as far away as Mexico City, spanning a 520-mile distance. The earthquake lasted 84 seconds, more than twice as long as the average earthquake. Just twelve days later on September 19, 2017, another earthquake further devastated those areas and claimed even more lives. Schools, hospitals, businesses, churches, bridges, roads, and historic buildings lay in varying states of ruin.
Along with the visible damage, earthquake survivors also endure traumatic psychological damage which can last a lifetime. Addressing this issue is crucial for a community's future, yet there is a severe lack of knowledge about restoring emotional health after trauma. Recognizing this, the Roots in the Ruins program developed a new training for earthquake survivors to help cope with tragedy and rebuild their lives.
The Roots in the Ruins program of the Institute of Intercultural Studies and Research (INESIN) developed "Project Rekindle Hope" in cooperation with the Mexican Church of the Nazarene and the Seminary of the Mexican Church of the Nazarene. Project Rekindle Hope aims to train pastors and lay leaders in trauma healing, conflict resolution, and resilience development for all ages. Local pastors and congregational lay leaders formulated the following goals for the project:
· Rebuild emotional health
· Restore faith in God for a moral and spiritual renovation
· Envision a different way of seeing oneself and others, ending indifference
· Encouraging a new sense of compassion and empathy
The project will unfold over the course of three stages. The first stage encompasses organizing work teams, spreading information about training opportunities, and providing beginner-level emotional and spiritual first aid training for pastors and Sunday School teachers. Stage two will focus on expanding access to this basic training to a wider range of participants, including pastors and leaders of the Mexican Church of the Nazarene, students from the Seminary of the Church of the Nazarene, and ecumenical partners in Mexico. Also during this period, intermediate-level training will become available. The final stage will involve teaching participants in advanced courses, which will prepare them to become trainers themselves on the material they have learned. Special attention will also be given to training youth for counseling their peers as well as training Sunday School teachers for a new curriculum, Creacción, a program for healing children's relationship with God´s creation.
Pastors believe that Project Rekindle Hope will benefit all participating congregations and re-unite communities as people witness the efforts of the Church to serve others and transform lives. Ideas for future church action in the community include visiting hospital patients and inmates in prisons. Global Ministries welcomes donations for INESIN's Roots in the Ruins program and the Project Rekindle Hope.
A gift of $25 can provide Roots in the Ruins training materials for a pastor/leader to use and share
A gift of $75 can provide transportation for one pastor/leader to attend a Project Rekindle Hope training
A gift of $350 can send one pastor/leader to attend a Project Rekindle Hope training
Support this Ministry
To make a gift for this ministry online or by check use the online donation page.
100% of your gift will be directed to Project Rekindle Hope
You will receive updates on the work in this area as they become available
Share in the vision of God's abundant life for all people
---
Related Content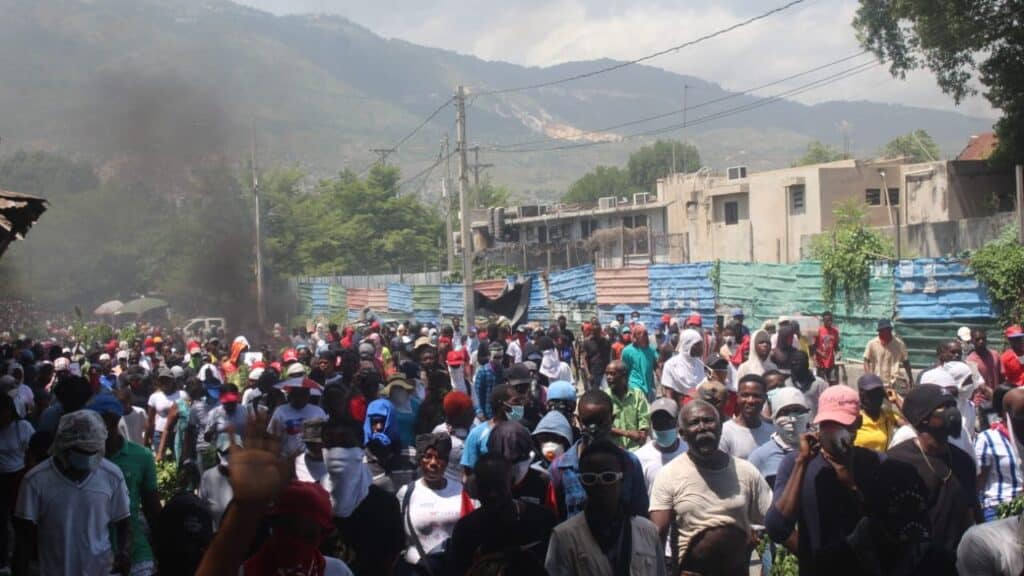 Two weeks ago, a gang group occupied the residential commune of Carrefour, where our Global...
Read More