Roots in the Ruins (INESIN)
Read the latest update from Roots in the Ruins
Roots in the Ruins is a program of spiritual accompaniment, which nourishes hope, resilience, and transformation in the midst of situations of trauma, conflict, and environmental degradation. Since its inception, which took place out of the Pentecostal Church of Chile, individuals from Mexico, Chile, Argentina, Paraguay, and Puerto Rico have participated in the Roots in the Ruins trainings, and continue to use these trainings in their respective communities.
In 2016, Roots in the Ruins is moving the base of the program to Mexico, under the direction and guidance of the Institute for Intercultural Study and Research (INESIN) in Mexico.  INESIN is an organization which was formed by Mexican Protestant and Catholic Christians in the early 2000s, after a particularly tumultuous period in the southern state of Chiapas, Mexico where it is located.  It is the result of men and women committed to the people of Chiapas and Guatemalan refugees living in southern Mexico during the 1980s.
In this region of Mexico and in areas across Latin America, where trauma persists at personal, organizational, community, and social levels, Roots in the Ruins seeks to develop a comprehensive approach to achieve healing – including trauma healing, resilience development, conflict transformation, and care of the earth.
Roots in the Ruins offers workshops and courses designed to equip a core group of Roots in the Ruins trainers, as well as to develop a broad group of participants who can make use of the tools and practices of the program in a multiplying effect. Programming currently covers training for grade school children through adults. Courses cover everything from the fundamentals of restoring hope after trauma to intensive training for facilitators, who then are equipped to multiply their impact.
Another way Roots in the Ruins is expanding the impact of the program is through working to produce a year-long Sunday school curriculum in trauma healing and resilience development for children and adolescents, including such topics as trauma, depressive reaction/aggressive reaction, and how to leverage story-telling as an act of self-healing. The program also is looking to expand the training of spiritual leaders to other Latin American countries.
Update – October 2017
At 11:49 p.m. on Thursday, September 7, 2017, an earthquake measuring 8.2 on the Richter Scale struck the southwest states of Mexico. Tremors were felt as far away as Mexico City, spanning a 520-mile distance. The earthquake lasted 84 seconds, more than twice as long as the average earthquake. Just twelve days later on September 19, 2017, another earthquake further devastated those areas and claimed even more lives.  Schools, hospitals, businesses, churches, bridges, roads, and historic buildings lay in varying states of ruin.
Along with the visible damage, earthquake survivors also endure traumatic psychological damage which can last a lifetime. Addressing this issue is crucial for a community's future, yet there is a severe lack of knowledge about restoring emotional health after trauma. Recognizing this, the Roots in the Ruins program developed a new training for earthquake survivors to help cope with tragedy and rebuild their lives.
The Roots in the Ruins program of the Institute of Intercultural Studies and Research (INESIN) developed "Project Rekindle Hope" in cooperation with the Mexican Church of the Nazarene and the Seminary of the Mexican Church of the Nazarene. Project Rekindle Hope aims to train pastors and lay leaders in trauma healing, conflict resolution, and resilience development for all ages. Local pastors and congregational lay leaders formulated the following goals for the project:
Rebuild emotional health
Restore faith in God for a moral and spiritual renovation
Envision a different way of seeing oneself and others, ending indifference
Encouraging a new sense of compassion and empathy
The project will unfold over the course of three stages. The first stage encompasses organizing work teams, spreading information about training opportunities, and providing beginner-level emotional and spiritual first aid training for pastors and Sunday School teachers. Stage two will focus on expanding access to this basic training to a wider range of participants, including pastors and leaders of the Mexican Church of the Nazarene, students from the Seminary of the Church of the Nazarene, and ecumenical partners in Mexico. Also during this period, intermediate-level training will become available. The final stage will involve teaching participants in advanced courses, which will prepare them to become trainers themselves on the material they have learned. Special attention will also be given to training youth for counseling their peers as well as training Sunday School teachers for a new curriculum, Creacción, a program for healing children's relationship with God's creation.
Pastors believe that Project Rekindle Hope trainings will benefit all participating congregations and re-unite communities as people witness the efforts of the Church to serve others and transform lives. Ideas for future church action in the community include visiting hospital patients and inmates in prisons. Global Ministries welcomes donations for INESIN's Roots in the Ruins program.
A gift of $25 can provide Roots in the Ruins training materials for a pastor/leader to use and share
A gift of $75 can provide transportation for one pastor/leader to attend a Roots in the Ruins' Project Rekindle Hope training
A gift of $350 can send one pastor/leader to attend a Roots in the Ruins' Project Rekindle Hope training
This video was made on Roots in the Ruins to share about the trauma work of the program one year after the earthquakes in Oaxaca.
Update June 2020
In 2019, Roots in the Ruins workshops were held in Juchitán, Oaxaca, San Luis Potosí, and San Cristóbal de las Casas in Mexico, as well as in Puerto Rico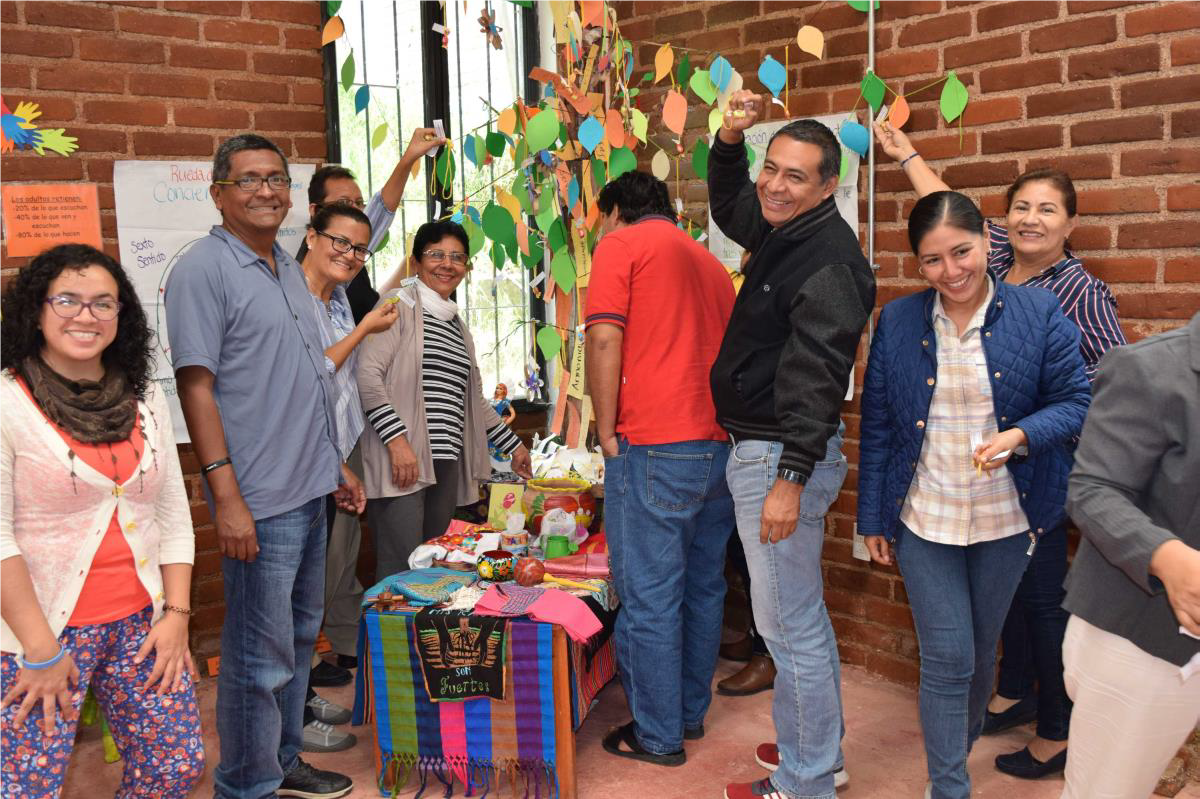 and Chile. Celia, a participant in one of the workshops had this to say, I learned how to cope, heal, and free myself from conflicts and insecurities. The forgiveness process is important to me and I have practiced it. I have sought to strengthen my dignity, and that of others, and I know how to accompany others so that they feel heard and loved. I now know how to set my limits, so as not to harm myself or others. Through this course, I experienced the transforming power of God's love. I go home full of joy and gratitude for the tools that I was able to take to transform and help my church and community. In the future, the facilitators of the Roots in the Ruins program look forward to an international facilitator meeting at INESIN in 2022 to discuss current issues related to trauma, resilience, justice, dignity, and conflict transformation.
Currently, Roots in the Ruins is responding to the COVID-19 pandemic by implementing several new programs online and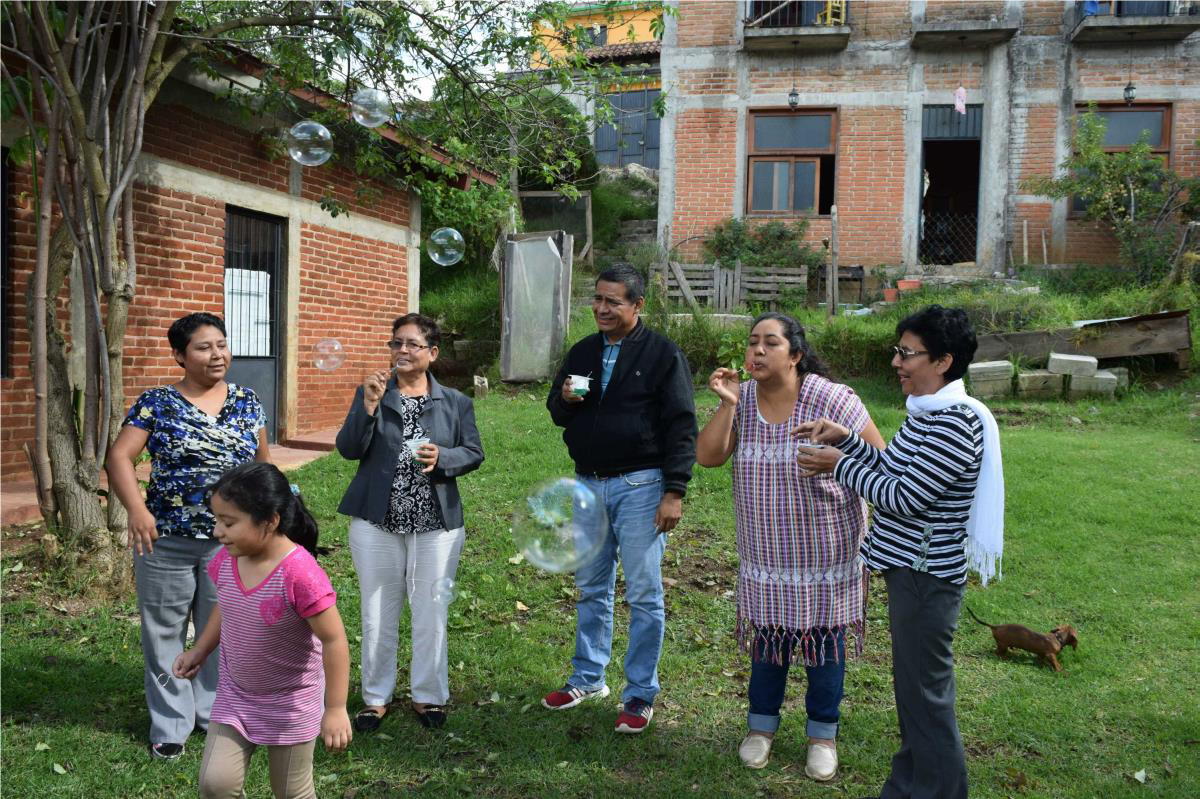 over the phone. Roots in the Ruins has developed procedures for online circles to provide emotional support during this time, and workshops on the topics of compassion fatigue, moral injury, and the mourning process. Roots in the Ruins is providing online activities to maintain physical, emotional, and spiritual health, and offering "Hugs by phone" which is an accompaniment program for seniors who do not have access to technology to communicate online and cannot leave their homes.
Update: September 2022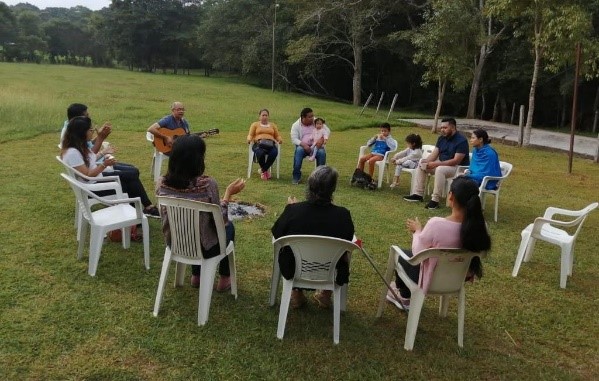 Roots in the Ruins offers workshops and courses designed to equip a core group of Roots in the Ruins trainers, as well as to develop a broad group of participants who can make use of the tools and practices of the program in a multiplying effect.
Recently, INESIN hosted a Roots in the Ruins three-day workshop in Chiapas, titled: Emotional Growth for Ecumenism. In the workshop, 12 women, five men, and three children participated. Of the 20 participants, six were church leaders.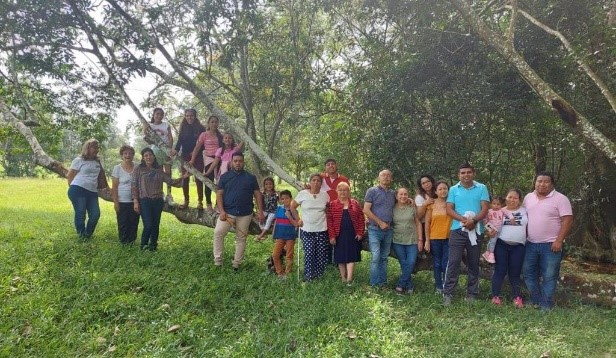 In this workshop, the group worked on overcoming negative emotions and feelings of pain that might lead to attitudes of intolerance or a lack of respect to people with differing beliefs and cultures. The workshop was a great opportunity to participate with others from different backgrounds as well. One participant shared, "I had never been to an activity with this theme. I hope to participate in another workshop that is longer. There were things about myself that needed me to see them differently, to forgive those parts, and I had no idea these parts were affecting my relationship with others."
Another participant said, "I had always thought that my co-workers were 'bad' because they did not share my same beliefs. Now, I've realized that I didn't feel good about myself and that is why I judged them. I want to be a better partner and friend to others."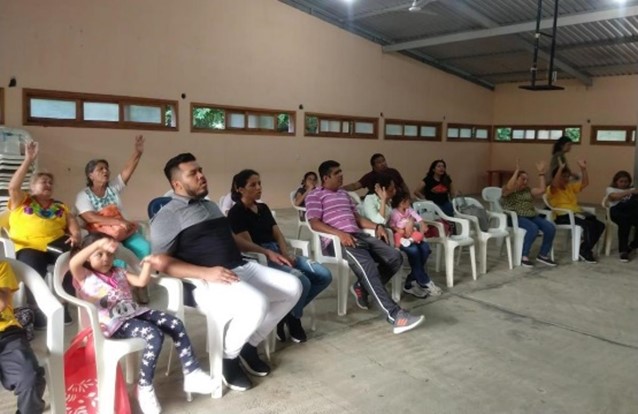 In the future, the Roots in the Ruins project plans to convene one or two workshops per year, depending on financial resources.
Support this Ministry
To make a gift for this ministry online or by check use the online donation page.
100% of your gift will be directed to Roots in the Ruins (INESIN)
You will receive updates on the work in this area as they become available
Share in the vision of God's abundant life for all people
---
Related Content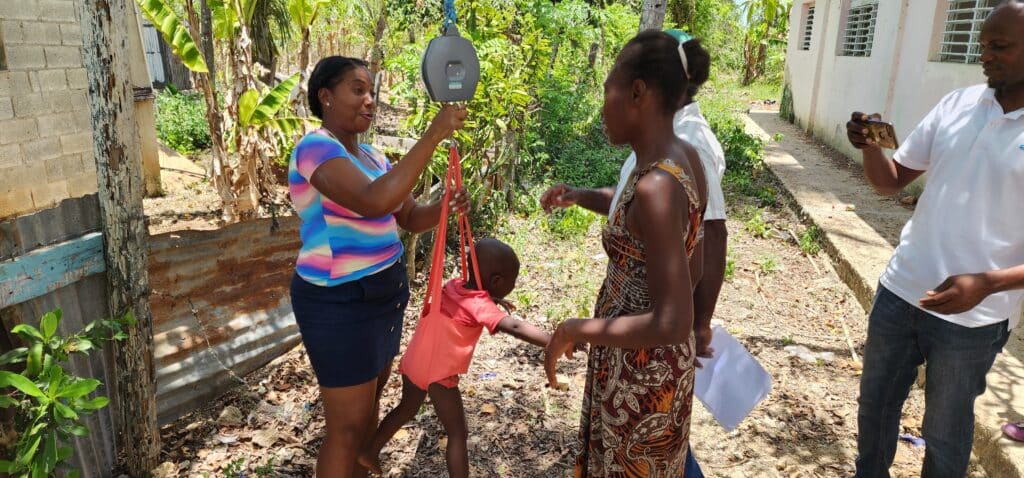 The community of Consuelo has been receiving little angels from heaven. I could see their wings...
Read More