Protect Liberians with Deferred Enforced Departure Status
Originally posted by Disciples Home Missions on January 23, 2019 here
Please Sign On NOW as Faith Leaders to Protect Liberians with DED!!
Last weekend, Liberians from our Disciples Whosoever Will Christian Church in Maryland inspired hundreds of Disciples gathered for Dr. Martin Luther King, Jr. celebrations through their praise and song (See photo.)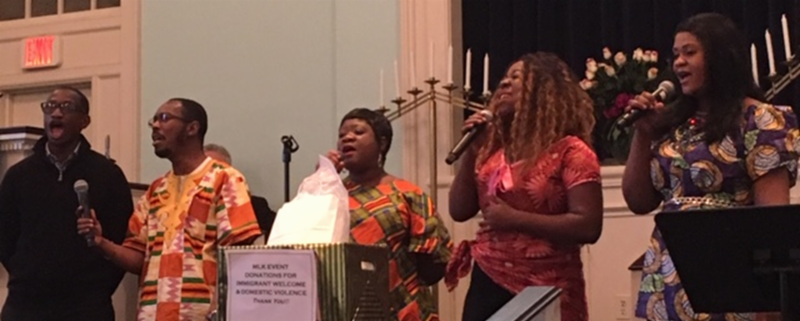 They likewise joined with speaker Dr. Michael Kinnamon and attendees in seeking to confront fears our society is raising against immigrants, refugees, and other communities of color–despite evidence of vast contributions of immigrants to our nation's strength, safety, and economy.
However, fears within the Liberian community continue to build–especially due to the Administration's announced removal of protections for nearly 4,000 Liberians who currently have protected "Deferred Enforced Departure" status. Without a solution, these persons will lose their work authorizations and become subject to deportation imminently; on March 31, 2019.
SIGN ON HERE AS FAITH LEADERS AND HERE AS ORGANIZATIONS/CONGREGATIONS BY JANUARY 28TH TO ENSURE LIBERIANS WITH DED, ALONG WITH DREAMERS & TPS RECIPIENTS, RETAIN PROTECTIONS!
This is a positive step Congress can take NOW!
To stop longtime Liberian residents and members of congregations throughout the U.S. from losing their status, PLEASE SIGN ON IMMEDIATELY to this faith leader letter, and to this organizational letter, to remind Congress that dreamers, Temporary Protected Status (TPS) recipients, and Deferred Enforced Departure (DED) holders are in urgent need of a permanent, legislative solution that provides a pathway to citizenship without undercutting other immigrant community members.
Our Disciples partnership with Liberians has been long and strong, and Americans share a centuries' old heritage with Liberia. As Rev. Marco Cable, Executive of Global Ministries Africa Office reminds, "The first missionaries sent to Africa were Black Americans who went to Liberia."
Find further background information about Liberians and DED here, and please sign on to the faith letter NOW!!