Puerto Rico's power grid in the hands of its people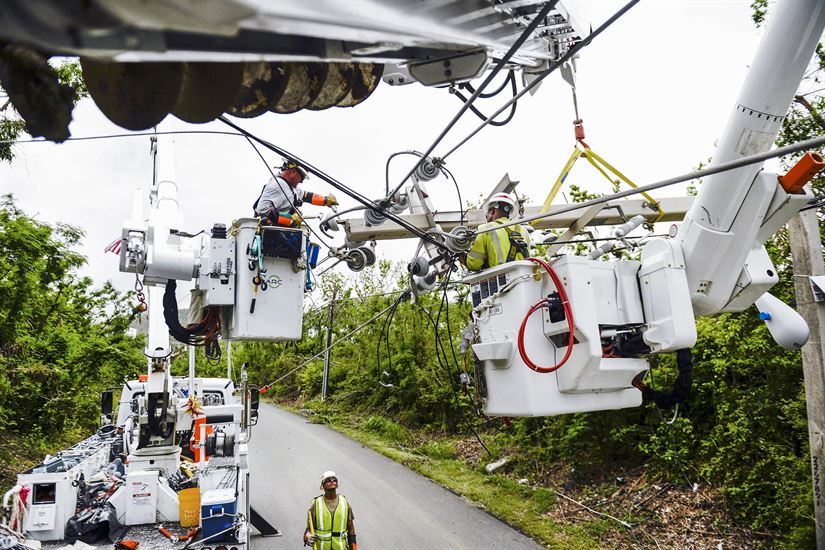 SAN JUAN, Puerto Rico — Ten months after Hurricane Maria destroyed Puerto Rico's electric grid, the local agency responsible for rebuilding it is in chaos and more than $1 billion in federal funds meant to strengthen the rickety system has gone unspent, according to contractors and U.S. officials who are anxious to make progress before the next hurricane.
The Puerto Rico Electric Power Authority has seen two chief executive officers and four board members resign in less than a week in a messy fight over how much the bankrupt agency should pay its CEO. The agency's fourth CEO since the hurricane lasted less than 24 hours on the job last week before resigning amid public outrage over his $750,000 salary.
Gov. Ricardo Rossello on Wednesday named the former head of Puerto Rico's water and sewer agency as the fifth head of the electric company since Maria, at a salary of $250,000 a year. Jose Ortiz starts work Monday.
"In spite of missteps in the past, everybody will see that we have the right person at the right time," Rossello said.
The turmoil has fueled delays in launching $1.4 billion worth of work that includes replacing creaky wooden power poles vulnerable to collapse in the next storm, the chief federal official in charge of rebuilding Puerto Rico told The Associated Press.
"There is no permanent work that's been done," said Mike Byrne, the Federal Emergency Management Agency's assistant administrator for field operations. "What I'm worried about is the next level, the permanent work, the going in and building the grid the way I've been tasked to do by Congress."
From shut-down medical equipment to the spread of waterborne diseases, the cascading effects of power grid failure likely led to hundreds of deaths in the aftermath of the Category 4 hurricane, although the exact number remains a subject of debate and ongoing investigation.
"The one reason why so many people died in the aftermath of the hurricane was the lack of energy," said opposition Sen. Eduardo Bhatia. "And the lack of energy comes from how fragile the system was because of years of neglect." https://www.cbsnews.com/news/turmoil-slows-rebuilding-of-puerto-ricos-power-grid/
While the government and private contractors look to blame to each other for the energy crisis in Puerto Rico, Amaneser 2025, a Global Ministries´ Partner in Puerto Rico, continues with its program to organize communities for the building and administration of communal solar projects. Rosario has spent years with this effort, through the group "AMANESER 2025" with the support of Global Ministries, which is focused on promoting alternatives to face climate change. Now, however, it is almost impossible to meet the demand for guidance.
Rosario has been working in communities in the towns of Jayuya, Caguas, San Juan, Bayamón, Naranjito, Ponce, Lares, Humacao, Salinas and Yabucoa. "People are looking for what to do … most of the citizens are trying to solve their problems. That is the initial drive," said Rosario. "What we bring to (the people) is the message of how (they) can collaborate to change the game to do something different." As he explained to a local newspaper in Puerto Rico, Rosario does not sell solar energy systems. He only works by providing workshops in community meetings about the alternatives of equipment that can be purchased together to meet the most pressing needs and the possibility of installing them themselves. "The idea is that the community owns the process. They know well how it works, they decide what they want and install it themselves," said Rosario. "We want the communities to be prepared for another hurricane, like Maria, but without depending on someone else to come after and impose what they want to do," he added. You can read the article (only in Spanish) here: https://www.elnuevodia.com/noticias/locales/nota/comunidadesapuestanalaenergiasolar-2418364/