Reflection from a theological doctoral graduate in Sumba, Indonesia: Blessed to be a blessing
Dr. Suryaningsi Mila, is a member of the Gereja Kristen in Sumba, Indonesia, and teaches theology at the Sumba Theological Seminary Sekola Teologica in Lewa, Sumba, Indonesia. She has recently completed her doctoral program in the area of Inter-religious studies at the Gajah Mada University in Yogyakarta. Global Ministries is proud of this achievement of a young and promising theological educator from Sumba.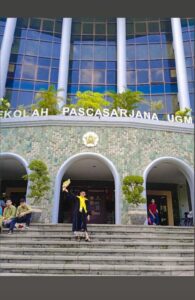 On this occasion, I would like to express my gratitude to Global Ministries, who has supported me during my studies through scholarship assistance. I am very grateful for the opportunity for doctoral studies in the Inter-Religious Studies Program at the Gajah Mada University from February 2018 to January 2022. This program is a consortium called the Indonesian Consortium for Religious Studies which was founded by three major universities in Yogyakarta, namely Gajah Mada University, Duta Wacana Christian University, and Sunan Kalijaga State Islamic University. I completed my closed defense on January 26, 2022, and attended my graduation on April 20, 2022, in Yogyakarta. Indeed, all of this can happen because of God's help through many people who have been with me along the journey. In particular, I am very grateful to Global Ministries for providing me scholarships from the beginning of my studies to the end. Global Ministries has become a bridge that led me to this academic achievement. Since the beginning of the scholarship application process, Rev. Deenabandhu Manchala and Karen Koza of the Global Ministries Southern Asia Office, have been very consistent in running intensive communications with me and the Sumba Theological Seminary to keep up with the progress of my studies.
Throughout the study process, there have been many ups and downs, struggles, and challenges. Actually, this is not just an academic journey, but also a spiritual journey through experiences of walking with God amid difficulties. I had to study while being separated from my family, however, I am blessed that scholarships also covered the cost of traveling back home twice a year to spend time with my family during campus holidays. This scholarship helped me to finish my study on time and return to ministry at Sumba Theological Seminary and in the service of the Sumba Christian Church as well as in community service in broader society.
In the end, this struggle bears fruit. For a woman from a village and low-income family, this academic achievement is proof that women can do it, village kids can do it, and farmers' kids can, too. Nothing is impossible for God when we dare to dream, work hard, and study hard, all ways will be opened by God. I believe that Global Ministries is God's tool to advance the ministry of Sumba Theological Seminary through the availability of qualified and competent lecturers. Again, this scholarship also contributes to the development of human resources in the context of Sumba and Indonesia at large. In addition, I was the first lecturer at STT GKS that received this scholarship, which is a big responsibility. I am thankful that I was able to fulfill my responsibilities by completing my studies properly, maintaining good relations between the STT GKS, the GKS synod, and Global Ministries. As my commitment, I will continue my adventure to serve God and my local community within the scope of the ministry of the Sumba Christian Church. Hopefully, my academic and spiritual experience will come alive in meaningful ways for others, especially for students at STT GKS and for Sumbanese girls from rural areas who also have big dreams in their lives. Finally, as I am blessed, so I am committed to be a blessing through my work and ministry.