Reflections on GM Board Delegation to the Dominican Republic
As part of the Caribbean Initiative, ten members of the Common Global Ministries Board traveled to the Dominican Republic the first week of April. There, they met and visited projects of the various Global Ministries' partners to celebrate relationships and to receive and share the Good News of Jesus Christ. The following reflections will take us through their pilgrimage in this beautiful Caribbean country.
Day One
"Look I have set before you an open door that no one is able to shut." – Revelation 3:8a
It seems that the Christian life and the journey to which it invites us has much to do with door openings and a resistance to door closings. At the heart of it all is a truth that God's love has the power to open doors when they are slammed shut or rolled over in such a way that death would seem for a time to be the final word. But the testimony of our faith resists a narrative of closing things off.
So, on the first day of our journey to this island known as the "the mother of all lands", we discovered there were door closings and door openings. A long line at passport control upon our arrival reminded us that one does not just walk quickly into the doorway of another country's life. Amazingly, however, the process of entry that took over an hour provided a doorway among our group, as in twos and threes we shared stories and found our lives inched open to each other.
We were met at the doorway to the airport by our transportation team and translator, Amaury, whose shirt said it all, "Speaking a second language is my super power" – a necessary doorway presence for many of us right from the start. We were also met at the doorway by a warm heat that reminded us we had entered a new reality.
Our primary partnership destination for day one was the Social Services of the Dominican Evangelical Church (SSID). Upon arrival, the doorway of welcome was extended with hugs and smiles from the head of SSID, Lorenzo Mota King, and Program Director, Lydia Santana, and a delightful meal. But we discovered again that the real doorway into life is often opened when people share their story or that of their country and the ministry to which God has called them.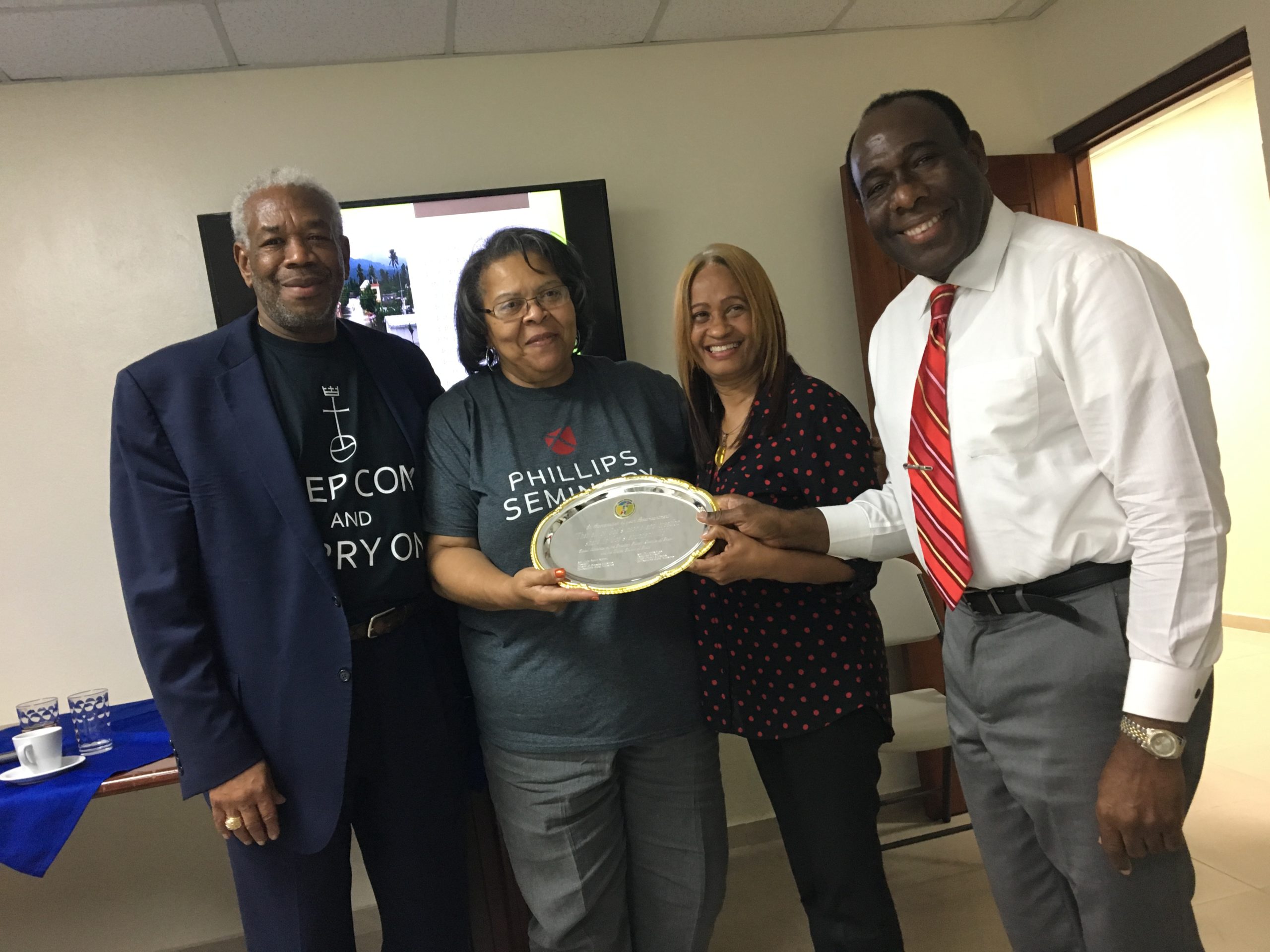 We learned how, in an effort to rid the Dominican Republic of a dictator, a blockade of the country by the Organization of American states in the late 1950's closed the door to necessary resources of food and medicine and threatened to starve the people. The answer to this door closing was the church and the ministry of Christ which took the form of coming together and reaching out to partner churches from around the world in such a way that tons of food arrived and helped to avert a death-dealing catastrophe.
We discovered how the Island of Hispaniola itself carries a history of door closings and door openings. Home to both Haiti and the Dominican Republic, there is a history of mistrust between the two countries that has often allowed the door of prejudice and suspicion to become an internal blockade. This has taken many forms, even within the church, but most recently was expressed in a law that stripped people of Haitian descent, who had been born in the Dominican Republic, of their Dominican citizenship. This law created "stateless" people with no place to really call home and seemed to fashion a doorway to nowhere.
Thankfully, God makes a doorway that no one can shut. In 2002, it was church leaders from both Haiti and the Dominican Republic who discerned that the common bond of Jesus Christ could in fact roll the stone of suspicion and prejudice away. Not quickly or easily but profoundly and deeply over time, a doorway of discovery began to fashion new possibilities that later would serve as the basis for overturning the law of "stateless people". It would build a capacity to respond to disasters across country boundaries, and thus foster a new beginning to see one another as God sees us all, as beloved children.
Amazingly, when violence between Haitians and Dominicans has threatened to roll the stone back over the openings which God has fashioned, the vision of a new relationship and way has been resurrected. The doorway which Christ built through SSID has opened political doors between Haiti and the Dominican Republic resulting in the coming together of the Congressional Presidents of both countries to form new ties and strategies for reconciliation and healing.
Often when one doorway is opened by God, other doorways are also opened. So the work of SSID encompasses work in health, environment, education, rights and justice, society and emergency response. In each of these areas where the needs are so great it would be easy to get discouraged and close the door on hope. But in our meeting with SSID we realized that there is an energy and spirit larger than the sum of the parts working to fashion new openings where none seem possible.
Our evening devotions based on Isaiah 6: 1-8 reminded us that each of us is, in fact, a doorway designed by God, an opening through which God can and does work, if we will but consent to God's loving pull. So God forever asks the questions, "Who will go for us?" God could just as well have asked, "Who will open the doorway of theirs lives, for I have set before you an open doorway that no one is able to shut." To this question, we sang our response, "Here I am, Lord, send me." So we have been sent and already in our going have discovered open doorways awaiting our arrival, fashioned by God in and for healing love.
David Long-Higgins
Day Two – Reflection 1
Friday brought us into the presence of a number of fierce (in the best possible sense!), fabulous and faithful women. There were a number of them, but I want to tell you about just two: Sister Denisse Pichardo and Rev. Xiomara Rosario Henriquez.
Boca Chica, not far from Santo Domingo, was our first stop of the day. Boca Chica draws many tourists to its pristine beaches and gorgeous sparkling aquamarine waters. But we were not there for a day at the beach. Our destination was Proyecto Educativo Caminante, an organization founded 24 years ago by Sister Denisse. Sister Denisse knew all too well that those same beaches and the streets around them were dangerous for vulnerable children and adolescents. She sensed an urgent calling to respond to the needs of street children and youth in the area and created Caminante to protect them from commercial sexual exploitation. These are youth who have escaped abuse at home, have found themselves working as street vendors, or have been trafficked across the border from Haiti and forced into prostitution or drug smuggling. It is a harrowing reality for too many children and youth. Caminante is a lifeline for them.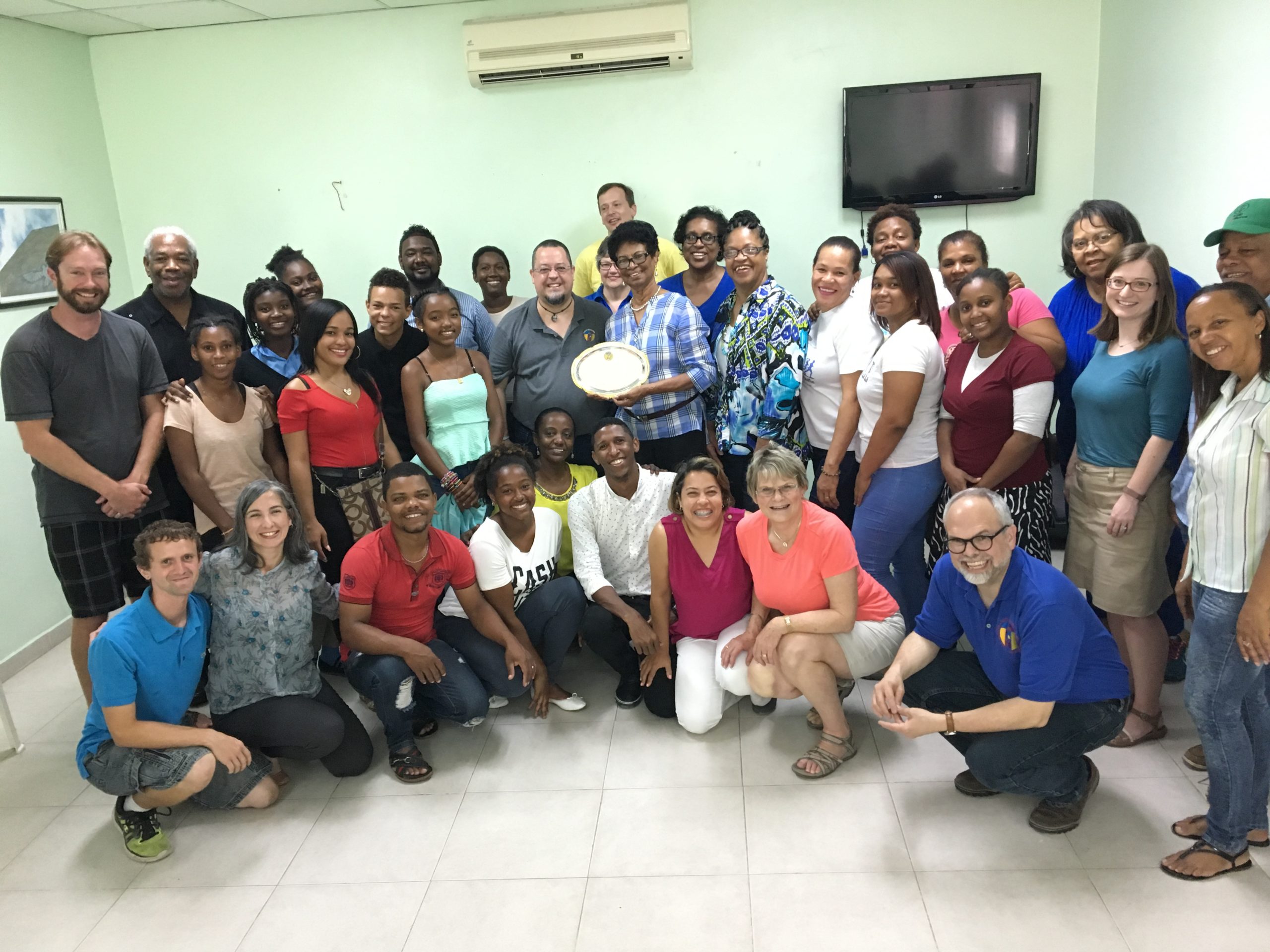 In 24 years the organization has grown to provide a host of services, from education to health care to legal representation. Caminante works not only with the young people, but with their families, helping to educate all to the need of protecting children and youth. One effort that has been underway for about four years now is a global initiative Sister Denisse called the code of conduct, which is short for "The Code of Conduct for the Protection of Children from Sexual Exploitation in Travel and Tourism". Caminante is involved in this initiative whose mission is to provide awareness, tools and support to the tourism industry to prevent the commercial sexual exploitation of children. It seeks to enlist the cooperation of local businesses in decreasing that exploitation by signing a pledge to refuse to do business with anyone who is suspected of causing harm to minors and by making it explicit in their advertising that they will not tolerate it. Sister Denisse reports that organizations around Boca Chica are beginning to respond to the plea. It is yet one more way that the mission of Caminante continues to grow and evolve.
Later in the day we learned about the work of the Christian Center of Family Counseling (CECAF), which is based in Santo Domingo with centers all over the island.  CECAF was founded by a group of people in 1991, including the late Rev. Dr. Peter Savage, who served for some years in Latin America on behalf of Global Ministries. CECAF offers therapeutic mental health services primarily focused on domestic violence. Xiomara, a licensed mental health counselor and ordained minister, is the current director of CECAF. Our time with her was both heartbreaking and inspiring. She opened a window for us into the widespread violence against of women at the hands of their intimate partners. That violence has a devastating effect on the entire family and CECAF makes it a priority to minister to every family member.
CECAF offers a range of psychological and financial services, including counseling for marital issues, trauma and addiction. It also offers workshops and provides training for clergy, challenging them – and their churches – to take the responsibility that is theirs to address the critical need of so many who are victimized. The church has remained silent for too long. The time for action is now!
The challenge is huge, and the progress is painfully slow. The machismo culture has a longstanding and strong foothold here. This socially accepted domination of women by men, often exacerbated by other social and economic struggles, can spell disaster for women and children. Acts of violence against their partners is pervasive – sometimes even leading to death. The abuse often extends to their children. The fabric of the family is damaged. None escape the trauma.
Even with these challenges, Xiomara is undaunted. "God has been with us through all these difficult times", she told us. "And I know that God will never leave us". The strength of her spirit and her deep commitment to the welfare of women and children is so moving. Her care extends to men as well, as she and those she works with strive to help men learn a new way of relating that brings honor and justice to their partners and their children.
I was in awe of Sister Denisse and Rev. Xiomara and their amazing staff. Their love for the people they serve is profound and their gritty determination to change the culture in which their people live is inspiring. Their ministry is about nothing less than saving lives. May God continue to strengthen them, guide them and bless them abundantly as they labor to transform lives.
Kimberly McKerley
Day Two – Reflection 2
On our second day of the delegation of Board members being together and walking with our partners of Global Ministries, I was filled with many emotions that flowed through my spirit. I had begun to soak up the warmth of the gracious hospitality shown to us by the Dominican people. I was also caught up in a moment of anxiety mixed with joy in what this day would hold.
We were scheduled to visit our partners at Proyecto Educativo Caminante in Boca Chica. In Boca Chica is where my youngest son was placed to do a short term mission assignment. Andrew was an adventurous and vibrate individual who cherished unusual experiences and he served the children and youth at Caminante. This was a place he often spoke of with fondness and joy. He was excited about serving those who, because of life's circumstances, were treated unfavorably by society. He saw it as assignment as mission and ministry.
I was delighted to know that this experience informed his social awareness. However, more importantly it informed his world view created by his previous experiences with Global Ministries in other settings. This setting held significance for me, because Andrew passed away two years ago in March 2016. I privately had said in my heart that if there was an opportunity to go to the Dominican Republic one day, I would do so in his honor and visit this place he held as sacred, either on my own or by chance with Global Ministries. My God answered the prayer and made this happen.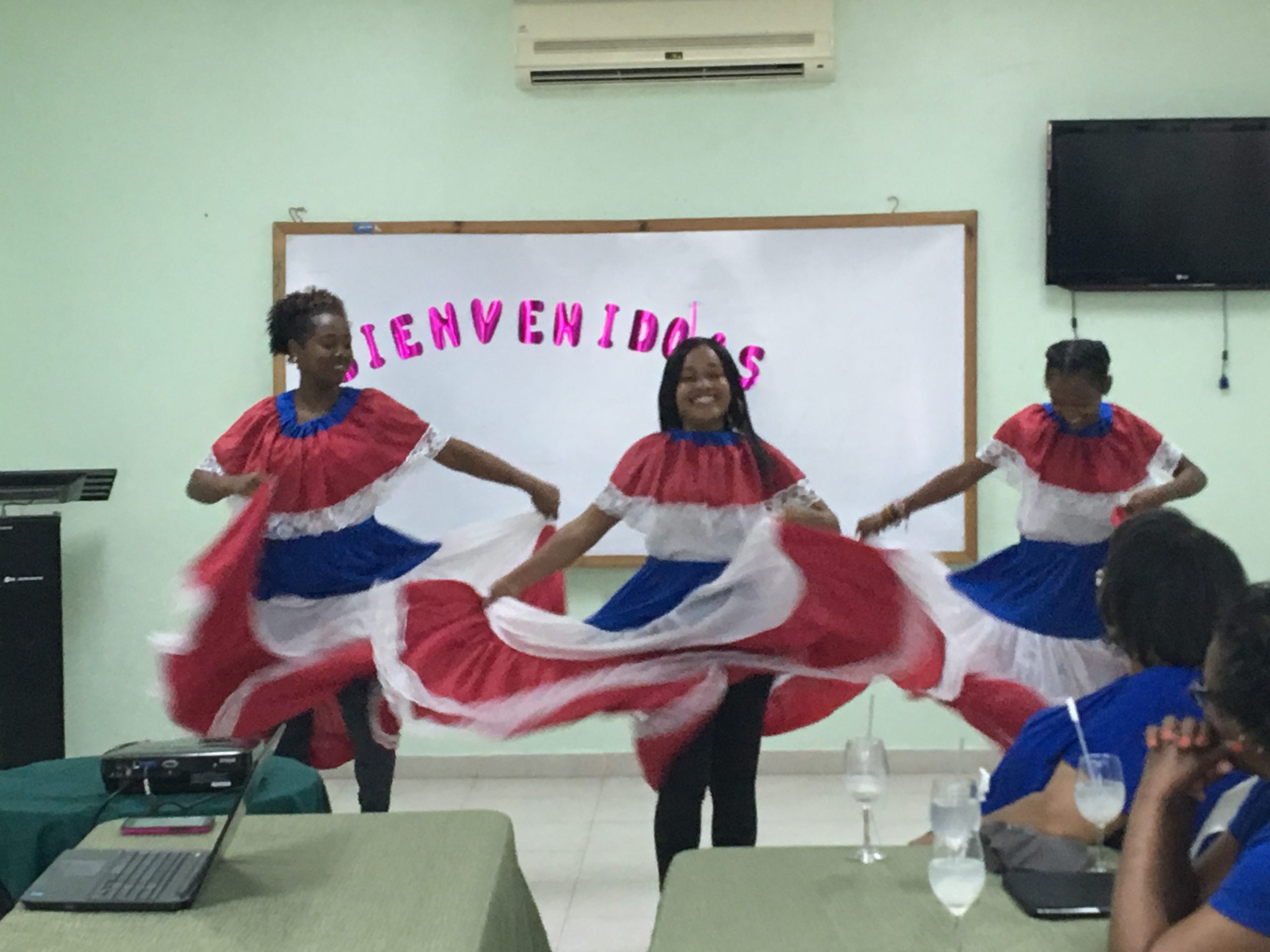 When we arrived at Caminante, I was expecting a Center that was set apart from the normal flow of residences. However, I was struck by the simplicity of this compact location centered in the community. As we climbed the stairs we were greeted by the welcoming spirit of those who staff and volunteer at the center. This is a place where children come from the streets and other places to an environment dedicated to their empowerment. Caminante is there to receive them and rescue them from the abuse delivered by a society that can take away the soul of these children. They come in beaten, battered, and bruised by the social conditions that exist in their community. Most of the children have experienced some form of abuse, or have been forced out of the comfort of home because of a variety of reasons too numerous to name. While on the streets, they suffer from sexual abuse and engage in prostitution either by force or necessity. They are often exploited by those who have them sell their merchandise for little compensation or just for food. There is a sign on the wall that emphasizes the dignity of those who come in as a reminder of their value and dignity in humanity.
The process is treated like the experience one would have in a triage unit of the hospital. The children are given a physical and psychological assessment to determine how best to serve them.   The children are given their immediate needs of food, clothes, and possible shelter, and then someone will counsel them about possible abuse or neglect. The Dominican Republic has experienced a lot of human trafficking cases. Unfortunately, many of these children are also caught up in this web of danger. Many of them are living on the streets, while others are in places that are not conducive to their well-being.
The staff and volunteers after making the assessment will refer the case to an accountant to determine a budget for each individual and then refer it to the director for processing. The staff and volunteers from Caminante along with someone from the justice agency, try to identify, if possible, the residences of which the child was living prior to them being on the street. They work in conjunction to assist finding the people responsible for the well-being of the child.
After visiting this center, we then went to a location that was the headquarters of Caminante where we were once again treated with gracious hospitality. The Executive Director, a woman name Sister Denisse, greeted each of us and shared with me personally the impact that Andrew had on them and her. I was deeply moved by this experience and on many occasions later on, I was nearly moved to tears as several others came to me with the same impressions. We were treated with a festive welcome that involved dancers who got many of the visiting party up to do a dance called the merengue. It was breath taking to say the least. We were treated with an overview and history of Caminante by Sister Denisse and our Global Mission Intern, Josh Busick, and shared a wonderful meal with many children who were part of the program.
I was truly moved by this day in many ways and the experienced gave me a new desire to serve Global Ministries in any way possible to strengthen the work of our partners here in the Dominican Republic. It was a day I felt truly blessed by the Spirit. It was an experience that I will cherish in my heart forever.
Rev. Dr. Edward Davis
Day Three – Reflection 1
"The cry of the Israelites has now come to me; I have also seen how the Egyptians oppress them. So come, I will send you to Pharaoh to bring my people, the Israelites, out of Egypt." (Exodus 3:9-10)
The story of Moses leading God's oppressed people through a dangerous and foreign land spoke in my heart today as we visited with ALFALIT Domincano. ALFALIT Dominicano and their partners are accompanying Haitians living in the Dominican Republic in the process of reclaiming their citizenship, pensions, and healthcare benefits.
An estimated 55,000 Haitians live in the Dominican Republic, many for decades, and have worked in the sugar cane fields. In the late 20th century, as Dominican sugar cane could no longer compete in the global marketplace, sugar companies sold off their land and left thousands unemployed, mostly Haitians but many with Dominican citizenship. As citizens, they are entitled to retirement and healthcare benefits from the state. However, in 2013, the federal government of the Dominican Republic stripped Haitians living in the country of their citizenship, leaving families who were already barely surviving without a state and without resources. This applied to all Haitians – even those who had been born in the Dominican Republic, or who had lived in the country for decades with no ties to Haiti. Many of these families live in the Haitian bateyes – settlements of sugar cane workers – in the rural, interior regions of the Dominican Republic. By 2015, the Dominican Courts re-instated citizenship for Haitians, if they could provide the proper documentation. But the Haitian government is slow to provide assistance, when the papers exist in the first place, and there are hundreds of years of tension and distrust between Dominicans and Haitians, so little interest from Dominicans in making this an easy process.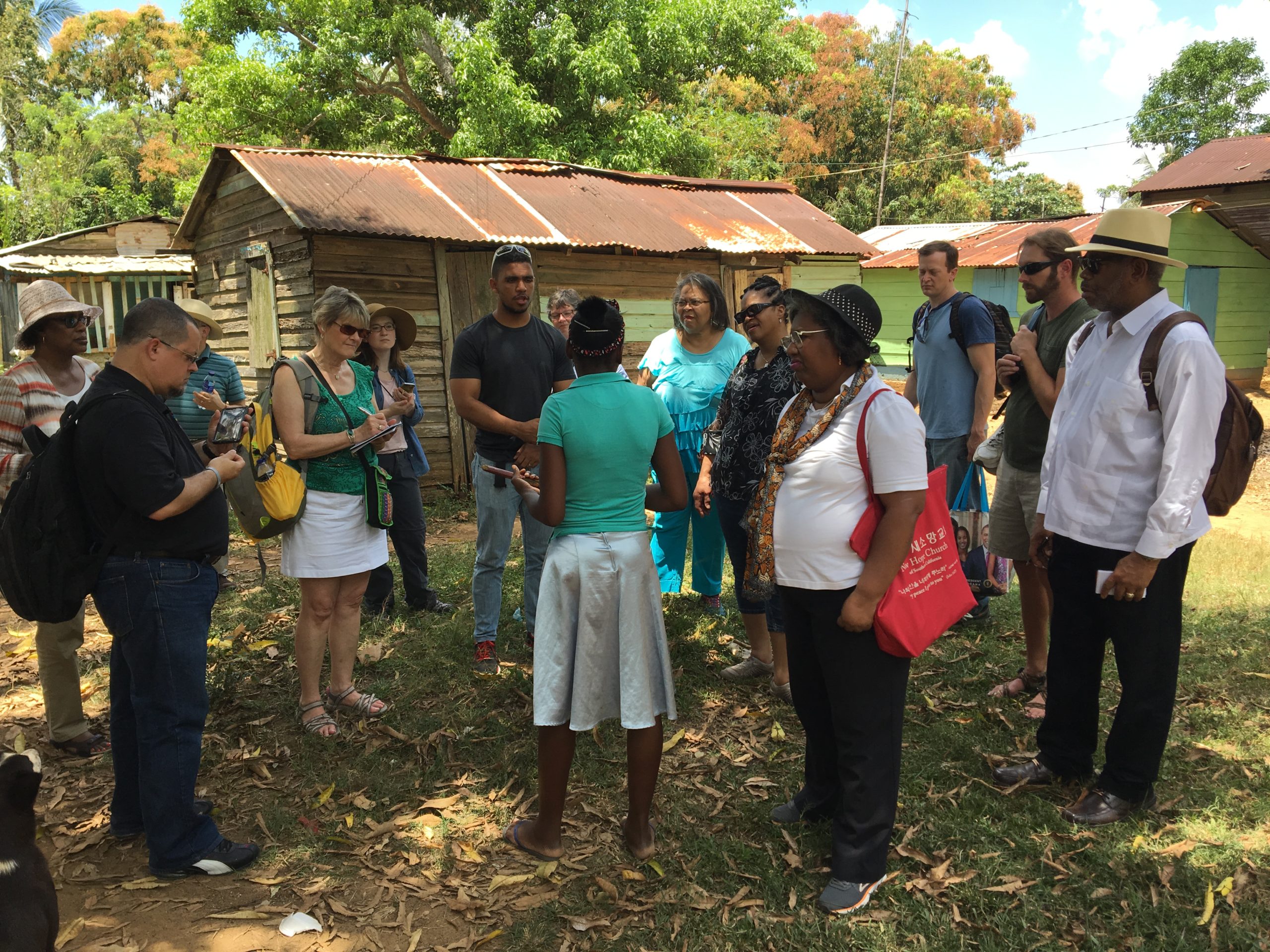 This is where ALFALIT Dominicano and their partners come in. They are working with Haitian families to protect their legal rights, support the process of obtaining the necessary paperwork, and shepherding them through the process of claiming the retirement pensions and health benefits to which they are entitled. These stateless residents are the poorest people in the Dominican Republic, and ALFALIT Dominicano works with their own local partners to meet immediate material needs, when possible, but restore the rights to citizenship, healthcare, and pensions.
The Dominican government's marginalization of Haitians, their interest in drawing a line between ethnic groups, the engendering fear of people from beyond one's own borders, and the devastating distinctions between those with papers and those without…sounded terribly familiar. The parallels to the United States' treatment of immigrants – especially those from Latin America – and treatment of citizens who look like they are from Mexico were painfully obvious. America has promulgated a similar disregard for human rights of immigrants on whose labor we depend, but whose lives are expendable. California's San Joaquin Valley and the sugar cane fields of the Dominican Republic are not so far apart.
Which brings me to Global Ministries' core value of mutuality. We have prayers, resources, support, and love to give our partners like ALFALIT Dominicano, but as Christians and Americans we also have much to learn from their wisdom and experience. ALFALIT Dominicano and their local partners are truly walking with their brothers and sisters who lack citizenship and have been marginalized for generations. Not only are they working to restore rights and meet immediate needs, but ALFALIT Dominicano also fosters dialogue between Haitian and Dominican church leaders, community members, and elected officials to right relationships beset by ancient antagonisms and mutual antipathy.
As Moses was sent to deliver the Israelites, ALFALIT Dominicano is seeking justice for Haitians. In the spirit of mutuality, as we continue to support the vital work of our partners in mission, we must also recognize the oppressed in our land who long for deliverance, and follow ALFALIT's lead in working for justice, reconciliation, and peace.
Katelyn Roedner Sutter
Day Three – Reflection 2
Critical presence. That is a theme that is constantly mentioned within Global Ministries. As a board member, this is something ingrained in you from the very first meeting. I thought I knew what that meant before being given this wonderful opportunity to visit our partners in the Dominican Republic. It always comes back to such a simple concept of just being together with our brothers and sisters.
The concept of mission traditionally has involved a group coming into a developing country and leaving behind something tangible like a school or water project. Don't get me wrong, these are critical issues in this and many communities. But the idea of simply being with people as a form of mission is a relatively new concept to me. My desire to help used to be exclusively about bettering one's situation. My eyes have been opened. Critical presence and mutuality has more meaning having experienced it myself.
Our partners took us to a small settlement off a highway to deliver a mattress to a blind Haitian former sugar cane worker. The only reason this man is still alive is through the generosity of his neighbors and our partners. It is hard to express the poverty and dilapidated conditions of this settlement and the others we visited. The homes there were basically made of scrap wood and bed sheets for the walls. There are very few personal possessions. All I saw of "value" was a few pots and pans.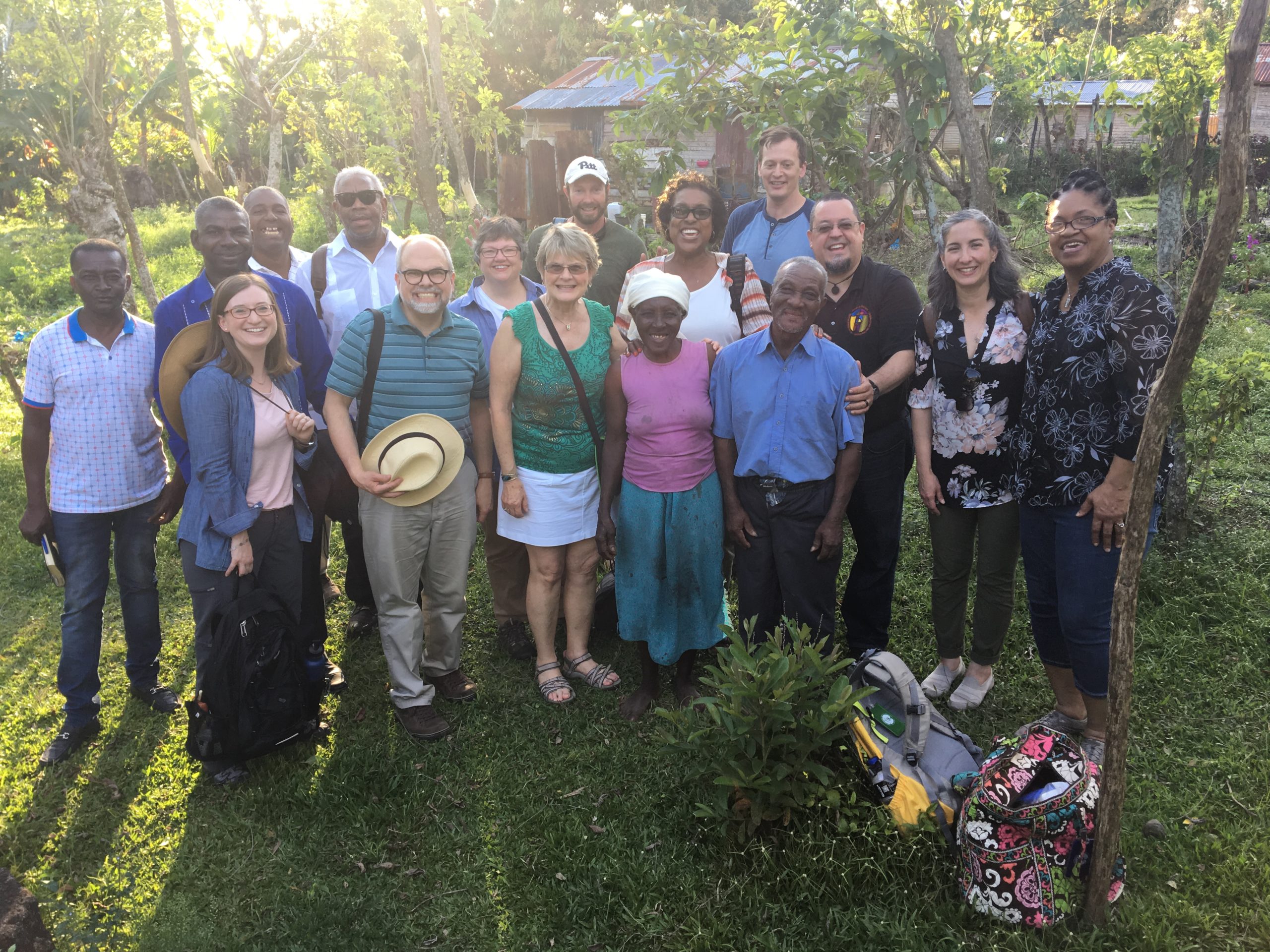 The image that will be with me forever is of an elderly couple we visited in the mountains from the same village as the blind man. In fact, this couple had already received a mattress from ALFALIT Dominicano, a Global Ministries partner. The gentleman expressed that he was not comfortable using the mattress because he did not want to get it dirty. The need here is extreme. But each of these individuals was so welcoming and authentically happy to have us visit. Our group of approximately 20 people was welcomed into their small home with open arms. All this couple had to offer was hospitality but hospitality is a powerful thing. There were lots of hugs and time simply being in each other's presence. As much joy as I saw and experienced in them, was returned tenfold to me. Mutuality. Wow, what a concept! Those we visited left us with more gifts than we could ever return.
The genuine joy in being in community and solidarity is something we have largely lost in the United States. This is a tragedy. I believe that is the root of a lot of problems back in our own country. The misguided idea that we can live our lives independently without having to count on anyone else is destroying our communities. I felt honored and privileged to have been able to be in the Dominican Republic and take these gifts back home with me. It will be my job as a Global Ministries board member to explain critical presence and mutuality to my congregation and friends. This amazing trip has given me a renewed purpose to take the strategic direction of Global Ministries to heart and spread this message within my community.
I want to thank Global Ministries for this wonderful opportunity and gift. This experience will be with me forever and has truly changed how I view the world and my place in it. In particular I want to thank Lorna and Angel for being such wonderful guides and putting such a fantastic program together. The work of Global Ministries is more important than ever and I am thrilled to be a part of it.
Ryan Cullumber
Day Four
Prior to our Sunday Morning church experience, Angel and Lorna had explained that the Dominican way of worship maybe different from what we were accustomed to back home. Time schedules and strict adherence to bulletin procedures were mere suggestions, and that Dominicans tended to allow the Holy Spirit determine when the morning service would conclude, which was always well into the afternoon. Now, I do not speak for the entirety of the UCC or DOC church going experience, but I do know that at least some of you reading this, know that when the preacher encroaches on noon, are tempted to check the strategically placed clock at the back of the sanctuary. After all, churches all over town are being let out around the same time, and you got to beat the Baptists to the buffet, because they eat all the fresh rolls. Sunday school starts around 10:00 am (optional), coffee and doughnuts before the service, which starts around 11:00, and out the door and into the car around noonish, especially if you can duck out the side door to avoid the throngs of handshakes at the end. (I cannot be the only one.) Needless to say, the possibility of three straight hours of un-air conditioned church and no Wi-Fi made me a little anxious.
Our relatively relaxed morning itinerary included a meeting with the Rev. Miguel Angel Cancú, the Executive Secretary of the Iglesia Evangelica Dominicana (IED) or, in English, the Dominican Evangelical Church. The IED 's humble headquarters are located near the colonial heart of Santo Domingo, where buildings aged in centuries are scattered about. With the humidity melting, our delegation sauntered into the building at our appointed time of 9:30, on the dot. We were met by Rev. Cancú, who is an impressive figure, tall, dark and lean, with welcoming eyes. He wore crisp black pants with a matching jacket that went over a vibrant purple buttoned up shirt and a white clerical collar.   His hair was snowy and he donned a distinguished mustache that hovered over his warm smile. He greeted us individually, his long arms stretching out, greeting with a firm handshake that made me feel, personally, like we were old friends. He was taller than me, maybe six four or five, and he spoke with a quiet dignity, and humility, that demanded my attention.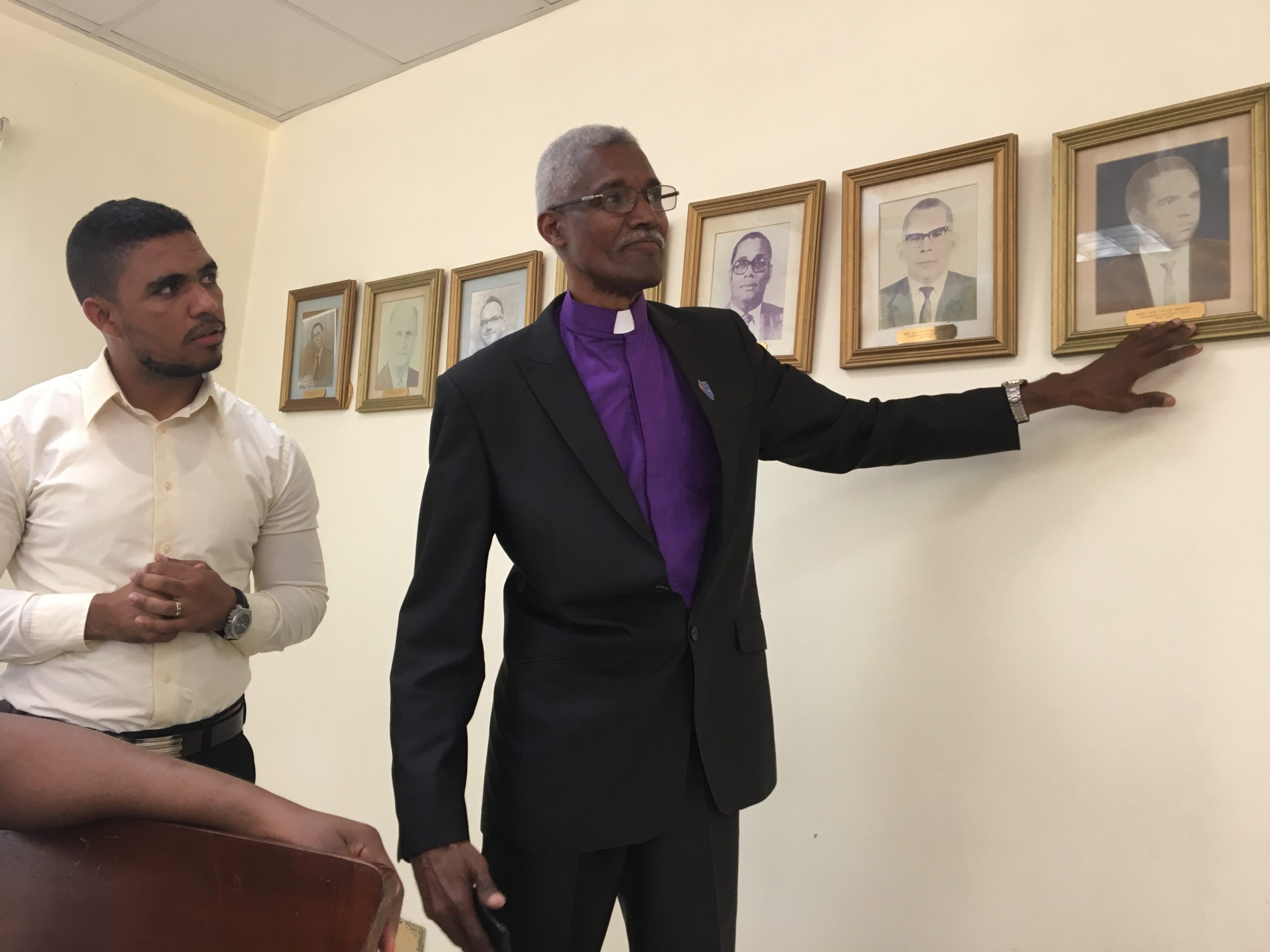 He began explaining IED's history, having its roots in the Methodist, Presbyterian, and Moravian traditions. The conversations lead into the present, describing the church's role in Dominican society, and what challenges it faced, like domestic violence within the family, and orphans created by that violence. I looked at the time, not from boredom, but out of concern that we were not going to make the service at church on-time. Even though he was substituting for a sick pastor at the very church we were to attend, Rev. Cancú was concerned with us. He had to be reminded of the approaching time, and only after that, gently asked if we could continue the conversation after the service.   We piled into our vehicles and followed him to an old cathedral near the facility we met him. It was a beautiful old church, with large windows and mahogany doors, and great big ceiling that lofted forty to fifty feet. It is considered a historical building. Most of the windows and doors were open, allowing a refreshing breeze pass through the corridor. Listening to the Sunday school teacher, there was a small group of attendees seated on old wooden pews that must have seen thousands of such reflections. I did not see any coffee or doughnuts.
It was a little past 10:30am and, if this was the congregation, it was going to be a small crowd. I thought "well the pastor is sick, the word must have gotten out." We took our seats at the front left, bunched around our interpreter waiting for the service to start. Rev. Cancú put on his robes and quietly sat on stage behind the other church leaders. The Sunday school teacher finished his lesson, walked over to a keyboard plugged into an amplifier, and began playing the prelude. The attendees began filling in the seats behind us. At this moment, it looked like our group of twelve was going to be a main component of the congregation. As a former Global Mission Intern, I can understand Spanish relatively well, and the first songs were fun to sing. The woman leading the hymns sang loudly directing the rest of our small congregation to do the same. The voices lifted into the roof of the Cathedral, and I began to notice that more people had joined us, lightly filling in behind us. By the time we got to the hymns of praise, the sanctuary was lively, and many more people had joined us, as they continued to trickle in. Angel explained to me that it is not easy for many in the congregation to just get to church. Some may have to travel a great distance to get here. He was not surprised by the newly arriving people. We sang more songs, looped verses, and the crowd of voices lifted up and out into the streets. They invited Angel to give the Intercession Prayer, which he did with great style, his powerful voice booming from the onset, beseeching the congregation to join him and let the spirit out during his prayer. The full congregation had arrived at this point, and they urged Angel forward. It was a beautiful thing. It was approaching noon, and I did not check the time.
More hymns, more singing, more amped up keyboard getting louder, and louder. Then the church leaders invited us to stand and be recognized. We stood up and waved thinking that would be enough. But no, they were asking us one by one to come to the microphone, introduce ourselves, tell everybody where we were from, what we did, and anything else we wanted to say. This was going to take a while I thought, but nobody else seemed to care. I was first to go to the microphone, and spoke in nervous Spanish, in front of a crowd now, and I could see that I had their attention. It was awesome! The other members of our group followed, the ministers giving words of wisdom, translated through Angel. Each of us had our time in front of the congregation. We felt welcomed, and the people were interested in the words we had to say.   We had not even got to the sermon, and we were pushing 12:30pm. I didn't think about beating anybody to the buffet.
After sitting like a statue for over an hour and a half, Rev. Cancú took the podium. His spoke softly, and with deliberate pause. I thought, well this should be interesting; he's going to put people to sleep. Was that a hunger in my belly developing? It was, but not for food. From that point, Rev. Cancú served us dishes of the Word, a buffet of exquisite oratory that I have not eaten in many years. He went up in volume, his long arms reaching out, and back down, driving home points, confronting the congregation with difficult subjects and realities that most churches in the States avoid like broccoli. He was amazing, and I could not tell you how long it lasted, but it was like a great dinner with friends and family, the ones when everybody sticks around the table, long after the food is gone, just to enjoy each other's company. And we had not even got to communion. For those still with me, in this rather purposefully long blog submission, if your church services are feeling stale, go down to the Dominican Republic, and if you can, listen Rev. Cancú. It won't matter if you understand a word of Spanish, because you'll get the message regardless: God loves you, we love you, now let's praise his name together, as one community in Christ, and forget about the time.
We walked out into the streets, and the sun was shining, and my phone was dead….Hallelujah!
John Kleinschmidt
Day Five
After a late evening, we woke up to a leisure breakfast at our hotel. Each day, we looked forward to eating the fresh-fruit, fresh squeezed orange juice and yogurt in glass containers.   On this particular morning, our table remembered the 1921 Tulsa Race Riot. Some at the table did not really know about the disturbance that destroyed the "Black Wall Street" area of Tulsa, Oklahoma. It gave me the opportunity to share that history.                                
After a busy schedule of activities on previous days, today we finally had the opportunity to rest, go for some sightseeing, and shopping at the Colonial zone of Santo Domingo. Most of us left the hotel around 9:30am to pick up souvenirs from the Dominican Republic. Some of us were looking to bring back home a little piece of the country that welcomed us with open arms. Some of us purchased Mama Juana, a traditional medicinal beverage, while others went looking for treats and jewelry made of a stone called larimar, which is extracted from the soil of the Dominican Republic. We found beautiful wood carved chalices from the area as well. We delighted on the vibrant colors, delicious smells, and welcoming spirit of the Dominican people.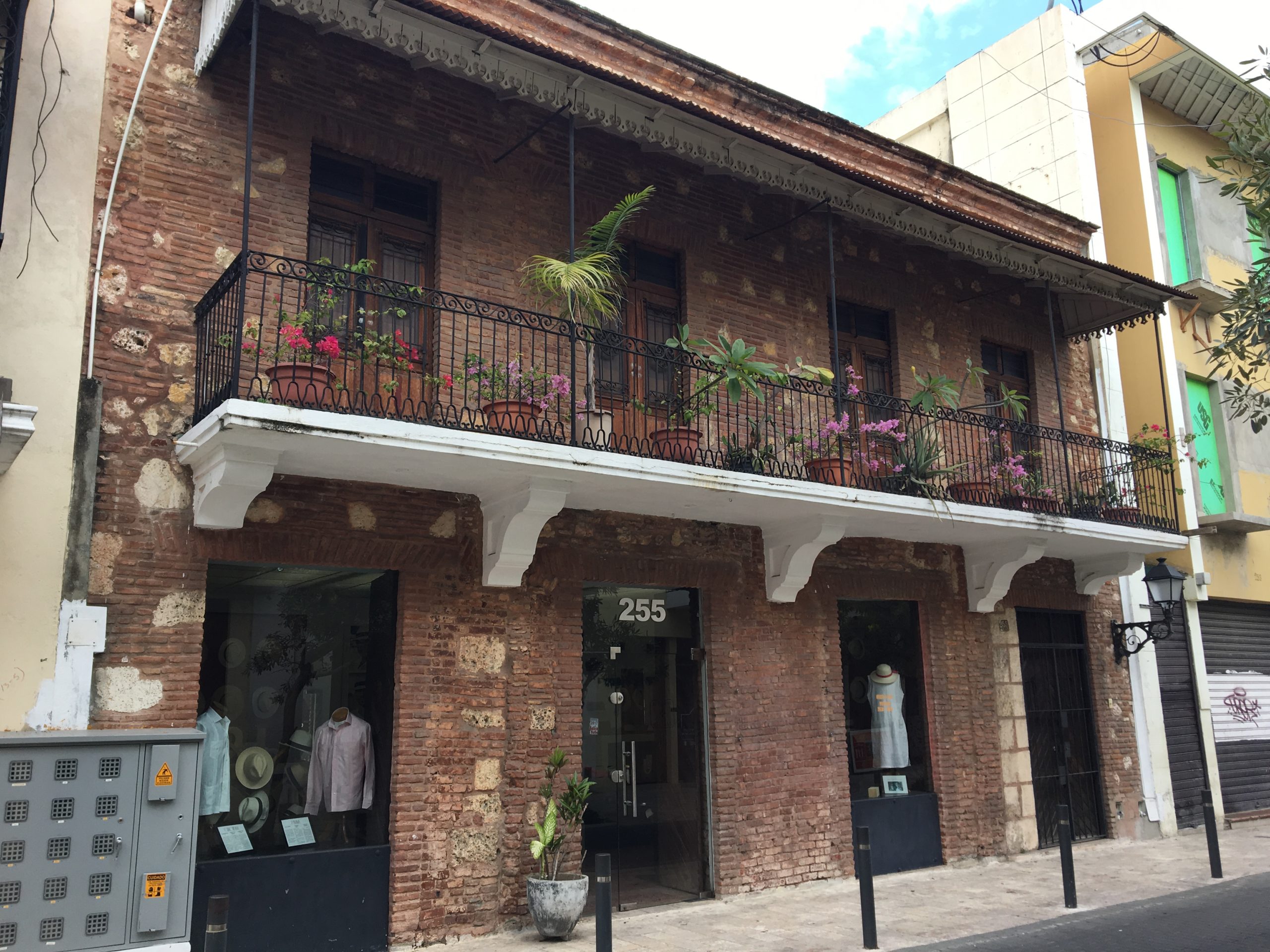 Lunch was provided by the Social Services of the Dominican Churches (SSID). It was our second opportunity to be in fellowship with SSID's staff. We learned that two of their managers work two weeks in the Dominican Republic and two weeks in Haiti assisting the people. They work hard to protect the human rights of those they serve. At SSID, they believe that what they do for the D.R. and Haiti is not work, but a calling.
Before leaving SSID, our delegation formed a circle and "anointed" Lorenzo Mota King and his staff for the important and holy work that God has called them to do. All of our partners were overjoyed that we came to learn, share, and walk in solidarity with them. Each of our partners made us feel welcomed.
Later, we dined at a fabulous restaurant called El Conuco where we had the best food on the trip. It was a quaint restaurant with all types of memorabilia of the past. Most of our partners joined us for dinner and we had a chance to express our gratitude one more time and recognize the wonderful work of our interpreter and drivers.
To end the evening, we went dancing and learned how to dance merengue. Some of us danced more than others, especially Angel, and Ed was not far behind!
Then it was off to the hotel to prepare for our flight home the next day. It was the end of a perfect and meaningful trip to learn what our mission partners do in their communities. It was a true BLESSING for everyone who attended, and we look forward to sharing the stories that were entrusted to us.
Zenobia Mayo
To learn more about the Caribbean Initiative, visit https://www.globalministries.org/caribbeaninitiative.
The People-to-People Pilgrimage program is committed to assist congregations in organizing life changing mission pilgrimages. For more information, visit https://www.globalministries.org/people_to_people_pilgrimages.