Pray with Honduras, June 12, 2022
Lectionary Selection: Proverbs 8:1-4, 22-31
Prayers for Honduras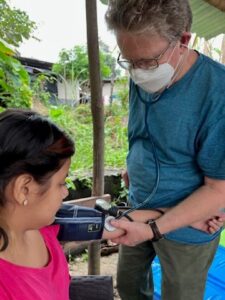 Hear the cries for help from the people of Honduras, still in "temporary" inadequate shelters after the devastation of Hurricanes Eta and Iota a year and a half ago, and profoundly affected by the pandemic. May we share in solidarity with our siblings who struggle each day to find adequate food, access to basic health care, and the means for their children to attend school.
We pray for the safety of the transportation workers who protest by blocking highways, who strike because they can no longer afford to pay the extortion "tax" demanded by the gangs while the price of gas rises ever higher. Bring peace to your people. Bring opportunity through jobs and education to the youth of Honduras so the gangs no longer hold this power.
We pray for the students who are returning to school, after a two-year hiatus. For those who are unable to purchase uniforms and school supplies. For those whose home lives are affected by extreme poverty and find that studying seems impossible, we pray.
You are a God of hope and possibility. Be with the Evangelical and Reformed Church of Honduras, our partner, as they attempt to meet these many needs. In Jesus' name, Amen
Mission Stewardship Moment from Honduras
I was filled with delight day after day, rejoicing always in his presence, rejoicing in his whole world and delighting in mankind. Proverbs 8:30b-31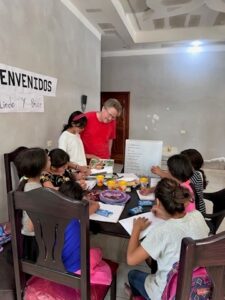 Like Lady Wisdom, we rejoice in God's creation and God's people where we are called to serve in Rio Chiquito, Honduras. In our work with the youth, we delight in their enthusiasm at a rare day in a nearby park, their energy at learning to make pizza with us, and their excitement at watching a movie while eating popcorn. We laugh as we read them silly stories in a culture where storybooks are rare.
Like Wisdom we receive the blessing of being in the midst of the people, and there we see the challenges – challenges exacerbated by the devastation of hurricanes and the pandemic. We see hunger, malnourished children, high rates of teen pregnancy, youth with burdened hearts who tell us of domestic abuse, and barriers to educational opportunity. We witness the effects of extreme poverty: families unable to purchase required school supplies and uniforms, limited access to medical, dental, and vision care, homelessness, and inadequate housing.
Together with our partner, the Evangelical and Reformed Church of Honduras in Rio Chiquita we have responded to these challenges by sharing in medical care to members of the community and to the hurricane survivors, by sharing in homework assistance with the children and youth of the community, and by sharing in community health education about drugs, gangs, teen pregnancy and domestic abuse.
Prayer and Mission Moment by Bruce and Linda Hanson
Global Ministries Mission Co-workers in Honduras
Bruce and Linda Hanson serve with The Evangelical Church in Honduras. Their appointments are made possible by gifts to the Disciples Mission Fund, Our Church's Wider Mission, and your special gifts.