Pray with Kenya, December 12, 2021
Lectionary Selection: Luke 3:7-18
Prayers for Kenya
Pray for:
The global church that our hearts and minds will be transformed
Pray for more equitable access to the COVID vaccine in Africa and the world over
Pray for the OAIC's work with gender-based violence and adolescent pregnancy
Mission Stewardship Moment from Kenya
Bread from the World
"Why so much fuss? Just preach a sermon and don't worry about the rest. It's too much trouble and it will take too much of your time." These were some of the comments that I received as I shared my sermon idea for World Communion Sunday, October 3rd.  I was looking forward to preaching on this particular Sunday and doing something different that would stay in the memory of the congregation. World Communion Sunday began in the 1930s when the world faced a global economic collapse that contributed to massive job loss around the world. Europe was also trying to reconstruct after WWI. In the midst of these global atrocities and a divided church, a minister named Hugh Thomson Kerr had a vision of World Communion Sunday. The idea of World Communion Sunday spread throughout the world. Fast forward to today, we find ourselves in a crisis brought on by a different set of circumstances. The COVID-19 Pandemic has caused an economic crisis globally. Many countries in Africa's economy are heavily dependent on tourism, which has been disrupted because of COVID. The impact of the pandemic devastated many services including airlines, hotels, and restaurants that shut down and tour buses and taxis that went out of business. These are just some of the services affected by layoffs. The loss cost the travel sector $1 billion in Kenya alone as income fell by 80% according to the Minister of Tourism Najib Balala. The disparity in the world regarding the accessibility of the COVID vaccination is glaring, while some are receiving their third booster of the COVID vaccination only 6% of the population in Africa has been vaccinated. In East Africa alone Rwanda has fully vaccinated 17.46 percent of its population, Kenya 3.41 percent of its population, Tanzania 0.59 percent of its population, Uganda 0.91 percent of its population, South Sudan 0.29 percent, and Burundi 0 percent of its population, according to the "East African" report. Globally "Our World in Data" reports 4.1% of people in low-income countries have received at least one dose.
How we have communion with God and celebrate World Communion Sunday becomes perfunctory if it does not transform our heart, our mind, and our actions regarding the injustices that invade our community and the world over. The lived experience of what it means to be connected to each other I see in many different African communities. As an example, the Luo community in Kenya traditionally ate using a common plate.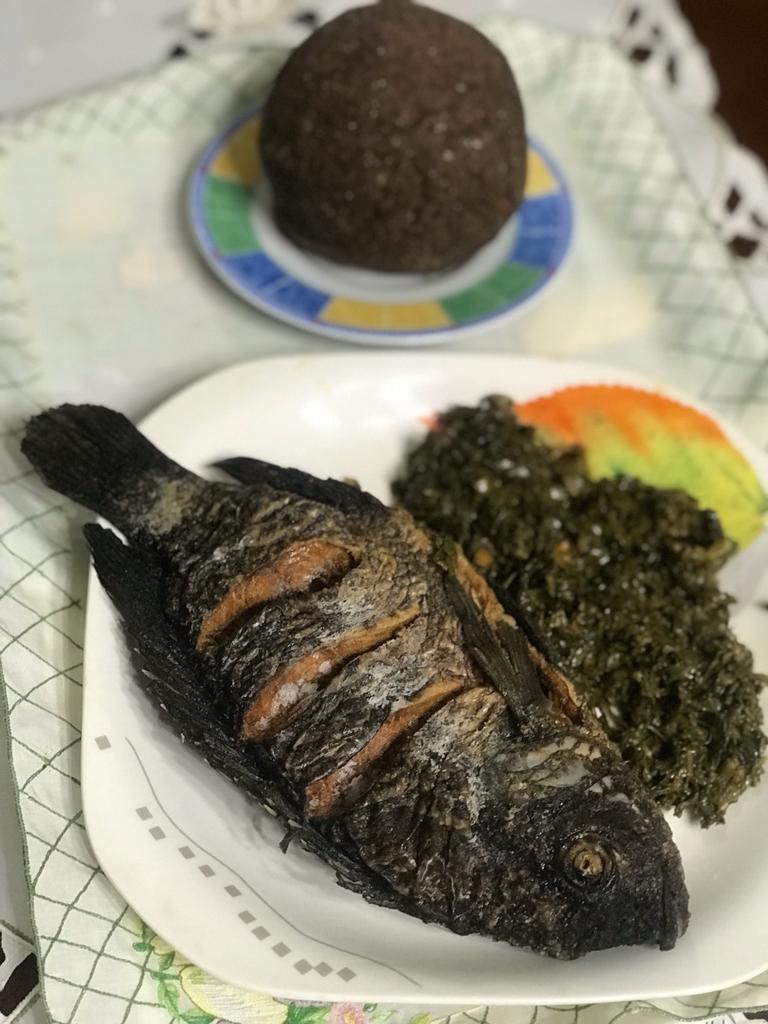 The Luo eat outside because when you eat inside the house you exclude others. Eating outside means anyone who wants to join is welcome. The Luo live in a lakeside community and their staple food is fish and ugali (maze meal at times mixed with sorghum and cassava) with other dishes. Mealtime is an equalizer. They make sure the disadvantaged members in the community join in and the orphans are called by name to come and have a meal. The table brings unity, dissolves class divisions, and ingrains fairness in the community because you eat with a consciousness that others at the table must also eat therefore you can't be greedy. Food is also saved for the "unknown" visitor who might stop by later.
This is what World Communion means; Christ unites all into Himself, we all become one, incorporated into one community, the people of God. What better way to symbolically represent World Communion Sunday than with 195 loaves of bread that are eaten in the 195 countries of the world (says my over-ambitious self). For that many loaves, I would have had to start at least 3 months ahead of time. I decided that 25 loaves of bread representing 25 different countries would have to do this year and was doable for the two weeks I had before I preached.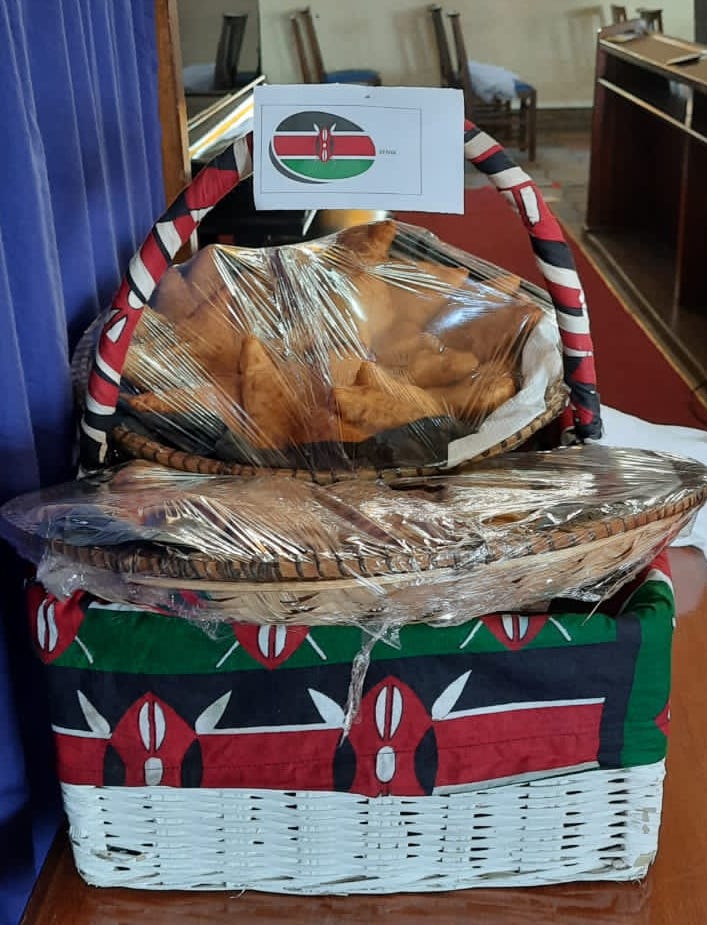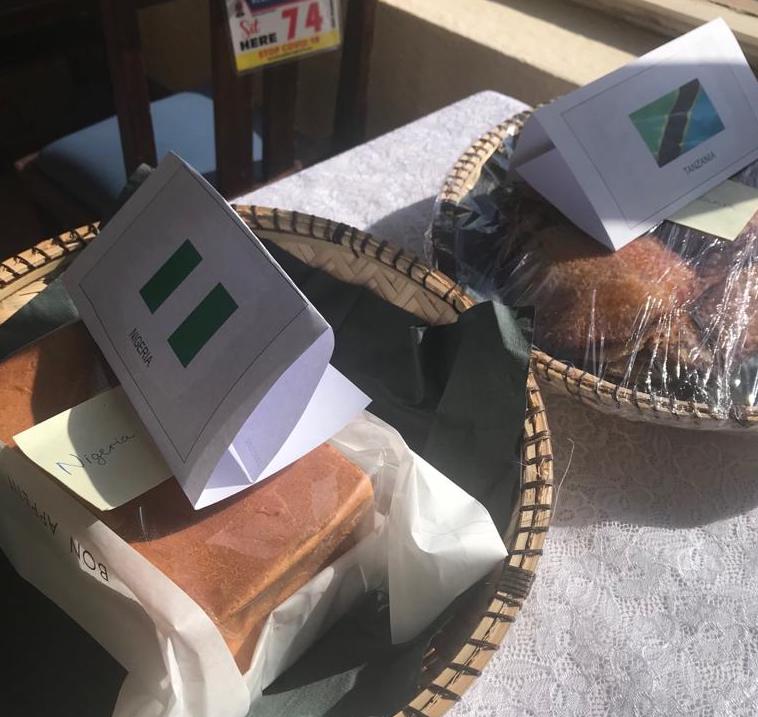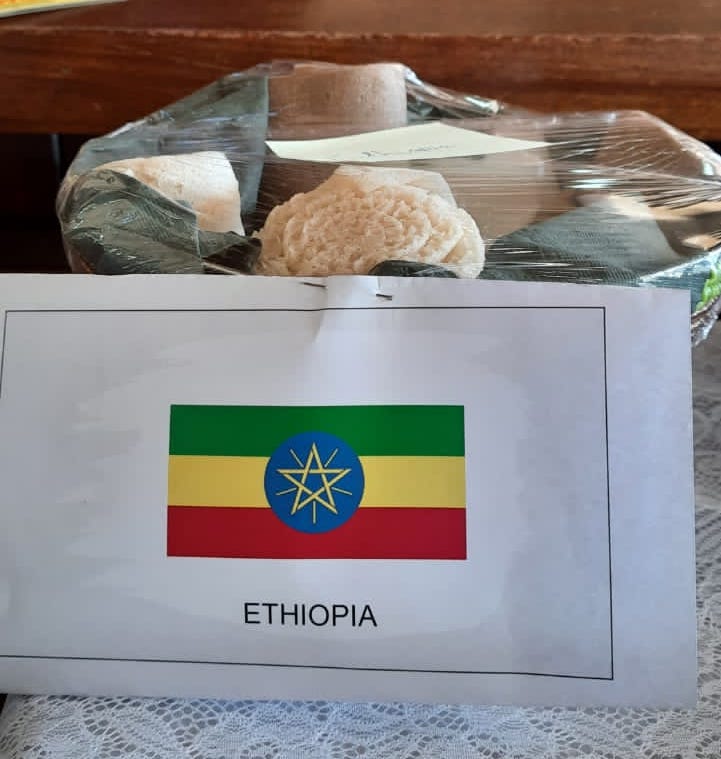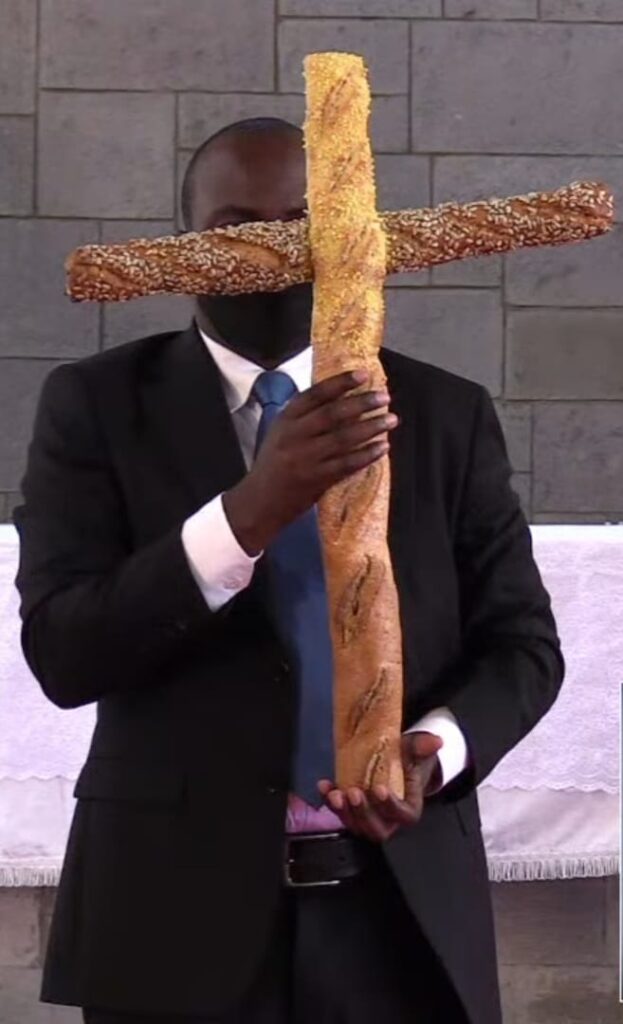 The loaves of bread were a reminder that we are part of a larger body with many different parts. I gave the list of ingredients as well as the type of bread and the countries they came from to one of the bread bakeries in Kenya. I wanted them to use an ingredient from each of the 25 countries and bake it into one bread shaped like a cross. "How big do you want it Rev. Phyllis?" "As big as possible and I need two crosses. One I can hold up and another I can cut up and share with the congregation." While the visuals of bread from all over the world were merely optics, the challenge is to go beyond a one-day sermon and celebration of World Communion Sunday to a divine unrest that leads to a change of hearts and minds all over the world. The many loaves of bread made into a cross became a corporation, incorporated into one bread. As we eat of the bread and drink of the cup we are reminded that God is doing a new thing in the world and we are invited to join in.
Luke 3:7-11 The message bible
7-9 When crowds of people came out for baptism because it was the popular thing to do, John exploded: "Brood of snakes! What do you think you're doing slithering down here to the river? Do you think a little water on your snakeskins is going to deflect God's judgment? It's your life that must change, not your skin. And don't think you can pull rank by claiming Abraham as 'father.' Being a child of Abraham is neither here nor there—children of Abraham are a dime a dozen. God can make children from stones if he wants. What counts is your life. Is it green and flourishing? Because if it's deadwood, it goes on the fire."10 The crowd asked him, "Then what are we supposed to do?" 11 "If you have two coats, give one away," he said. "Do the same with your food."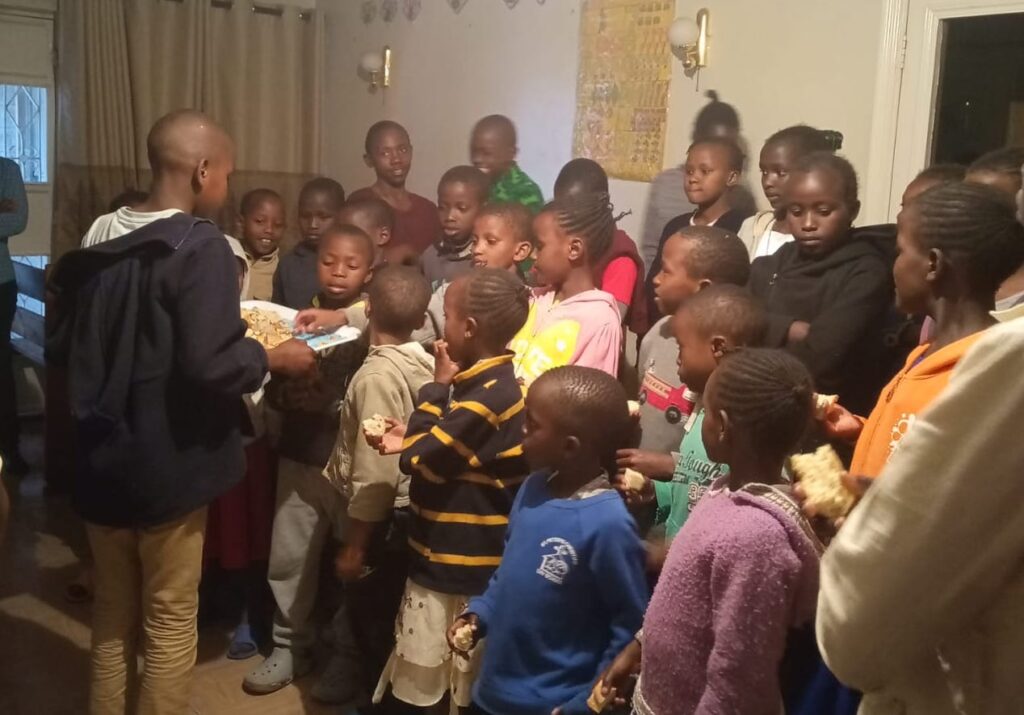 All the bread that we collected for the service was happily shared with St. Andrew's children's home Tumaini (which means hope) by the Women's Guild chairperson and the mission team.
Prayer and Mission Moment by Phyllis Byrd
Mission Partners in Kenya
Global Ministries Mission Co-worker in Kenya
Phyllis Byrd serves with the Organization of Africa Instituted Churches (OAIC) in Kenya. Her appointment is made possible by your gifts to Disciples Mission Fund, Our Church's Wider Mission, and your special gifts.