Returning to Serve
Bruce and Linda Hanson serve with The Evangelical Church in Honduras.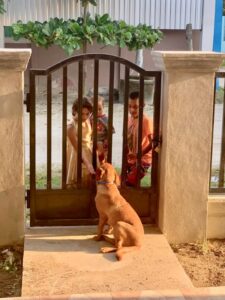 Greetings from the Hansons and the people of the Evangelical and Reformed Church of Honduras! Greetings from the local church in Rio Chiquito!

Every morning, between 5:30 and 6:00 AM, the children of Rio Chiquito bang on our gate and yell, "Charlie! Charlie!" Charlie is our puppy, and when he hears the children, he runs to the door and whines and barks. We let him out to be greeted and petted. Charlie is very well known by the people of Rio Chiquito, especially the children.
We previously served as mission co-workers in Honduras from 2004-2009. With two devastating hurricanes hitting Honduras in November of 2020, on top of existing poverty, government corruption, gang violence, and the COVID pandemic, we were excited and humbled to be invited to return to Honduras to serve a nation and people we had come to love through the Evangelical and Reformed Church.
This time, our placement is in the municipality of Omoa, in the northwest corner of Honduras, rather than in the large metropolitan areas where we previously served. Rio Chiquito, where we live, is a pueblo of around 4000 people, only 15 kilometers from the Guatemalan border. In some ways, it reminds us of small-town Iowa – with friendly neighbors, a small grocery store, a swimming pool, several protestant congregations, and one Catholic parish. Neighbors drop by to give us plantains, avocados, and tripe soup, a national dish usually served on Sunday. The roads are unpaved, and heavy daily rains create rivers in the streets. And of course, children stop to see Charlie each day and to eat our cookies. Nearby, we have explored Caribbean beaches, a cloud forest, waterfalls, and mountain villages. We have also savored fantastic seafood that's definitely not available in Iowa.
We were called to the health care ministry and are also working with local elementary school children who are behind in reading and math due to the pandemic. We teach an English class for community members. We've just begun working with the local church on a recycling project in the community of Rio Chiquito, where there is no garbage service. The church is also assisting the local government with a housing project for 325 families after the hurricanes.
We look forward to our time as volunteer Global Service Workers. We appreciate your prayers as we begin our time in Honduras.
Bruce and Linda Hanson serve with The Evangelical Church in Honduras. Their appointments are made possible by gifts to the Disciples Mission Fund, Our Church's Wider Mission, and your special gifts.
Make a gift that supports the work of Bruce Hanson