Rev. James Bhagwan: climate-induced displacement is traumatizing generations of people
Story from World Council of Churches
Rev. James Bhagwan, general secretary of the Pacific Conference of Churches, attended the UN climate change conference in Madrid in December 2019. He shared with World Council of Churches (WCC) Communication some of his frustrations and hopes in the face of the global climate emergency.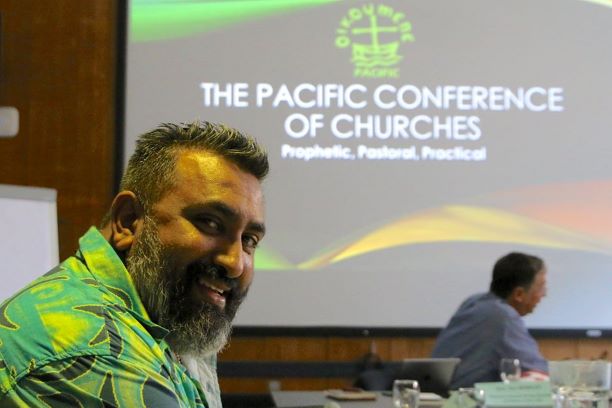 Rev. James Bhagwan, general secretary of the Pacific Conference of Churches. Photo: Marcelo Schneider/WCC
As you participate in the climate change conference this week, what are your goals?
Rev. Bhagwan: There are a lot of challenges on the agenda from some of the wealthiest nations that are the biggest polluters. From our perspective, we want to bring an ocean's agenda into the climate change discussions, because then things will start to move.
What do you expect in terms of outcomes?
Rev. Bhagwan: I have to be honest: I temper my hopes with a sense of frustration listening to negotiations, and the slow process, the lack of movement on a lot of the issues, the agenda of the polluters to shift conversations, to try to introduce new issues, to stall work in terms of loss and damage which are key issues for us in the Pacific and in other other vulnerable communities. I am looking to see how things end on Friday and perhaps look at how we can support the climate talks in 2020.
What are the biggest needs among members of the Pacific Conference of Churches?
Rev. Bhagwan: Funding for adaptation and mitigation is very important, but funding for loss and damage is a key issue right now. There is resistance to the "polluter pays" concept by industrialized nations. We are facing the reality that the effects of climate change  – including climate induced relocation – are not 30 years away but the effects will dramatically change the landscape within 10 years, We are talking about climate-induced displacements in countries that will literally be submerged by the ocean, people relocating because their land is disappearing. And our brothers and sisters are facing extreme weather patterns, and the slow suffering of drought. We are also talking about the physical disappearance of land that cannot be reclaimed. And if you're in the context of a whole nation or two, these issues are ruinous in terms of sovereignty, relocation, and all the complex issues of loss and damage, including economic and non-economic damage.
What are the effects on people's spirituality?
Rev. Bhagwan: Looking at this in spiritual terms, we are facing spiritual trauma. Pacific nations are largely Christian but we have a spiritual worldview, a connection to the land and the sea. It's an intrinsic relationship that includes Christian spirituality and cultural spirituality. When we are born, our grandparents or parents bury our umbilical cord under a tree, and that tree grows as we grow as a reminder that we are part of the land. When we face the prospect of losing our land forever, you can imagine the trauma around that, generations of people living for thousands of years in this place and then they have to leave.
What are the ramifications of climate-induced migration in terms of loss and damage?
Rev. Bhagwan: People may not be able to leave if their way of life is fishing, or drawing from the sea. If they are to be relocated, are they able to be relocated somewhere where they can continue their lifestyle, or do they transition from maritime to agriculture? How does that work and who pays for all this? Who pays for the relocation? This is why loss and damage is so important. On a personal note, I have a son who is 15, and my daughter is 13. How do I keep them from losing hope? What future can they envision?
How is the WCC fellowship helping your work?
Rev. Bhagwan: The Pacific Conference of Churches has a strong relationship with the WCC fellowship, and the WCC climate working group has been very supportive of our concerns. Within the context of climate change, we need to start to asking our partners, our sisters and brothers, to really lift up this issue, not just from the Pacific perspective but from the integrity of creation. Because this is not just about the Pacific Islands as victims; we consider ourselves as fighters and resilient. How do we as a church family raise these issues with our national governments, and with our cities and businesses? This really needs to be front-and-center. How do we work together as the body of Christ? Let's look at the theme for the WCC 11th Assembly: "Christ's love moves the world to reconciliation and unity." How do we move forward in terms  of reconciliation with creation? How do we work together? What form does our unity take?
Learn more about the WCC work on Care for Creation and Climate Justice