Sharing Experiences
Martha Mensendiek serves with Doshisha University, Kyoto, Japan.
During the pandemic, Japan instituted very strict limits to immigration as well as quarantine measures for re-entry into the country. Personally, this has made it impossible for me to travel to the United States to visit family, or to do my "home assignment" for Global Ministries. At universities in Japan, including Doshisha University where I teach, foreign students have been waiting for two years to be able to enter Japan and, in the meantime, have been taking classes online from their home countries. The Japanese government has announced that some measures will be lifted soon, so we hope that finally, foreign students will be able to pursue their dream of studying in Japan.
Of course, it is not only foreign students who have had to put things on hold during this pandemic. Japanese students who are involved in international activities have not been able to travel or conduct their usual activities overseas. Among the students who have had to adjust their activities are the students in Habitat for Humanity, a group that I advise at Doshisha. The Doshisha Campus Chapter of Habitat for Humanity usually takes part in several work camps during the spring and summer to help build houses abroad. We have had a long-time relationship with Habitat for Humanity in the Philippines, and over the years have participated in work camps in Thailand, Cambodia, India, Bangladesh, Sri Lanka, Vietnam, and Mongolia. Obviously, we have not been able to hold work camps abroad during this pandemic.
However, the students have not been idle during these two years. They have continued to meet (online or in-person, depending on the situation) to plan, share, learn, and keep the connections going with each other and with the partner organizations abroad. They have held seminars and have helped raise funds through the internet to support Habitat and other organizations working to relieve poverty.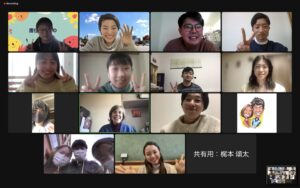 A few days ago, I was asked by the students to join them in an online seminar where Habitat students and alumni (who were formerly active in Habitat) shared their experiences. The alumni learned from the students about how they have kept their activities going despite the pandemic. The students heard from the alumni about how their experiences in Habitat have influenced their life choices and their present work.
Hearing from the alumni, it was very clear that the experiences in Habitat gave them a perspective and skills that have been invaluable in their work after graduation. Many of them work for non-profits that address poverty or other social problems. Some said they specifically chose to work in firms that are socially responsible. Others chose careers in media, education, or social service. They also talked about how their experience in Habitat helped them gain communication and leadership skills. Then the alumni gave the students advice on choosing a career and tips on job interviews.
It was wonderful to see the interaction between the students and alumni. It was inspiring to see how the experience of being involved in international work to relieve poverty (or to help people to be able to live in decent housing) has influenced them to be young adults who care about one another and want to make the world a better place. It was touching to see them interact with each other with gentleness. It was especially remarkable to see how they handled one student who needed extra help understanding what was being said. The leaders of the seminar handled this student in such a loving way that I felt I learned a lesson.
Students in universities all over the world are continuing to find ways to learn, experience, communicate, support one another, and make a positive impact on the world, even in the midst of this pandemic. I give thanks to the students and graduates who inspire me to continue to do what I can to contribute to the community and to the world.
Thank you for your prayers and support of our continued ministry of accompaniment with our partners in Japan.
Martha Mensendiek serves with Doshisha University, Kyoto, Japan. Her appointment is made possible by your gifts to Disciples Mission Fund, Our Church's Wider Mission, and your special gifts.