Spring: Circling Back to Hope
Emmanuela Loccident serves with the Evangelical Church of Morocco.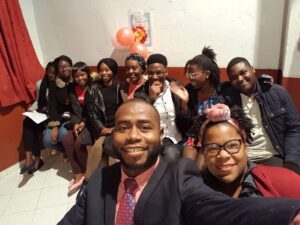 If this is the first newsletter you read from me, hello! My name is Emmanuela! My husband and I were mission co-workers sent by Global Ministries in partnership with the Protestant Church in Morocco (Église Évangélique au Maroc – EEAM in French). We served with them starting in October 2017 for a total of 4 years and we are now back home, in Montreal, Quebec, Canada since October 2021. I must say that these years went by so fast!
As I am writing this to you, we are experiencing our first winter in 4 years, and it gave us plenty of time to ponder this great adventure that we have been blessed to live in Morocco.
Can you imagine we've already had several snowstorms in Quebec since the beginning of winter? Although it is also shocking for the people living here, one thing that unites us all is that we are looking forward to seeing spring again. We know that it happens every single year, yet we always long to see this day where snow will be gone for good…or at least for a few months!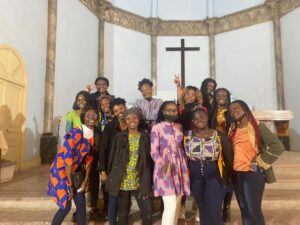 It made me think of what spring looked like for us when we were in Morocco. I'm pretty sure God didn't want us to feel too disoriented by the lack of snow, so he led us to settle in the city of Oujda (Northeast of Morocco) where winter is very cold. We are grateful that God spared us of the snow though!
I remember the nights where we had to wear warm clothes, socks, shoes and even coats inside the house, because the houses are not built with heating or air conditioning in mind. Nonetheless, we were fortunate enough to get heaters.
I remember how cold we felt and thinking of how the people migrating were living in the winter. (Morocco is a crossroad for tens of thousands of people in migration wishing to cross over the sea and ultimately go to Europe.) Many of them are living in scarcity and poverty because they have used all their money to get to Morocco. Every country they must cross requires their fees for passage. So, when arriving in Morocco, they must find a way to pay for their next and final trip to Europe. To give you an idea of what this "trip" looks like, they get on an inflated boat normally made for 10-20 people and there are more than 40 people on it hoping that the wind, their manual maneuvers, and God will get them to Europe. Mustn't I forget that they also must pay thousands of Euros to get a place on that boat!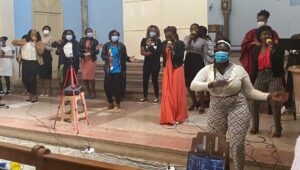 Winter, to them, is a time to work and save all the money they can gather. Some women are begging in the streets, doing housekeeping, babysitting, etc. They go through all sorts of atrocities, humiliations, and deception that I can't even begin to explain. Some men are also begging in the streets, or they find ways to sell or resell objects/clothes or doing the unthinkable to survive.
Winter, to them, is also a time to wait. The sea is too cold for them to risk their lives and money. They also are at risk of pulmonary diseases and infections because they don't have access to warm clothes, coats, boots, heating, etc. So, while they are trying to work, they must also be careful with the cold.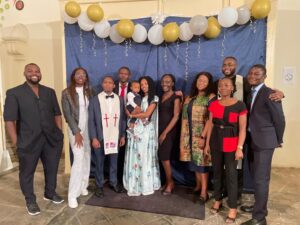 I have been blessed to work as a communication officer with the national board of the social ministry that is focusing a lot of their attention and resources towards migrating people. This ministry is called the Comité d'Entraide Internationale – CEI in French (Committee for International Aid).
In winter especially, the help that is available to migrating people is mainly medications, medical aid, and warm blankets. The usual help is also available (food baskets, clothes, professional training, rent money, to name a few). It is important to note that the EEAM is not a financially rich church. Most of the work done by the social ministry is done through gifts from partners like the Christian Church (Disciples of Christ) and United Church of Christ through Global Ministries.
Without the help of the partners, none of this tremendous help that is offered to migrating people in 9 cities in Morocco would be possible. None. The needs are already surpassing the means, and I can't count the number of meetings we've had in the national board to discuss how we would be able to efficiently offer help with so little money. But God is a God of surprises and divine provision! Every time we felt like we were getting towards the bottom of our means, God found and always finds a way to open a door and touch someone's heart, so that His people can be taken care of.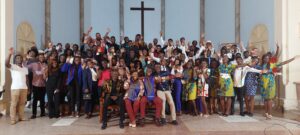 Overseas partners like the EEAM can't be forgotten. Although my husband and I feel like our service assignment is completed, our hearts are still heavy because we know there is so much more to be done. We mustn't forget them, the church members, the migrating people, the foreign students, the professional workers, the leaders, and the social workers. And we must find ways to support them with what we have.
Whether it's through heartfelt prayers and intercessions, whether it's through financial gifts, whether you feel called to serve them physically, my hope and my prayer is that you will hear, respond to God's call to help, and share some of God's hope.
Now to Him who is able to [carry out His purpose and] do superabundantly more than all that we dare ask or think [infinitely beyond our greatest prayers, hopes, or dreams], according to His power that is at work within us, to Him be the glory in the church and in Christ Jesus throughout all generations forever and ever. Amen.
Ephesians 3:20-21 (AMP)
Emmanuela Loccident serves with the Evangelical Church of Morocco. Her appointment is made possible by your gifts to Disciples Mission Fund, Our Church's Wider Mission, and your special gifts.