Thanking God and You! / Part 2
Dear Friends,
Greetings from Nairobi, Kenya!
God has been faithful to me and my family throughout the year 2017. The All Africa Conference of Churches is where I am assigned to serve as Global Ministries co-worker. The department of Peace, Diakonia, and Development under my leadership had planned many activities during the 2017. It will not be possible to share all in this letter but I will just give a few highlights.
Interreligious Dialogue for Peace and Conflict prevention
I participated in the meeting in Bujumbura, Burundi, from 3rd to 5th of July 2017. The meeting gathered representatives from Kenya, South Sudan, DRC, Uganda, Central Africa Republic, Togo, Ethiopia, Switzerland, Rwanda, Somalia, Zimbabwe and Burundi.  The main objective of the conference was to empower religious communities and their leaders within East Africa Community (EAC) and beyond to build peaceful, just and harmonious societies with common action to prevent violence.
National Clergy and Elders Consultative Forum
I planned and participated in the Consultation of the AACC in partnership with the National Council of Churches of Kenya (NCCK). Together they organized a Consultative Forum, which brought together more than 200 senior clergy, elders, women and youth Participants. They studied various scenarios related to the possible outcomes of the elections and discussed the repercussions each one could have on their respective communities and how they could help as leaders, to maintain peace.
Diakonia and Human Resource Training for Church leaders
I organized a set of three trainings on Diakonia and Human Resource management in three countries. The first one held in Nairobi, Kenya, brought together 45 participants from English speaking countries from November 12-17, 2017. The second one in Yaoundé, Cameroon, gathered 30 francophone participants from November 20-24, 2017. The third one held in Luanda, Angola, had 51 participants from the Portuguese speaking, Angola and Mozambique in December 4-7, 2017.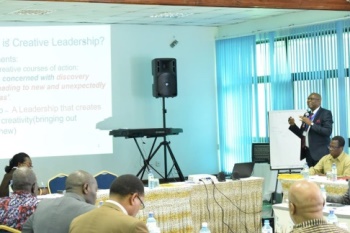 I led a three-day Training Workshop on Civic Education and the Electoral Process in DRC for Church leaders, women and youth leaders from the AACC member churches, in collaboration with "Eglise du Christ au Congo-ECC", the umbrella body of Protestant churches in DRC and the electoral commission.
The training was held in Kinshasa, from 22nd to 27th of October 2017.
The objectives of the meeting were to:
– Equip Church leaders to actively participate in the electoral process;
– Help participants understand the role of the Church in State affairs
– Help participants play a better role in peace keeping in the country.
 Advisory Committee on Peace and Security
On December 31st 2018, I held a meeting with the AACC Advisory Committee on Peace and Security, a small team of about ten (10) eminent persons who have held high positions both at Church and State levels, is a think tank which advises the AACC management on issues pertaining to peace and security and recommends relevant actions.
Solidarity visit to Eritrea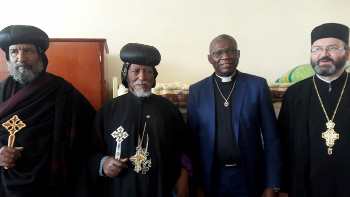 I participated in a solidarity visit held by a delegation of eight people to Eritrea from 23rd to 29th of September 2017, under the auspices of the World Council of Churches (WCC). The team was invited by the Eritrean Orthodox Tewahedo Church. The delegation visited churches, monasteries, people and places in Asmara, Keren and the port city of Massawa. Besides the Eritrean Orthodox Tewahedo Church (EOTC), the delegation also visited with representatives of the Eritrean Catholic Church (ECC) and the Evangelical Lutheran Church of Eritrea (ELCE). Highlights of the visit were the participation in the Meskel (finding of the true cross of Jesus) celebration in downtown Asmara, which is a major Orthodox holiday and the visit of Debresina monastery, one of the oldest monastic communities in Eritrea.
Thank you very much for your continuing support without which my ministry with AACC would be difficult if not impossible.
Blessings,
Bosela E. Eale
Nairobi, Kenya


Rev. Dr. Bosela Ela serves as a mission co-worker with the All Africa Council of Churches.  His appointment is possible due to your gifts to Disciples Mission Fund, Our Churches Wider Mission, and your special gifts.