Thanks Giving
Abby Fate serves with Melel Xojobal, Mexico.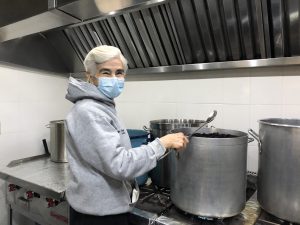 I'd never thought so much about food until I began working at the Comedor, a migrant aid center just across the border in Nogales, Mexico. The Comedor offers many services, including legal aid, psychological counseling, job search assistance, clothing, toiletries, and check cashing for deportees. Alongside these services, the primary function of the Comedor is to provide two hot meals per day, all prepared fresh, for anywhere between one hundred and four hundred migrants. Before the pandemic, the Comedor served migrants each morning and afternoon in a sizeable sit-down cafeteria. Now, all food is served in to-go containers to mitigate the spread of the virus. These measures are crucial for migrants, who often lack medical care and live in situations that make social distancing impossible. However, it made building relationships far more complex. That was my experience, as I only see most migrants for a few minutes each morning as they pick up their food.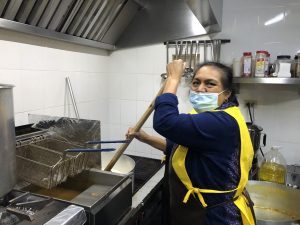 While I assisted with various tasks at the Comedor, I spent most of my time each day in the kitchen. We chopped buckets of raw fish and sliced mountains of tomatoes, potatoes, and zucchini. We spent hours juicing limes and rinsing enormous bags of pinto beans. We pressed fresh juice each day from watermelon or hibiscus flower or cucumber. Later, when the weather got cold, we made an enormous pot of hot chocolate each morning to warm the migrants as they waited to pick up their food. After preparing and serving the food, we cleaned up – washing industrial-size pots and pans and mopping the kitchen and dining room floors. Though sweaty and tired, I liked this work because it allowed me more time to talk and get to know my coworkers. Paco, one of the cooks, liked to joke that he was giving me a real education. "We should give you a certificate when you leave," he told me, "That says you know your way around the kitchen now."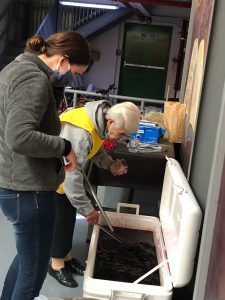 Even after I left work, food was at the center of my life. I lived in a community of nuns, three from Mexico and one from the US. We took turns preparing our morning and evening meals. Whoever cooked dinner would spend several hours preparing the meal, which typically included multiple delicious dishes, salad, and fruit. We'd invest well over an hour at the dinner table, laughing and talking and eating. After cleaning up, we would linger around the table, drinking tea or coffee. Engracia, Cecelia, Pina, and Tracey are all incredible cooks, and I at first felt intimidated. Though I'm decent in the kitchen, their carne asada ("broiled meat"), chiles rellenos ("stuffed chiles"), and posole were dauntingly delicious. I'm a big recipe follower, and they all cook the Mexican way: a pinch of this, a handful of that, throw in some spices.
But slowly, I came to see these meals as the core of our shared community. My turn to cook felt like a loving act of service for my housemates, spending my free time carefully cooking a meal they would enjoy. I began to share my favorite meals with them – homemade pesto for pasta, stir fry, and homemade pizza – and they wanted to switch up the flavors. Each meal, and the time we spent together enjoying it, was a manifestation of our love and care for one another.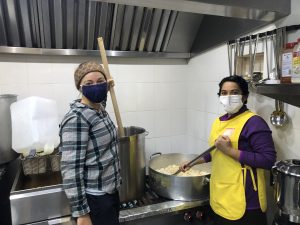 The week before Thanksgiving, I was feeling frustrated and burnt out. I had been planning to visit my grandparents in Phoenix to celebrate the holiday. Still, with coronavirus cases soaring in Arizona, we decided against it. Tracey, who is also from the United States, and I decided that we didn't want to celebrate Thanksgiving at all. We declared to the other sisters that because neither of us had the energy to cook (or even knew how to cook a turkey), we just wanted it to be a normal day at work, nothing special. However, a few days before Thanksgiving, both of us, feeling homesick, decided that we would celebrate it after all. Engracia, the 78-year-old sister we lived with, said she would cook the turkey for us. Tracey and I crossed the border to grocery shop for items we couldn't find at the local store, like canned pumpkin, stuffing mix, and cool whip. On Thanksgiving, we prepared a traditional dinner, incorporating foods from both of our families. Engracia sipped on whiskey as she cooked the turkey, chatting with Tracey and me as we made a pumpkin pie, mashed potatoes, and homemade pasta. We sat around the dinner table. The sisters gamely learned a prayer in English that Tracey's family says every year at Thanksgiving. We each listed what we were grateful for and dug into the turkey, potatoes, and stuffing.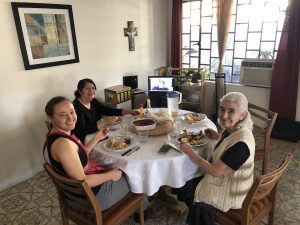 As we were eating, I realized that I didn't feel so sad that I wasn't with my family. I didn't feel quite so hopeless about the pandemic. I felt content. I was full – brimming with appreciation and love and laughter. Despite the hardships that we witnessed every day at work, we could still gather and joke and drink tequila. Despite missing my family and friends, I could still enjoy Thanksgiving dinner. Cooking this meal with Tracey reminded me that even though it wasn't a typical Thanksgiving – even though nothing about the year had felt normal – we still had reasons to celebrate: a roof over our heads, delicious food on the table, a meaningful job, and a loving community.
The longer I spent living with the sisters, the more I appreciated our meals together. And each week I was excited about my turn to cook, my turn to serve my sisters, my turn to share something important to me with them. Once I recognized this at home, I began to see my work at the Comedor differently. Though I was still spending my days chopping and cooking, this food we prepared was a way to show our love and respect for the migrants who arrived each day. The meals we made were physical manifestations of our care for them. I exchanged short greetings and pleasantries with migrants each morning as they picked up their food stretched into more extended conversations. I got to know them more and heard about their families, jobs, joys, and struggles. I chopped and cleaned and washed dishes, hoping that these small acts would help nourish not only the bodies but also the spirits of the migrants who wait on the border – the same way they have nurtured mine. 
Abby Fate serves with Melel Xojobal, Mexico. Her appointment is made possible by your gifts to Disciples Mission Fund, Our Church's Wider Mission, WOC, and your special gifts.
Make a gift that supports the work of Abigail Fate