The Church of Christ in Congo, Eglise du Christ Au Congo (ECC), in North Kivu Responds to the Volcanic Eruption in Goma.
Paul Turner serves with the Democratic Republic of the Congo as a Global Ministries Associate in Eastern DRC.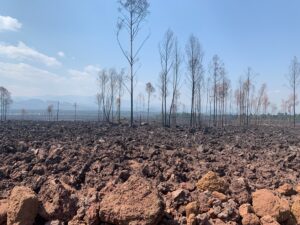 One can see Mount Nyiragongo from anywhere in the City of Goma in the Democratic Republic of the Congo (DRC).  Goma sits between Mount Nyiragongo and Lake Kivu, one of the Great Lakes of Africa, on the border with Rwanda in eastern DRC. The active volcano is renowned for having the largest visible lake of lava inside its crater. Tourists come to hike up the volcano to have the rare experience of taking a selfie with the lava lake below. After all, the volcano hadn't erupted since 2002.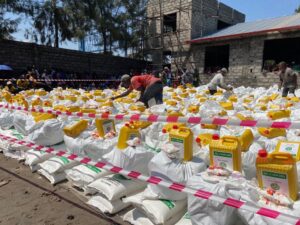 That all changed on May 22, 2021, when hot, molten lava poured out from the base of Mount Nyiragongo in three different directions. The first direction of the slow-moving hot lava headed into Virunga National Park in a mostly uninhabited area near the Rwandan border. A short distance away, another large flow of lava-covered cabbage and onion fields growing on the fertile volcanic soil, barely missing a large cemetery. The third, and final flow of seeping lava, was aimed directly at an entire neighborhood in the northern part of Goma. It created a huge gash of hot rock and lava several blocks wide, and stopped just before reaching Goma International Airport. Many homes in that area of town are made of wooden planks, and they easily caught fire from the encroaching lava. A few days later, video footage from a drone sent to peek inside the crater revealed that the lava lake was gone.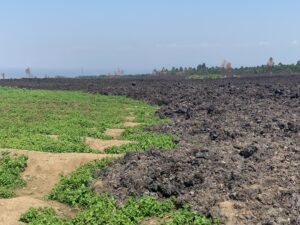 But Mount Nyiragongo wasn't finished.  After the flowing rock and lava consumed forestland, roads, fields, homes, markets, churches, and schools, it also unleashed an astounding number of earthquakes over a three-week period; sometimes 10 or more earthquakes in a single hour. People who remained in their homes were unnerved by the earthquakes, fearing they could cause residential buildings to collapse. In addition, the possibility of a limnic eruption (an eruption of lethal gas escaping from underneath Lake Kivu) was another concern. Out of an abundance of caution, the government ordered most neighborhoods in the city of 2 million people to evacuate.  Streets and highways heading out of town were immediately clogged. Some went by boat to the City of Bukavu on the southern shore of Lake Kivu, while a limited number of people were allowed to cross the border into Rwanda.  Residents trickled back into Goma once the threats subsided, or simply because they hadn't planned to be gone very long.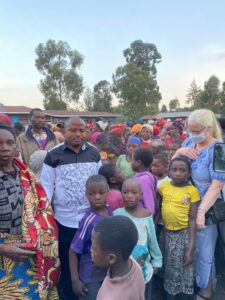 The Church of Christ in Congo, or Eglise du Christ Au Congo (ECC), is one of three Global Ministries' partners in DRC. ECC has an affiliate office in Goma that covers North Kivu Province. ECC-North Kivu reported that 23 villages were impacted and more than 7,000 people were displaced. They also reported that many children had become separated from their parents during the confused evacuation. ECC-North Kivu sent a letter of solidarity to Global Ministries requesting support for relief efforts focused on food security and shelter for those who lost their homes, and to help reunite children with their families. ECC-North Kivu offices in Goma served as the distribution center for hundreds of household kits for displaced families. These kits included: 20 kilos of flour, 5 liters of vegetable oil, 20 kilos of beans, 5 boxes of salt, a tent, 2 blankets, 6 plates, 6 cups, 6 spoons, a knife, and 6 yards of fabric for clothing material. In addition, each family received a 20-liter water container to collect water at various water distribution stations set up in the impacted areas. In fact, many households in Goma had to collect water at these stations because the earthquakes damaged underground pipes, disrupting the city's water delivery system.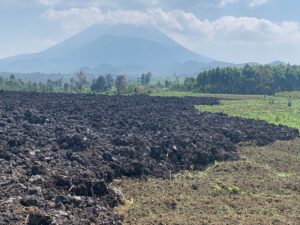 North Kivu Province is often described in the media as a "restive" area of eastern DRC, because of prolonged violence among dozens of militia groups and the Congolese military. It is home to one of the largest UN peacekeeping operations in the world. ECC-North Kivu is a perennial advocate for peace and reconciliation, and they were instrumental in responding to the Ebola outbreak in 2018-2019. Their capacity for public health outreach was easily adapted to the prevention of Covid-19, which is surging once again in DRC.  ECC-North Kivu also manages a refugee camp and has served refugees fleeing conflicts in DRC and repression in Burundi for years. The volcanic eruption is just the latest in a string of challenges for the region.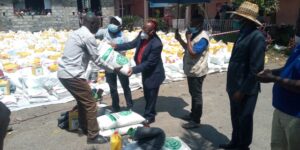 The President of ECC-North Kivu, Bishop Levis Milegha Mbala, who was present during the distribution of the household kits, died a few days later after a short illness that may have been related to Covid-19. The grief extends beyond his family to all the protestant churches in North Kivu, to ECC staff and their partners. While it's unclear whether the coronavirus played a role in his passing, it does highlight the unreliability of covid tests and the persistent lack of available vaccines in the "Global South", and in Sub-Saharan Africa in particular. Vaccines for preventing Covid-19, or at least to ensure you don't die from it, are not widely available to the public in DRC. When it does become available there will be significant vaccine hesitancy to overcome, because people distrust the quality will be the same as in Europe and the U.S., and disinformation has become global.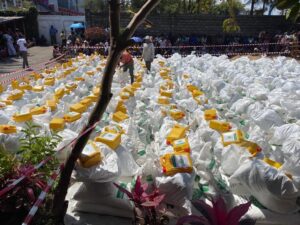 Despite losing their leader and taking more responsibilities for meeting the needs of internally displaced persons (IDP) from conflicts and volcanic activity, ECC- North Kivu is pressing on with plans to increase its outreach and maintain its holistic approach to ministry. The faithful at ECC-North Kivu embody the resolve mentioned in 2 Corinthians 4:8-9, "We are pressed on every side, but not crushed; perplexed, but not in despair, persecuted, but not abandoned; struck down, but not destroyed." This persistence and resilience is required for ministry in North Kivu. For now, they must also prepare, and find the resources, for an unplanned synod meeting to elect a new President.
Please pray for ECC-North Kivu as they endeavor to heal and restore lives, and whole communities, in the aftermath of a volcanic eruption, in the midst of a pandemic.  Pray for ECC's upcoming synod election for a new President; that the process will be in accordance with God's will for a time such as this. Finally, you can demonstrate your solidarity and support of him by contributing to Global Ministries' partnership with ECC.
Paul Turner serves with the Democratic Republic of the Congo as a Global Ministries Associate in Eastern DRC. His appointment is made possible by your gifts to Disciples Mission Fund, Our Church's Wider Mission, WOC, OGHS, and your special gifts.