The Latin American Biblical University Celebrates Its 100th Anniversary
In October of 1922, eight young women attended the first class held at the Women's Bible Training School in San Jose. One hundred years later, the Latin American Biblical University continues to offer theological education to people from throughout Latin America and the Caribbean. In 1941, the Training School evolved into what was known as the Latin American Biblical Seminary (SEBILA).  SEBILA had theological programs in Costa Rica and correspondence courses throughout the region, in turn, affirming its international and interdenominational character.  Since 1997, the UBL has been recognized as a University by the Costa Rican Ministry of Education.  Now, the Latin American Biblical University (UBL) offers programs of theological study at the university level, including bachelor and master's degrees in Biblical Science and Theological Science as well as a Doctor of Divinity program in Biblical Studies and Theological Studies. Emphases in the UBL degree programs include its Gender and Religion Program and Theological Studies and Research in HIV/ AIDS.  The UBL also offers a Pastoral Biblical Institute which provides basic ministerial training for persons who study Bible and theology at a secondary school level.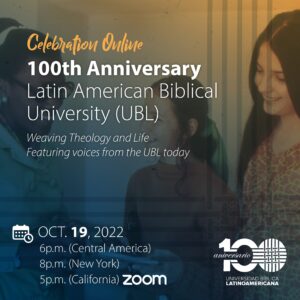 During this month, UBL is celebrating its 100th Anniversary, from the time those brave lay women founded the Women's Biblical Training in the capital city of Costa Rica.  In that sense, UBL edited a documentary that is expected to be released during this month.  It will highlight the history of the seminary since that first women's course. The institution will also reflect on the role of women in theological education and the realities that women live in the continental current context as challenges for theological education. In addition, they plan to formally open the Chair of Latin American Theology, focused on the topic of liberation theology and theological education at the present time. The day of commemoration will conclude with a liturgy of thanksgiving.
Join the UBL online on Wednesday, October 19, 2022, to celebrate its anniversary and to learn about their ministry today. 
https://www.facebook.com/FriendsUBL/posts/pfbid0MyJdBEZ1i94XpjzLUYf1F4J9YrdMU4U1LFabJXyMYYywpubWSYzprmUzBUMGUjrDl