The Reformed Church in Transcarpathia shares an Update and Message
It was a year ago since the war between Ukraine and Russia started. Unfortunately, this war has caused great damage throughout Ukraine, including the Western province of Transcarpathia. As it did almost a year ago, our Church has been trying to do all in its might to make the bitter reality of our everyday life a little more bearable for many. Our situation is not very bright and encouraging, and we can only hope that peace will come along as soon as possible, by praying to the Almighty God.
Last year's statistical report showed a serious decline in the number of church members. RCT has lost nearly five thousand Reformed adults due to emigration, and we miss more than two thousand children in the Sunday school. Currently, there are 58 723 Reformed adults in the RCT and 7 000 children between the age of 6 to 14 years.
Unfortunately, the war forced many people to leave the country. About 4700 church members fled the war for a foreign country. During the year of war, the number of baptisms and weddings decreased. There are currently 529 students in Reformed schools. In our kindergartens, 388 young children are being educated.
In 2022, nearly 1200 young people preparing confirmation attended our summer camps. And nearly 7 000 children attended Vacation Bible Schools. Confirmation and children's weeks were offered by each congregation, either as a group of several congregations or by the congregation alone.
Unfortunately, the war has reduced church attendance since many left the country. Far fewer people attend services and church programmes.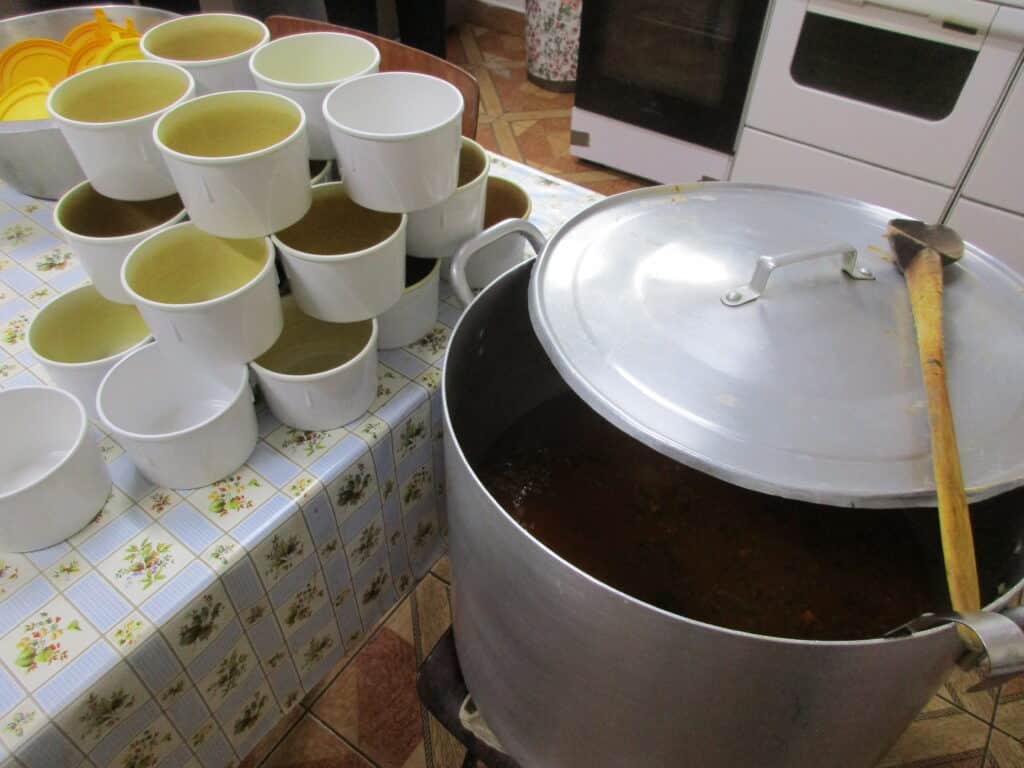 There is also a complex and multi-faceted diaconal, social work in the church. There are homes for the elderly, day-care centres for the elderly and social or soup kitchens, where hot lunches and fresh bread are prepared for the elderly and the needy. The number of parcels delivered to people in need has exceeded 10,000 during the winter.
Our pastors are all still in place and serve faithfully, although they are not in an easy position. With ongoing air raid alarms and power cuts, caring for the elderly and single people, left behind by the family members, are a heavy burden on their daily lives. They also face many difficulties in their families and in their congregations. Everyone's life is made difficult by the constant darkness and displacement. Families torn apart are finding it increasingly difficult to cope with the distance. Education has also been minimized due to air raid alarms and unheated schools. Children are falling far behind in education.
Thanks to the solidarity and support of sister churches and partner organisations, we have managed to provide all pastoral families, all institutions, all social service units with adequate generators before the cold weather started.
The cost of food, utilities, medicines and many other necessities have skyrocketed. We have learnt to be really economical and frugal, and committed ourselves to help even more those who, because of their disadvantaged situation, cannot provide for their families, eG. because they lost their work.
We are now in the third week of a survey by energy suppliers to see how the electricity network in Transcarpathia is under load. As a result, there is electricity in homes and even street lighting is working. This is a real miracle after what we have been through in recent months. How long this miracle will last, we do not know, but we are thankful for it.
Despite the severe difficulties, we are holding our ground and we think and take care not only of ourselves, but of many in Transcarpathia and beyond. We have been sheltering thousands of IDPs and cared for their daily needs, we have embraced the elderly, those living alone, the disabled, gypsy families around churches, we have helped brothers and sisters of other denominations in ecumenical cooperation, and we have even provided humanitarian aid to Ukrainian residents directly affected by the war. We have been able to do all this largely thanks to the sacrifices of our brothers and sisters abroad, for which we are deeply grateful.
To sum up:
In retrospect, we here in Transcarpathia are grateful that not once in the past year have we had to spend days or weeks in basements and shelters because of any causalities. We are grateful that our pastors, without exception, and most of our staff and teachers, have stayed in the country. We are thankful that in the midst of trials, power outages and cold winter days, God has kept us and protected our lives. We owe a lot to our partners abroad who have given us their support and carried our church's daily life in prayer. It is sad to see so many families torn apart by the war, church members displaced and their places in the church pews left empty. But we continue to pray, to trust and to hope. We deeply trust that our hope in God won't put us to shame and that the time will come when our friends and family can return and our communities can be renewed. In 2023, which is declared the 'Year of Hope' in our church, we hope that God will fulfil his promises and offer us His hopeful future. We never cease to pray for peace. We believe that if European leaders were truly dedicated to just peace, perhaps the emphasis would be on peace efforts and negotiations instead of the transport of weapons, which does not save human lives but threatens them.
On 26 February 2023, Bishop Sándor Zán Fábián preached the gospel of peace with hope and prayed together with Bishop Zoltán Balog in Budapest and Tatabánya among those who fled from Transcarpathia and found refuge in Hungary. He met church members, friends, elders and teachers who are eager to return to their homeland. Together they prayed to God to bring peace to the whole world. Let us pray for peace, because only God's Shalom can bring change not only to Ukraine, but to the whole world.