Timor-Leste: On-going Challenges
Timor-Leste is facing what seem like insurmountable challenges these days. I'll mention three things that touch the daily lives of people here and ask for your prayers.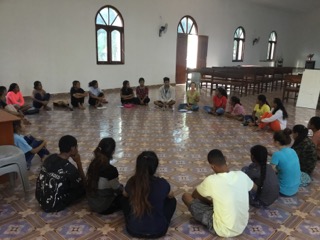 Collective Trauma
Two recent studies of trauma in post-conflict countries have found that Timor-Leste has one of the highest rates of undiagnosed post-traumatic stress disorder (PTSD) in the world. PTSD happens to people who have witnessed psychologically traumatic events like war. As many as 1 in 6 people or about 16.7 % of Timorese suffer from PTSD. Globally about 1% of people suffer from PTSD. Symptoms affect people's daily lives and ability to function and feel secure. In Timor-Leste two events have caused collective trauma: The Indonesian occupation from 1975 to 1999 and the internal crisis of 2006. In both events people witnessed murder and human rights violations. Researchers have found that poverty, ongoing community tensions, and persistent feelings of injustice also contribute to these mental health disorders. Timor-Leste has no mental health care system and social stigma makes addressing it even more difficult.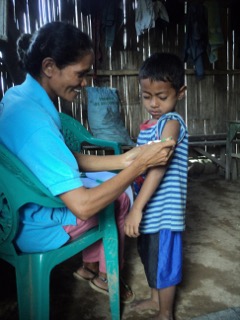 Malnutrition
Timor-Leste has one of the highest rates of malnutrition in the world. 46% of children under 5 suffer chronic malnutrition. Most Timorese are subsistence farmers and experience annual food shortages because of low productivity, poor soil, or climate variations. To offset this deficit Timor-Leste relies on imports. But many families don't have enough money to buy food which leaves them foraging for food during the rainy season from October to March. Climate change is causing lower agricultural productivity and more hunger. Malnutrition is a major obstacle for Timor-Leste's development because children who are malnourished may not fully develop intellectual faculties to make them optimally successful in school and work.
Political Crisis
Divisive politics and corruption are threatening to undermine Timor-Leste's hard fought independence. Last year there was a successful election but things came to a stand still when a majority could not be formed in parliament. After almost a year the president called for new elections. The recent elections were successful and decisive in giving victory to a viable governing coalition. However 9 of the ministers who were appointed are being investigated for corruption and the president refused to appoint them. The opposition party is now threatening to impeach the president. Since independence in 2002 the government has spent over $14 billion from the country's petroleum fund with little to show for it except a few big infrastructure projects. Very little has been spent on healthcare, education or agriculture.
And now for an update on the Liddle family. We are currently in the US, taking some time to visit family and to rest, then we will be itinerating in September. On those occasions we'll share some of the realities I've mentioned above. Our ministry with the Protestant Church of Timor-Leste (IPTL) cannot solve those issues. But we believe that God is working through the partnership Global Ministries shares with IPTL and we are thankful to be part of it.
Thank you as always for your ongoing support and love.
Tom Liddle serves with the Protestant Church of East Timor (IPTL). His appointment is made possible by your gifts to Disciples Mission Fund, Our Church's Wider Mission, and your special gifts.