Two FCEI operators help in rescue missions by the "Open Arms" tugboat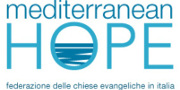 Two hundred refugees rescued in the last few hours. Naso (FCEI): "Our humanitarian commitment has an evangelical soul".
Rome (NEV), March 12, 2018 – Two operators from Mediterranean Hope (MH) –  the refugee and migrant program of the Federation of Protestant Churches in Italy (FCEI), are presently involved in several rescue missions being carried out by the Open Arms tugboat, operating on behalf of the Proactiva NGO.
The first mission took place on Friday night and concerned three Libyan brothers who set sail on a small rubber boat in an attempt to reach a safe harbour where the youngest, a minor seriously affected by leukemia, could receive adequate treatment. The episode, reported by various national newspapers, gives the measure of the tragic situations of the refugees in Libya.
After a few hours, on Saturday 10th March, the Open Arms – which flies the Spanish flag – intercepted a group of 106 refugees of different nationalities.  Once these two missions were complete, the refugees were transferred to a ship belonging to the SOS Mediterranée NGO, allowing the Open Arms to continue its rescue missions, intercepting, in the late morning of Sunday 11th March, another rubber boat with 95 refugees on board. The Proactiva ship then headed to the port of Pozzallo (Ragusa, Sicily). All the missions were fulfilled under the coordination of the Coast Guard.
During the mission, one of the two MH operators maintained kitchen services for the crew and the refugees; the other, Francesco Piobbichi, participated directly in the rescues and also recorded key moments from the mission through his drawings.  Many of his drawings have already been published in the book "Disegni dalla frontiera" (Drawings From the Border), printed by La Claudiana
Paolo Naso, coordinator of MH, explained: "Our humanitarian commitment has an evangelical soul. The presence of MH operators on ships engaged in sea rescue, strengthens FCEI's commitment in the field of migration.  We are attempting to put into practice the Gospel message which asks us to welcome and support the stranger, as well as to protect the life and the dignity of our neighbour, even if coming from another continent.  As FCEI – continued Naso – we are doing this in a number of ways: through the humanitarian corridors together with the Community of St. Egidio and the Waldensian Board; through the reception of asylum seekers when they disembark at Lampedusa; through the integration support we offer at the House of Cultures in Scicli (Ragusa) and other centers in Lazio where we welcome vulnerable persons; through our commitment at a political level to affirm the rights of migrants and asylum seekers,and through the action we take at a European level in collaboration with our partner churches".