We Will Not Be Silenced
Kahala Cannon serves with the Council of Swaziland Churches (Eswatini), Africa.
EmaSwati people take great pride in exclaiming that the Kingdom of Eswatini is a peaceful country, and they are a peaceful people. Amidst the beautiful terrain and plethora of nature reserves, where you can see the "Big Five" cats and view 500 different species of birds, the sounds of nature can be easily heard. However, now in the wake of a third wave of the Coronavirus, and continued civil unrest within the nation, things are far from peaceful. And the hum of nature has been suppressed with the cries of the people calling for change and democracy.
Vast devastation resulting from the second wave of the Coronavirus, and subsequent Tropical Cyclone Eloise that hit Eswatini earlier this year, heightened the sense of anxiety and discontentment that formerly weighed on the hearts of the EmaSwati. In addition, law enforcement's recent alleged "gross mishandling" of an investigation into the murder of a young male law student, and widespread belief of possible police involvement and cover-up, led to nationwide protests calling for transparency and accountability of police officers.
These events, coupled with an impending third wave of the Coronavirus, caused the EmaSwati to grow increasingly disenchanted with the government over the past several months. As the plight of the Coronavirus pandemic continues to evolve, access to COVID-19 vaccines continues to be scarce. The scarcity of vaccines has limited access to only the elderly, frontline workers, police, and soldiers. There is uncertainty when it will be offered to the public at large. Frustrated over the country's lack of economic stability, limited access to medications and COVID-19 vaccines, and an authoritative leadership where the will of the people are disregarded, citizens reached a breaking point.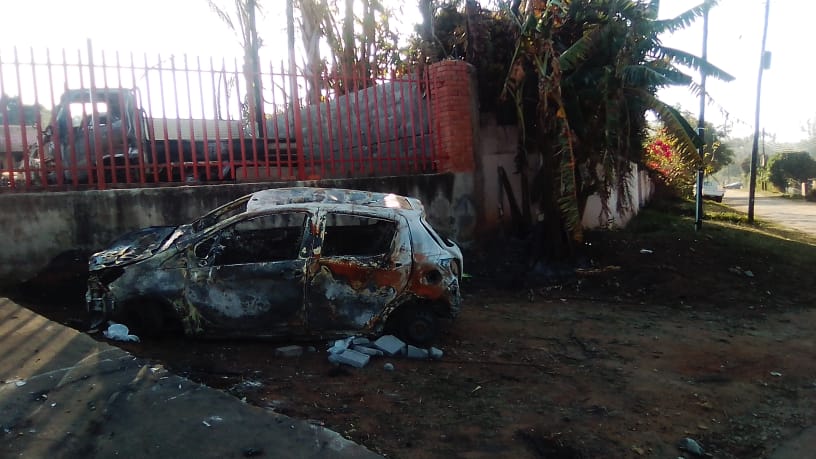 On June 29, 2021, EmaSwati people converged onto the streets in Manzini, Mbabane, Pigg's Peak, Nhlangano, and multiple large and small communities demanding change. Demonstrations quickly escalated to violent protests characterized by the burning and looting of cars, stores, and businesses. Fire and smoke engulfed the atmosphere and charred vehicles lined the side of streets and parking lots. Protestors vandalized buildings and established roadblocks. Due to the increasing levels of violence, all flights departing from King Mswati III International Airport were suspended for several days.
The government instituted several measures in an effort to suppress protests by force. They implemented a nationwide curfew between the hours of 6:00 pm to 5:00 am, and disrupted communication by degrading internet and mobile phone services. Armed soldiers and police were deployed who engaged protestors with such force that many demonstrators were killed or severely injured. Many others were arrested. Attorneys have worked tirelessly to get those exercising their human rights released from jail. Because communication was interrupted, stakeholders could not obtain a definite count, nor confirm, the number of reported casualties. Sadly, the harassment and killing of protestors continue.
Additional allegations of human rights violations by law enforcement have been reported. Multiple declarations of excessive brutality, including the abduction of private citizens from their homes by security agents, have been filed with non-governmental organizations and human-rights advocates. In many cases, family members have been unsuccessful in finding these individuals.
Escalating violence has tremendously impacted routine daily activities and how basic needs are acquired.
There are excessively long wait times to get fuel due to long queues at gas stations. The looming fuel shortage in Eswatini is due to the halt of fuel deliveries from South Africa.
There is a looming food insecurity crisis following the looting and burning of property, including grocery stores, shops, and other businesses.
Food and supply shortages are due to key suppliers, like Shoprite, PicknPay, and Spar, shutting down their supply chain with no plans to send trucks to Eswatini. They have suspended all deliveries, even in South Africa. People have been advised to stock up on essentials such as food.
The present civil unrest has also had a negative impact on the ability of the Council of Swaziland Churches' (CSC) to carry out its outreach programs. For example, the CSC Women's Wing was recently slated to launch its Women's Economic Empowerment program in all four regions of the country: Hhohho, Lubombo, Manzini, and Shiselweni. The program aims to empower women in rural communities to become economically independent through acquiring skills to successfully run and manage income-generating projects. Implementation of Phase One of the program's development included identifying communities, program participants, and developing business plans. This initial phase of the program was halted, due to the continued escalation of civil disruption in the country.
Additionally, a recent Women's Wing donation and fruit-tree planting project at the nation's Refugee Camp was canceled due to trepidation. To ensure the safety of our ministry members, "We were advised to stay indoors because they were burning buildings and blocking the roads – it was total chaos; but, we are still among the living though many lives were lost," states a member of the Women's Wing. Currently, the program implementation date for this project is unspecified. However, we all pray that peace will soon ensue and they can implement their programs within a reasonable amount of time.
To actualize this aspiration for peace, the Council of Swaziland Churches (CSC) is engaged in communication with the government, stakeholders, and international partners, and has committed to facilitating dialogue between all parties to bring about an amicable resolution to the conflict. The Council solicits your prayers and support as they serve as a bold prophetic voice, "On the side of the giver of life," working to ensure that all God's people and creation share in the abundant life that we have through Christ Jesus. Amen.
Kahala Cannon serves with the Council of Swaziland Churches (eSwatini). Her appointment is made possible by gifts to the Disciples Mission Fund, Our Church's Wider Mission, and your special gifts.