Webinar – Updates on #nowaytotreatachild campaign – Register now!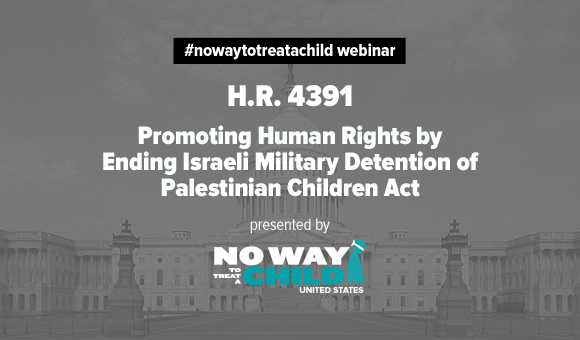 Last fall, lawmakers introduced the first-ever bill on Palestinian human rights in Congress, something the #nowaytotreatachild team spearheaded in 2017. It now has 30 sponsors and we are working to add more every day.
The Christian Church (Disciples of Christ) and United Church of Christ both adopted resolutions calling for our churches and members to advocate for the rights of children living under Israeli military occupation at their respective General Assembly and General Synod in 2017.  Click here to read those resolutions and to access helpful resources about this issue.
Join Defense of Children International-Palestine's Brad Parker and his #nowaytotreatachild campaign co-leader, Jennifer Bing, for a webinar on October 30 at 8 pm ET/5 pm PT for updates on the bill and the situation on the ground for Palestinian child detainees. We'll also share an update on efforts in Canada engaging members of Parliament.
Click here to register for the webinar.
The bill, H.R. 4391, is titled the Promoting Human Rights by Ending Israeli Military Detention of Palestinian Children Act and was introduced by Rep. Betty McCollum (D-MN) with nine co-sponsors. It prohibits U.S. tax dollars from supporting human rights violations against Palestinian children during the course of Israeli military detention. 
H.R. 4391 requires the Secretary of State to certify annually that no funds obligated or expended in the previous year by the United States for assistance to Israel have been used to support the ill-treatment of Palestinian children detained by Israeli forces from the occupied West Bank.
Click here to register for the webinar.
This webinar will use the Zoom platform. Additional instructions and details for joining the webinar will be shared with individuals that have RSVP'd.