World Council of Churches Webinar – Racism, Xenophobia, and Discrimination in South and Central America and Spanish-Speaking Caribbean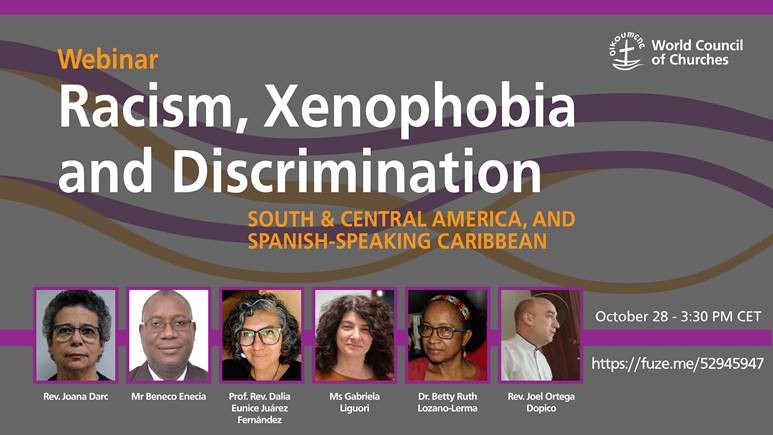 The Commission of the Churches on International Affairs (CCIA) of the World Council of Churches (WCC) is inviting you to a webinar on Racism, Xenophobia and Discrimination in South and Central America, and Spanish-Speaking Caribbean  which will be taking place on Monday 28 October at 3:30 pm CET.
Mr Nicolás SOSA, CCIA Commissioner, will be moderating the webinar.
Global Ministries partner, the Cuban Council of Churches, will be participating.
NB: The webinar will be in Spanish.
Speakers (in alphabetical order):
Joanna d'Arc Mereiles (Brazil)
Beneco Enecia (Dominican Republic)
Rev. Dalia E. Juárez Fernández (Mexico)
Gabriela Liguori (Argentina)
Betty Ruth Lozano Lerma (Colombia)
Joel Ortega Dopico (Cuba)
Join us from your computer or mobile: https://fuze.me/52945947
You can also join by phone by selecting most suitable international phone numbers: www.fuze.me/52945947/dialin
•            Choose your country, dial the number
•            Enter the meeting ID 52945947 followed by the # key
We hope many of you will be able to join us! Please share about this webinar within your networks.
The recording of previous regional webinars can be accessed here: Asia , North America and Caribbean