World Health Day 2018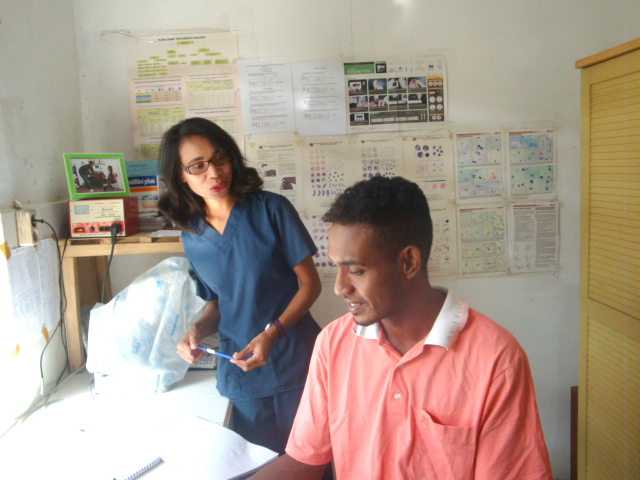 World Health Day is April 7. What does it look like to be working in a church partner-supported clinic in Lospalos, East Timor, in 2018?
Including myself, Clinic Imanuel Lospalos is staffed with six women. Amena Cristovao was trained at Lake Superior College in Duluth, Minnesota, as a medical laboratory technician. She is now responsible for managing the clinic TB program, from making the sputum smears, identifying positive cases through microscopy, ensuring patients get medicines daily for 6 months, ensuring our clinic's medicine and lab supplies don't run out, leading monthly peer group meetings for TB patients, and providing one-on-one and large group education on the disease. Amena is the only Timorese staff with formal training in health care.
The other Timorese staff has all worked at Clinic Imanuel for at least 10 years. While none have any formal education in the field, they all provide basic nursing skills daily, taking temps and blood pressures. They know the culture, and also know the modern basics of good health: nutritious diet, proper hygiene, and basic disease prevention. They show up each day to work despite earning very low wages and provide each patient with a few moments of focused attention. As people, such moments are what we all need, and want; for many patients, I think this brief connection with another human being is the main reason they come.
For over a year, we have had a scabies epidemic in Timor. While scabies won't kill you, it makes focusing on work, school, or anything difficult. The itch can go on for months, and usually does, without treatment, causing secondary skin infections on top of the outrageous itch. In the USA, scabies happens more commonly in disadvantaged areas. In Lospalos, it touches every status, and Clinic Imanuel is one of the only places to get appropriate diagnosis and treatment. The government clinics, set up to provide free universal health care to the whole Timorese population, have no medicine to treat scabies. For several months now, the whole district has been finding their way to us for treatment.
Tuberculosis IS a life-threatening problem in East Timor. TB, like scabies, honors no boundaries to whom it touches here. The Global Fund supports Timor's TB programming, ensuring that free medicines and lab supplies are available in country for all patients and clinics. However, besides logistical challenges, a major obstacle to ebbing the issue in Lospalos is addressing traditional culture and beliefs. In this highly indigenous part of the country, most people over age 20 are not too familiar with the concept of germ theory or bacteria, and most people of all socioeconomic levels believe that when people get really sick, it is often because, "ema mak halo," meaning "someone made him/her sick." Providing free TB diagnosis and treatment is good, but in Timor's context, it is incomplete.
A recent report from data gathered from the World Bank says that East Timor spends the least of any nation on Earth for health care: only 2.4% of government spending. It is sad to think that 18 years after East Timor's brutal struggle for independence, the country finds itself in last place for showing the world how it is now caring for the common people. On the bright side, Lospalos knows that Clinic Imanuel continues to be a source for compassionate health care for all people, and our small staff of six women strive to reach and teach those on the margins day by day.
Monica Liddle
Naturopathic Physician and Midwife
Global Ministries Mission Co-worker in East Timor
Monica Liddle serves with the Protestant Churches of East Timor (IPTL). Her appointment is made possible by your gifts to Disciples Mission Fund, Our Church's Wider Mission, and your special gifts.