YWCA of Palestine International Youth Conference Report Released
The YWCA of Palestine hosted an international youth conference from October 12-14, 2018 called "Youth Participate and Youth Decide: Toward Freedom and Justice." The final conference report has now been released. You can download it here. The Executive Summary is below.
Executive Summary
The YWCA of Palestine's international youth conference under the title "Youth Participate and Youth Decide: Towards Freedom and Justice" was the first of its kind in Palestine within the framework of UNSCR2250. The three intensive days were held between 12 and 14 October 2018, in both Ramallah and Gaza. The conference was organized by the National YWCA of Palestine and in partnership with Al-Haq, AlMarsad, the YMCA of Gaza, and the Joint Advocacy Initiative (JAI), and with the support of the YWCA/YMCAs of Sweden, Norway, Switzerland, Horyzon, World YWCA, UNFPA, and Global Ministries.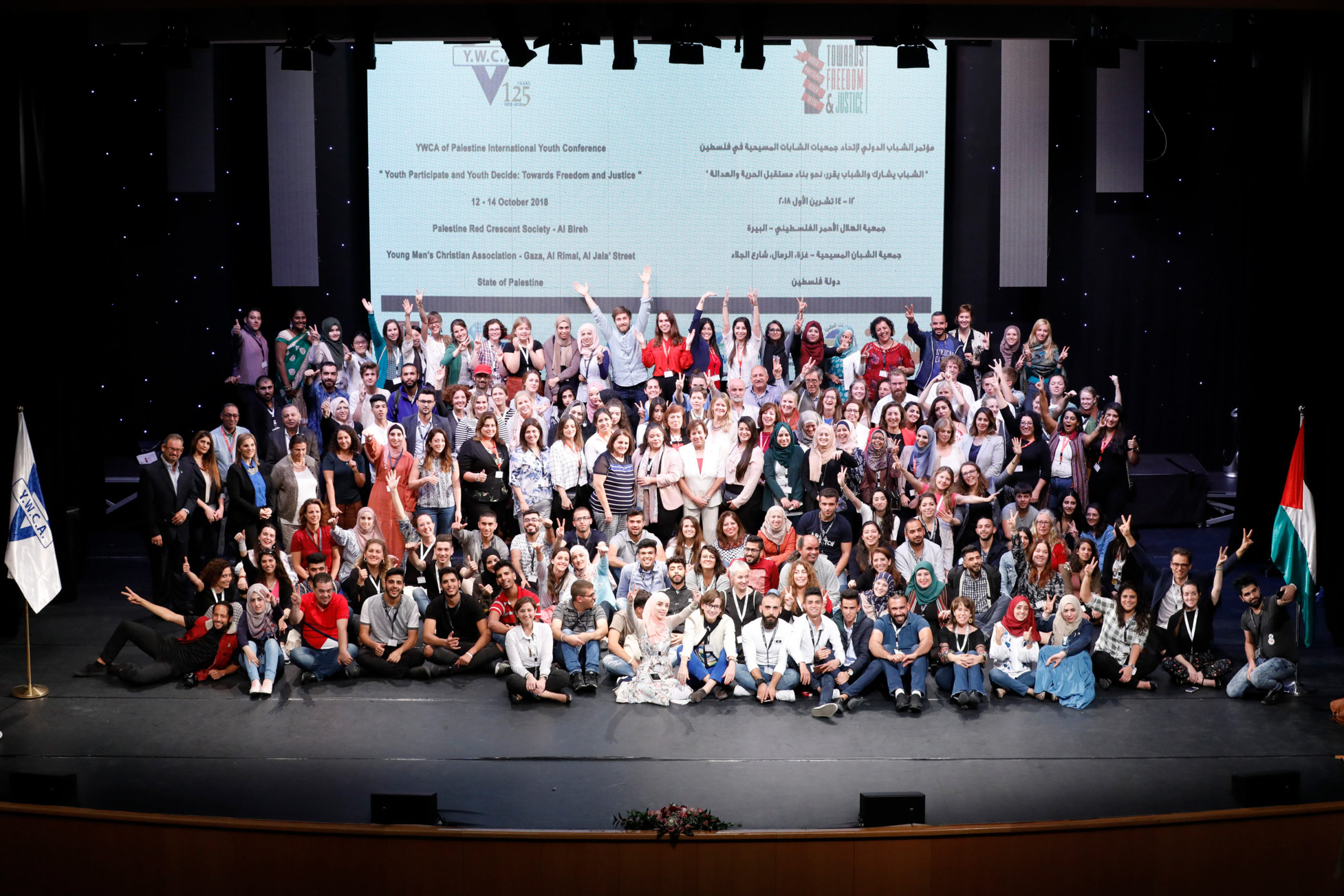 More than 500 participants attended the conference from historic Palestine, the West Bank and Gaza Strip. Also attending were international participants from Norway, Sweden, Denmark, Japan, USA, Macedonia, India, Ukraine, Romania, Switzerland,
and Finland. The YWCA of Palestine and its partners within the global movement invited youth from around the globe to meet and exchange ideas about their economic, social, and political contexts and rights. We were excited to have offered a platform that allowed for creative engagement and participation, and through which young people explored issues about their rights as they relate to the implementation of UNSCR 2250 in the local and global contexts.
Priority was thus given for young women and men under the age of 30. Logistics preconference included site visits and events that were held over five days, and a witness visit for the International participants by which they were given the opportunity to learn and witness the everyday life and challenges of young people and learn about strategies of resilience under Occupation. Participants were also given the chance to participate in the Olive Tree Picking (Keep Hope Alive Campaign), a joint project managed by the YWCA of Palestine and East Jerusalem YMCA, after the conference.