YWCA of Palestine: The Palestinian Battle against Coronavirus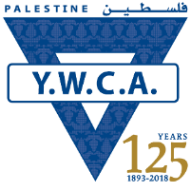 The Palestinian Battle against Coronavirus: A Fight Exacerbated by the Continued Israeli Occupation
For decades, Palestinians in the West Bank and Gaza have survived curfews and lockdowns imposed by Israel. This is not a new reality for them. While the whole world is living in quarantine, the Palestinian experience remains unique as they address this global crisis under military occupation.
Ever since the first cases of coronavirus were confirmed in the West Bank, Israel has shown no intent to give Palestinians a break and ease their fight against this pandemic. Instead, they continue their violations and oppressive practices as usual.
The recent actions of Israeli military forces expose the racist and inhumane policies of what many still believe to be "the most democratic country in the Middle East." According to an article by Palestinian News and Info Agency (WAFA), "in the weeks between 3 and 16 March, and as the Palestinians were battling to stop the spread of the deadly coronavirus disease in their vulnerable territory, Israel killed one young Palestinian, injured 200 others, detained over 100 people, demolished 16 homes and structures displacing 35 people, and bulldozed a vital road connecting remote Palestinian villages."[1]
On Wednesday March 11, 15 year old Mohammed Hamayel died after being shot in the face with live ammunition near the village of Beita, south of Nablus. Mohammed had joined other Palestinians to defend his land against the consistent aggression of Israeli settlers. On Sunday March 22, 32 year old Sofyan Al-Khawaja lost his life due to the live bullets of Israeli forces after being shot in the head "as he drove through the village of Nilin, in the central West Bank district of Ramallah"[2. The army informed his family that they would withhold his body—one of Israel's many policies aimed at increasing the Palestinian suffering. 
Before dawn on Thursday March 19, Israeli forces invaded Dheisheh Refugee Camp in Bethlehem, the first Palestinian city to be hit by coronavirus and put on lockdown, and arrested three young men. They ignored the extensive presence of Palestinian police and the roadblocks they had set up across the city to limit movement during lockdown and completed their mission. Other cities have witnessed similar raids. As reported by Palestine News Network (PNN), "six Palestinian youth were arrested in Ramallah, two others in Jerusalem and one in Qalqilya."
Home demolitions have not ceased despite the state of emergency in both Israel and the West Bank. On March 13, a Palestinian family from Shu'fat Refugee Camp in occupied Jerusalem demolished its own house following an order from the Israeli High Court under the pretext that it was built without a permit, which is usually hard to obtain. The Ali family had to demolish their house with their own hands to avoid paying the unreasonable demolition costs the Israeli municipality would charge them. They no longer have a home to stay in; the most important precautionary step taken across the globe to stop the spread of the vicious virus.
Last week, an Israeli employer called the Israeli authorities on one of his Palestinian workers who showed signs of the virus. Instead of admitting him into hospital, Israeli soldiers picked him up and dumped him on the side of the street near a military checkpoint on the outskirts of Beit Sira Village west of Ramallah. The man had extremely high fever, and could barely breathe or move his body. They just left him there to die alone—another incident that reflects the dark side of Israel. Later, the man's test results came back negative for COVID-19. 
Palestinian prisoners are at higher risk of infection. According to Prisoner Support and Human Rights Association (ADDAMEER), 5000 Palestinians, including 180 children and 43 women, are languishing in Israeli prisons. [4] Four coronavirus cases have been reported among prisoners. Yet, Israeli authorities are taking no measures to protect prisoners against the disease. Instead, they have recently stopped the supply of 140 products in the prison canteen, including hygiene and cleaning products. Prisoners are given neither face masks nor gloves to protect themselves. As stated by Middle East Monitor, "There are approximately 1,200 prisoners in need of treatment who suffer from medical negligence. Some 700 urgently need surgery and 24 suffer with cancer." [5] Such bad conditions boost the spread of the virus and if no action is taken to accommodate the prisoners' needs during this critical time, many more cases will be reported very soon. 
Fear over the spread of the virus in Gaza arose as more cases were confirmed in Palestine. Unfortunately, fear became reality after the Palestinian Ministry of Health reported the first two coronavirus cases in the Strip on Saturday March 22. Currently, there are seven new cases. Gaza is not only the world's largest open-air prison, but the most densely populated place on earth. 13 years of blockade have had devastating consequences on Gaza, making it "unlivable" by 2020 as  predicted in previous years in a UN report. The blockade has prevented any opportunities for development resulting in a weak infrastructure that cannot keep up with the fast population growth and a health system that is on the verge of collapse. According to an article by Stop the Wall, "70% of the people in Gaza are refugees expelled from their land when Israel was created in 1948."[6] Since their displacement, these refugees have been dependent on the United Nations Relief and Works Agency (UNRWA) for aid and basic services. Due to the recent US cut in funding for the agency, UNRWA has been struggling to continue to serve Palestine refugees. UNRWA has launched an urgent appeal for US $14 million to be able "to prepare and respond to the COVID-19 outbreak over an initial three-month period."[7] Given these facts, the situation in Gaza cannot handle  further spread of the virus.
The YWCA of Palestine calls on the international community to hold the Israeli government accountable for its continued violations of Palestinians' rights and to put pressure on it for the immediate release of vulnerable prisoners and to meet the most pressing needs of prisoners during this global crisis. We need international support to prevent another "Nakba" as a result of the spread of COVID-19 in jails and detention centers. The international community has a moral obligation to take necessary legal measures to force Israel to end its occupation of Palestine and lift the blockade on Gaza.
Free Palestine Now!
Related resources:
Footnotes:
Copyright © *2020* *YWCA of Palestine*, All rights reserved.