Zanzan's Secret
My husband and I have been sent to Morocco by Global Ministries and have arrived in October 2017. We both have our separate task. One of the things I do here is work with the Comité d'Entraide Internationale – CEI (International Aid Committee) of the Evangelical Protestant Church in Morocco. This committee is in charge of welcoming, assisting and accompanying refugees and migrants coming mainly from the Sub-Saharan Africa.
One thing that surprised me is the amount of refugees and migrants arriving every single day to Morocco. For those of you who don't know, Morocco is living a crisis where Sub-Saharan Africans are coming in masses in hope of passing through to Europe. The causes of their departure from their homelands are so wide and diversified that they are too many for me to enumerate here. Some are coming because they didn't have enough money to survive where they were. Many are first born males and the weight of their family's wellbeing is on their shoulders. The few women that I have encountered so far are mothers, leaving their children in their country of origin and are striving to find a better life for their offspring in Europe. What can I say about the unaccompanied minors? And the young women that were raped on their route to what they call Canaan? Risking their lives for a dream that is not even within their reach…
Geographically, Morocco is situated at the crossroads of Africa and Europe. The North and the South. Poverty and prosperity. A means to an end. A trial that one must overcome. The last push before we get to see the baby.
So all of those who are dreaming, or may I say are desperately hoping to live a better life and tell those they've left behind that they "made it", all those travelers are arriving in Morocco as their last stop. A very small amount of people come here to stay. Very few of them see the beauty, the love, the potential that this country is offering them… Mostly because they are blinded by the dream that they have of a brighter future somewhere else.
In our first weeks here, we saw what the CEI does in Rabat. They had us welcome migrants, listen to what they have to say, share their stories and make them feel like they matter, that their voices matter, and we are willing to take the time to listen and assist them, because as human beings, they deserve it!
In the CEI's program, they invest in some migrants' education. Mainly for those who want to live in Morocco and do not intend to go to Europe as their fellow sisters and brothers are. The team had us go to a mechanic's workshop where we met with the owner of the garage where the training was held. The name of the garage is "Le Secret du Zanzan" (Zanzan's Secret).
While we were watching them work, I asked what the story behind Zanzan was or what it actually meant.
He told me the story of 2 brothers that travelled from the country of Cameroon to the Ivory Coast. They left their land, their country, their families, everything they thought they knew, to go to a foreign land that would one day be their own. Zanzan means coming from afar to come to another land to establish oneself elsewhere. In his eyes, we could see hope! I didn't want to go further into asking questions, but I think he was talking about his own story and how he had to abandon and look away from the past to embrace the opportunities that life had in store for him here, in Morocco.
When we asked the staff about him, they said that he was one of the migrants that came for help, and turned his life around. He is now teaching others the basics of mechanics and is investing and infusing life into the future generations.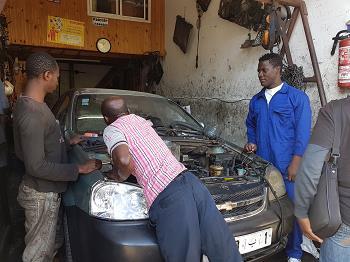 Not only was his story inspiring, but how relevant it was to us. My husband and I are coming from Canada, another country, another land, another continent, with another culture, other points of view on so many levels, but yet, we arrived here and felt like home.
Learning from the African community here in Morocco is such a blessing and a life-changing experience. I can say that within the first 3 months of our journey here, my life has already changed; my view of life, of what really matters and of human dignity has radically changed. I pray and hope that I will have the opportunity to share with you more about it in future newsletters!
Emmanuela and Fritz-Gerald are members of Église Pentecôte Missionnaire de Prières, Christian Church (Disciples of Christ) Canada. They currently serve with the Evangelical Protestant Church of Morocco.  Their appointment is supported by Our Church's Wider Mission, Disciples Mission Fund, and your special gifts.