Accompanying Victims of the Earthquake in Haiti
Several weeks have passed after the earthquake that affected the southwestern part of Haiti. According to the information provided by the National Spiritual Council of Churches in Haiti (CONASPEH), in the areas of the Nippes and the Grand'anse, 37,312 houses are destroyed, 46,913 damaged, and more than 2,207 have died. A million people and 500,000 children were being affected in some way by the earthquake. "This new earthquake reminds us of the one on January 12, 2010, which was felt in several geographic departments and as far as Port-au-Prince. I remember the destruction of public and religious buildings, schools, and businesses," said Rev. Dr. Francoise Villier, CONASPEH's General Bishop and President.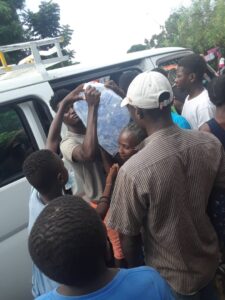 Global Ministries provided an initial amount of funds to assist CONASPEH in their assessment, accompaniment, and the attention of the most stressing needs in the southwestern part of the country.  It has not been easy.  Reverend Villier described, "The earthquake has put our Bishops under challenging situations in the country's three most affected departments.  Combined resources from Global Ministries and our local congregations allowed our Bishops, as supervisors, to bring emotional and pastoral care in their zones.  They also continue gathering information as much as possible in their respective zones."
In the five departments affected by the most recent earthquake, CONASPEH has nine Bishops who are supervisors and guides. They visited congregations and communities, as each Bishop is in charge of at least ten churches.
"The best help that we can bring to a brother or sister is to be present and to support them.  Psychologically and emotionally, they will feel loved and surrounded; therefore, our presence has been significant.  Our Bishops have been providing counseling, group and individual prayers, and seeking concrete alternatives to alleviate the pain and suffering.  We are also providing food and water, as they are priorities at this moment," said Villier.  They could assist approximately 300 families, or 1,500 persons, with food, water, medicines, and clothing.
CONASPEH shares their many thanks to all the siblings who have helped make this work possible.  They appreciate the efforts conducted by the Week of Compassion, Global H.O.P.E., and Global Ministries to accompany the Haitian people amid this present crisis.  Still, the needs in these departments are enormous.  People are starving. Moreover, as Reverend Villier told me in our last communication: "A lot of help has arrived in the name of the poor.  The thing is that the poor receive too little of that help.  That is because many people in Haiti seek to be rich in the name of the poor.  However, you have thought of us.  You facilitated that we can be there for our brothers and sisters.  They know us, and we know them.  We can be for them because we were already there before the earthquake, and we will continue being after that that aid is gone."
To accompany our partners, CONASPEH and House of Hope, you can make a financial contribution to support their ministry of accompaniment to victims and families. Information on sending gifts to Global Ministries online, by check in the mail, or by phone can be found at www.globalministries.org/give.