Equipping Schools to be Technology Competent: A Story from India
The Church of South India (CSI) Vellore Diocese is a bilingual diocese, mostly rural, and crosses state boundaries of Tamil Nadu and Andhra Pradesh. The diocese serves more than 200,000 members in four areas.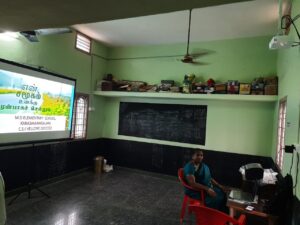 Believing, as Nelson Mandela stated, "Education is the most powerful weapon which you can use to change the world", Vellore Diocese runs 100 elementary and middle schools. Most of these schools are in slum areas. As the world becomes more digital and cyber based, these schools are unable to keep up without accessing modern technology. This need became critical with COVID and remote learning becoming the norm. However, acquiring computers, screens, projectors, and printers was only a dream as the purchase of this equipment was not possible given the financial constraints of the Church and the institutions.
Through support from Global Ministries, the Vellore Diocese to purchase computer equipment for five Elementary and Middle Schools mostly serving Dalit students. Each of the following schools received a laptop, a projector, a screen to use with the projector, a printer, and a carrying bag.
• CSI M.D. Middle School, Chinnathotlam
• CSI M.D. Elementary School, Koothambakkam
• CSI M.D. Elementary School, Karasamangalam
• CSI M.D. Elementary School, Thempalli
• CSI M.D. Elementary School, Sevoor, Arni
On June 30, 2021, the heads of these institutions met at the Diocesan office to receive this gift.
"Words can neither qualify nor quantify the partnership of Global Ministries to reach out to the most needy schools in Vellore Diocese," said Rt. Rev. H. Sharma Nithiyanandham, Bishop, CSI Vellore Diocese.