Seeking Peace with Justice in Puerto Rico
* Update* Time is running out for Puerto Rico.
Your Member of Congress needs to hear from you as they decide the islands financial future.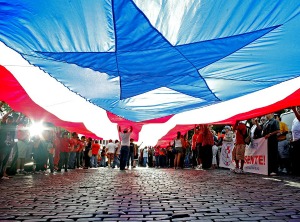 For months Congress has been discussing legislation regarding re-structuring Puerto Rico's debt. A bill introduced by Rep. Duffy titled "Puerto Rico Oversight, Management, and Economic Stability Act (PROMESA)" (H.R. 5278) is expected to come to the floor of the House of Representatives for vote this week. Puerto Rico advocates hope Congress will pass this legislation with amendments that will address the debt crisis and support the people of Puerto Rico.
The bill improves on initial drafts of the legislation. The oversight board tasked with working with the Government of Puerto Rico as the island develops and implements a debt relief plan remains controversial, but is now proposed to include at least minimal representation from Puerto Rico. An amendment will also be introduced which would provide stronger protections for the poor and in particular the children of Puerto Rico.  With nearly 57 percent of children in Puerto Rico living under the poverty line, nearly three times the rate on the US mainland, including this provision is critical. 
Take Action! Send a message to your Member of Congress today to support H.R. 5278, and also any amendments to the bill that:
Make sustaining the Puerto Rican economy a priority.
Encourage all solutions that enhance Puerto Rico's laws on budget transparency.
Safeguard Puerto Rican democracy and participation on any oversight mechanism, in its decisions, and in their implementation.
Provide a plan and resources to reduce poverty, specifically child poverty such as the Jolly-Curbelo amendment.
---
Debt relief legislation should protect rather than punish the people of Puerto Rico
Puerto Rico is a U.S. territory and its 3.5 million U.S. citizens are facing a humanitarian crisis. Nearly 50% of the island lives in poverty and nearly 10% have left for the U.S. mainland. More than 100 schools closed in 2015 as the government has made austerity budget cuts in order to pay its debt obligations. As the Centers for Disease Control warns of the threat of a Zika virus epidemic on the island, it is urgent that funding for health care and community services are a priority.
Some Members of Congress proposed debt relief plans that would place Puerto Rico under a restrictive fiscal control board that would do more to ensure funds are used to repay creditors than to provide essential services to the people of Puerto Rico. However any just and economically viable solution must allow the Government of Puerto Rico to fairly and fully restructure their debt while continuing to grow the island's economy and also meet basic social service needs.
Puerto Rico civil society organizations and religious leaders, including Global Ministries' partners, have been cautious of any debt relief plan that threatens to undermine their rule of law and establishes a neo-colonial model of administration. They have been especially critical of proposals to establish a fiscal control or oversight board that does not include sufficient representation from Puerto Ricans and participation from civil society in its vision, structure and implementation.
Learn more: