Global Ministries is saddened to learn of the death of Anne Hommes
Anne Hommes
August 6, 1928 – March 16, 2022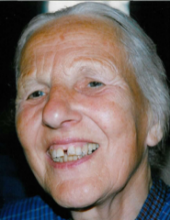 Anne Hommes of Sweden, Maine, died on March 16, 2022, at Gosnell Hospice in Scarborough, Maine, with her children by her side. She was 93 years old.
Anne's long and full life began in Amsterdam, Netherlands where she was born in 1928. Having endured the war as a child, in 1951 she emigrated to Maine with her husband and childhood sweetheart Tjaard, who had been named Senior Minister of the Fryeburg Congregational Church.
Later, in Arlington, Massachusetts and South Bend, Indiana, they raised their four children, Norman, Mark, Vreni and Caryn, and she began her career as a social worker.
When her children were grown and out of the house, Anne and Tjaard were commissioned as Mission Co-workers by the United Church Board for World Ministries (a predecessor mission body to what is today Global Ministries) to serve in Indonesia at the Christian University Duta Wacana. They served in Indonesia from 1981 until 1996 when they retired. They spent their time in Indonesia devoted to helping others through establishing education programs training and mentoring university students in pastoral theology and outreach. Later in life they would establish the Tjaard and Anne Hommes Scholarship Endowment Fund which continues to support students at Christian University Duta Wacana.
After retiring from mission work, Anne and Tjaard (who passed in 2008) returned to Maine to enjoy their Sweden community of lifetime friends and the beauty of the White Mountains from their Plummer Mountain hilltop, where their ashes will lie together under the native Blue Pearmain apple tree in their field. Anne had been a faithful member of both the Sweden Community Church and the Bridgton First Congregational Church, the Lovell Library Page Turners book club, the Sweden ladies walking group and an active supporter of numerous charities and local causes.
Anne is survived by her four children and their spouses, Norman and Anne Hommes, Mark and Carolyn Dewing-Hommes, Vreni Hommes and Chris Mathers, and Caryn and Jan de Walden; her eight grandchildren, seven great-grandchildren; her surviving sisters Leonoor Ingraham-Swets and Aaltje Smith; and her sister-in-law Engberdine Voute.
Please consider in lieu of flowers, a donation to the Sweden Food Pantry and/or the Sweden Historical Society.
Online condolences may be shared with her family at www.chandlerfunerals.com