2023 General Assembly News from Global Ministries
We have much to celebrate at Global Ministries! Join us in celebrating news and updates from the 2023 General Assembly in Louisville, KY.
The International Dinner
By the end of the night, everyone was standing.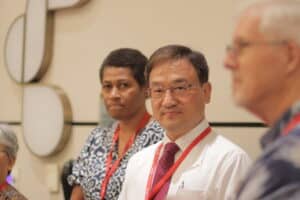 The Global Ministries International Dinner commenced on Sunday night of General Assembly at the Marriott Hotel, and the new format brought new energy to the event. Ms. Frances Namoumou, Program Manager at the Pacific Conference of Churches, was the honored guest of the evening, and her heartfelt speech about the Pacific Conference of Churches' work on climate change impacted all who attended the dinner. Through tear-filled eyes, she expressed immense gratitude for the constant presence and partnership of Global Ministries with the Pacific Conference of Churches. After her speech, while making her way back to her group, every chair in the room emptied as all who were able rose to their feet for a standing ovation.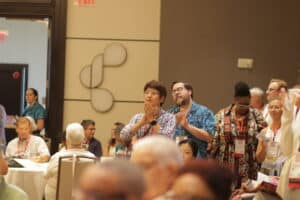 Frances's presence and message at the dinner were critical components of Global Ministries' new initiative: the Pacific Basin Initiative. Over the next year and half, Global Ministries will explore the various ways our partners in the Pacific Basin advocate for creation justice, promote peace and community resilience, and support migrant and minority communities. The Pacific Basin Initiative provided a backdrop for the dinner as the culture of the region inspired the food, decorations, programmatic focus, and giving opportunities. Guests were invited to join partners around the world who are working for climate justice by making a gift using a QR code printed on their BINGO sheets. You can support this work with a gift today at this link. Your gift makes a difference!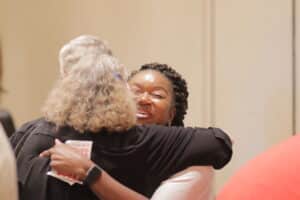 The energy in the room was electric as the dinner featured a new format from past years' dinners. After words of welcome and introductions from the Global Ministries Co-Executives, Rev. LaMarco Cable and Rev. Dr. Karen Georgia Thompson, and the Global Relations Ministers (formerly known as Area Executives), guests were invited to eat, drink, and mingle. Guests were also invited to participate in a BINGO game. Global Ministries home-based staff, mission co-workers, and international guests were positioned around the room, and as guests greeted each one they would receive a sticker on their BINGO sheet. Those who achieved a BINGO could turn in their card for a collection of seeds to start their very own butterfly garden.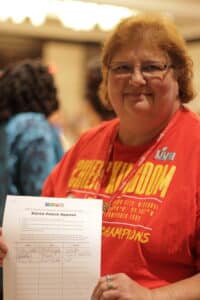 Guests could also enjoy various activities stationed around the room. One station provided an opportunity to commit to a simple act of creation justice, another station guests could provide their signature in support of the Korea Peace Appeal, and a third station featured crafts and coloring sheets, which was an ideal place for families with young children to spend their time. Live music from Alicia Tisdale and Josh Bowman set the tone as long-time friends reconnected, new friendships were formed, and the Global Ministries community grew stronger in its commitment to peace, justice, mutuality, and presence.
Beyond the international dinner and launch of the Pacific Basin Initiative, Global Ministries also celebrated these key moments at General Assembly:
Compelled to Witness, a resolution co-sponsored by Global Ministries, was adopted.
Karen Georgia Thompson transitioned from Co-Executive of Global Ministries and Associate General Minister of the United Church of Christ to General Minister and President of the United Church of Christ.
Peter Makari became the acting Co-Executive of Global Ministries until a more permanent interim can be named in October by the United Church of Christ board.
LaMarco Cable received the Distinguished Service Award from Lexington Theological Seminary.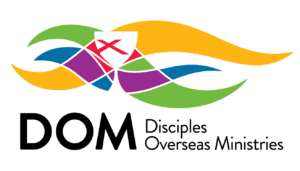 Lastly, Global Ministries celebrates the announcement that the Division of Overseas Ministries will now be known as Disciples Overseas Ministries. DOM President, Rev. LaMarco Cable, shared the news that we were moving "from Division to Disciples" in the general ministry report on Saturday, July 29. In his report, Rev. Cable noted, "By shifting the 'D' from Division to Disciples, we affirm our roots in a rich and fruitful Disciples history of promoting mission and unity. We continue this legacy of mission grounded and formed in unity, far from the contention created by the term 'division.' I am elated that we will now be known as Disciples Overseas Ministries."
We have much to celebrate at Global Ministries! Thank you for joining us in these exciting moments through your presence, prayers, gifts, votes, and service. We are grateful for the ways that we walk together in support of God's mission in the world. We also appreciate your support of the Pacific Basin Initiative! Click here to donate.