Evangelical Protestant Church in Morocco
The Evangelical Protestant Church in Morocco (Eglise Evangélique au Maroc, EEAM) serves Christ in a land at the crossroads of north and south (Africa and Europe), east and west (the Muslim World and the West). With ten congregations in cities all over Morocco (Agadir, Marrakesh, Casablanca, Mohammedia, Rabat, Meknes, Fez, Kenitra, Tangier and Oujda) served by four pastors and several pastoral interns, the EEAM has a membership representing more than fifty nationalities, the majority young people coming as students from Sub-Saharan Africa. Our members come from Protestant traditions of all varieties.
Recognizing our "internationality," the EEAM sees welcoming the stranger as one of its principal ministries. We are committed to offering hospitality – hospitality toward those who come to live and worship with us in Morocco and hospitality toward those who are passing through the country as migrants. Since 2003, the church has been intentional in its response to the crisis of migration through the CEI, the International Aid Committee, the diaconal service of the church. Our trained local CEI teams assist those in great need through emergency aid (food, shelter, clothing, medical care), scholarships for students who lose their support from home, microprojects for migrants, and professional training programs.
As the vast majority of our membership is also very young, we see education and training as another priority ministry, with an emphasis on interfaith and multicultural theological reflection. We offer theological formation opportunities to all our members, training members to preach and lead worship in programs organized throughout the year. In addition, since 2013, we have been a part of the exciting venture of creating an Ecumenical Theological Institute, offering high-quality, university-level theological education for our pastoral interns and others who desire to further their theological education.
We are a family of faith committed to worship of and service to the living God – gathering as diverse people in one body for praise and proclamation, prayer and Bible study, the celebration of communion and baptism, outreach and service in the name of Christ, through the Spirit of God in our Muslim context.
Support this Ministry
To make a gift for this ministry online or by check use the online donation page.
100% of your gift will be directed to Evangelical Protestant Church in Morocco
You will receive updates on the work in this area as they become available
Share in the vision of God's abundant life for all people
---
Related Content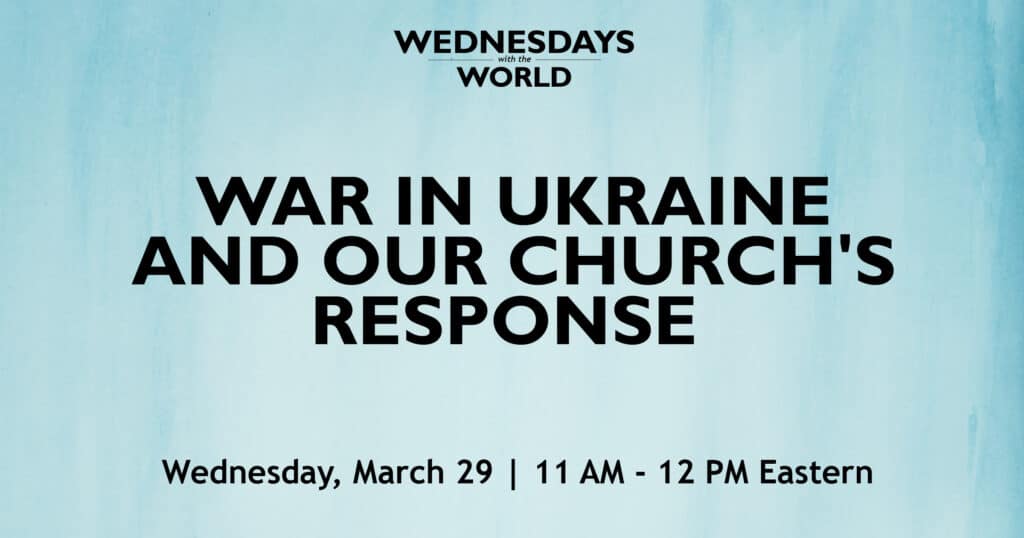 Wednesday, March 29, 2023, 11am-noon Eastern When Russia invaded Ukraine in February, 2022,...
Read More