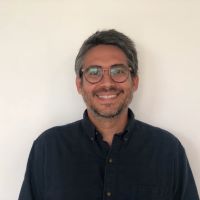 Alex Maldonado-Lizardi serves with the Christian Centre for Justice, Peace and Nonviolent Action (Justapaz), Bogota, Colombia.
Serving with: Justapaz: Mennonite Center for Justice, Peace and Nonviolent Action
How would you describe the mission of our partner in Colombia?
Justapaz is an anabaptist identity-based organization which serves communities, churches and social organizations affected by Colombia's 50 year armed conflict. They strive for an active citizenship in close following of our human rights, while participating in the development of a just, nonviolent and peaceful society and creation.
Four principles provide guidance for their service through a holistic y transversal service:
Congruence with the Gospel of Peace: experiencing the values of the kingdom of God, by living out the option for the poorest and the victims, through reconciliation, forgiveness, equality and community life.
Practice of respect of life choices: good treatment, nonviolence and justice.
Community Discernment: collective search for the guidance of the Holy Spirit in our being and doing as an organization.
Integral Peace: the practice of well-being (Shalom) in the different dimensions of the human being: spiritual, economic, social-relational, political, cultural and environmental.
How do you fit into their mission?
I serve in Justapaz's area of "Memoria histórica, derechos humanos e incidencia politica" (Historical memory, human rights and political advocacy). We document cases of human rights violations in evangelical churches in the context of Colombia's historical armed conflict, in order to provide legal and psycho-social accompaniment for people stricken by the conflict. Also, we keep an Observatory (OSEAS- OSEAS – JustaPaz) to measure the conflict's reality in Colombia and its implications for the diverse faith traditions and practices.
What led you to engage in this calling?
The desire to participate in reconciliation processes considered not only a spiritual but also a political practice guided me into this calling. Also, a yearn to witness and learn the multiple roads the spirit takes to be present to and participate in the history of humanity.
Is there a passage of scripture that carries special meaning in your daily work?
"Since, then, we know what it is to fear the Lord, we try to persuade others. What we are is plain to God, and I hope it is also plain to your conscience. We are not trying to commend ourselves to you again, but are giving you an opportunity to take pride in us, so that you can answer those who take pride in what is seen rather than in what is in the heart. If we are "out of our mind," as some say, it is for God; if we are in our right mind, it is for you. For Christ's love compels us, because we are convinced that one died for all, and therefore all died. And he died for all, that those who live should no longer live for themselves but for him who died for them and was raised again.
So from now on we regard no one from a worldly point of view. Though we once regarded Christ in this way, we do so no longer. Therefore, if anyone is in Christ, the new creation has come: The old has gone, the new is here! All this is from God, who reconciled us to himself through Christ and gave us the ministry of reconciliation: that God was reconciling the world to himself in Christ, not counting people's sins against them. And he has committed to us the message of reconciliation. We are therefore Christ's ambassadors, as though God were making his appeal through us. We implore you on Christ's behalf: Be reconciled to God. God made him who had no sin to be sin for us, so that in him we might become the righteousness of God." – 2 Corinthians 5:18-21
What are some of the challenges facing the people of Colombia, our partner, or yourself?
Colombian challenges
Corruption, precariousness, economic instability, and another increase in the cost of living against the average salary has critical consequences on day-by-day sustainability.
Due to geographic challenges, rural communities see themselves affected by a lack of educational, vocational, and health opportunities and access. This makes these communities more vulnerable for the presence of armed groups in their territories.
The lack of commitment on the part of the central State towards the 2016 Peace Accord has led to the resurgence of the conflict and the addition of new actors linked to the drug trafficking world.
The past 2021 National Strike exposed a constitutional and democratic shattering within Colombia's political structure leading to what "Somos Defensores" ONG described as "the shadows of authoritarianism" (Informes Semestrales SIADDHH – Somos Defensores )
Young kids from lower classes have no other vocational option besides being part of the military forces or illegal armed groups, perpetuating thus a violent and war culture in the country.
A strong patriarchal structure within Colombia's society generates discrimination against gender diverse communities.
Justapaz's challenges
The increase in targeted assassinations of community leaders, in addition to human rights defenders, have worn down the organization processes already taken in some communities. These losses complicate the work with them. ( Observatorio de Derechos Humanos y conflictividades – Indepaz )
Cases of forced displacement showed a large increase between January and November 2021. A large part of this population is made up of Afro-descendant and indigenous communities. Very few of these cases have received legal attention and protection prior to the events.
Confronting and opposing with wisdom the influence of armed actors during the exercise of different democratic processes and the instrumentalization of churches in electoral situations.
The lack of a national and ecclesial educational process on the 2016 Peace Accords promotes apathy and despair in the face of the conflict.
Supported by a theology and biblical reading that protects direct economic interests, many churches have not supported the implementation of the FINAL AGREEMENT FOR THE END OF THE CONFLICT AND THE CONSTRUCTION OF A STABLE AND LASTING PEACE signed in August 2016.
The dialogue with different communities of faith in favor of a critical pedagogy of the agreements from a faith perspective is neither immediate nor simple. Justapaz works hard in these formative processes for political incidence within the framework of the churches.
A traditional biblical perspective on the role of women in the church and society hinders their formation for leadership and advocacy
Personal challenges
Discerning between marriage, work, formation and rest times.
Finding, creating and participating on a new community while recognizing its boundaries.
Faith and trust in the capabilities life has brought to follow this vocation of accompaniment and witnessing in a situation foreign to us.
Taking care of family affairs while not being physically present.
What is a lesson you have learned from our partner that you feel should be shared with churches in the U.S.?
One of the first things I learned before setting foot in Bogotá, came out of the reflection of Isabella Bermudez, a law student, intern at Justapaz, after a dialogue of the situation in Colombia in August: "It must be really tough to believe in a God that just won't let you live",. How are we to believe then in "El Dios de la vida" ("The God of Life") if this belief, this faith, won't let us live, value life, instead of its fragments?
In our partner's vocation is an inspiring struggle for the possibility of and commitment to life's "vincularidad": "the awareness of the integral relation and interdependence amongst all living organisms … with territory or land and the cosmos." (W. Mignolo and C. Walsh). Reflecting on this, Maria Helena López, one of the pastoral leaders in "Iglesia Menonita de Ciudad Berna" in Bogotá, reminded in a Sunday service that "communion with God is taking care of my responsibilities, committing to our families and communities" and not to disappear in a mystical wave. Therefore, to comprehend and know God is to set our foot in the ragged road of love and justice that He/She offers to us.
Martín Nates, director of Justapaz, points out then: "Donde está en peligro la vida y la dignidad de un ser humano, allí debe estar la iglesia defendiendo los derechos humanos." ("Where the life and dignity of a human being is in danger, the church must be there defending human rights"). This is the footpath where then,
"10 Love and faithfulness meet together;
righteousness and peace kiss each other.
11 Faithfulness springs forth from the earth,
and righteousness looks down from heaven.
12 The Lord will indeed give what is good,
and our land will yield its harvest.
13 Righteousness goes before him
and prepares the way for his steps."
-Psalm 85.10-13
Which books have influenced your understanding of your country, work, or theology (choose 3-6):
La chispa y la llama -Samuel Escobar
Misión Integral: Ensayos sobre el reino de Dios y la Iglesia -René Padilla
Del sentimiento trágico de la vida– Miguel de Unamuno
Vida en el amor– Ernesto Cardenal
Teología de la liberación– Gustavo Gutiérrez
Cien años de soledad– Gabriel García Márquez
New Seeds of Contemplation– Thomas Merton
Which films that have influenced your understanding of your country, work, or theology (choose 2-4):
Of Gods and Men (2010) -Xavier Beauvois
(optional) Is there a song that they sing at church in your placement you can send us?
Sencilla (Santiago Benavides)
Dame una fe sencilla
como risa de niños cuando juegan
como gota de rocío que se rueda
como cruz de rústica madera
Dame una fe sencilla
que se siente a la mesa de los pobres
que se alegre de alegrar sus corazones
y que llore también con sus dolores
Una fe así, parecida a ti…
Sencilla, como fue a la tierra tu venida
como fueron tus historias campesinas
como fue tu hogar en Palestina
Dame una fe sencilla
para curar con esperanza la tristeza
para cantar por el perdón en esta guerra
para avivar el pábilo que humea
Dame una fe sencilla
que no le da espacio a la mentira
que no logra acomodarse a la injusticia
y no calla lo que sabe que da vida
Una fe así, parecida a ti…
Sencilla, como fue a la tierra tu venida
como fueron tus historias campesinas
como fue tu hogar en Palestina
Sencilla, como tu mirada compasiva
como aquellas aldeas recorridas
como el amor que te llevó
a dar la vida
Simple (Santiago Benavides)
Give me a simple faith
like the laughter of children when they play
like a drop of dew that rolls
as a cross of rustic wood
Give me a simple faith
which can sit at the table of the poor
that is glad to gladden their hearts
and that also cries with their pains
Such a faith, similar to you…
Simple, like your coming to earth
like your peasant stories
like your home in Palestine
Give me a simple faith
to cure sadness with hope
to sing for forgiveness in this war
to fan the smoking flax
Give me a simple faith
that does not give space to lies
who cannot accommodate itself to injustice
and that doesn't shut up what it knows gives life
Such a faith, similar to you…
Simple, like your coming to earth
like your peasant stories
like your home in Palestine
Simple, like your compassionate look
like those villages traveled
like the love that took you
to give life…
Alex's appointment with the Christian Centre for Justice, Peace and Nonviolent Action, Bogata, Colombia is made possible by your gifts to Disciples Mission Fund, Our Church's Wider Mission, Week of Compassion and special gifts.
More from Alex Maldonado-Lizardi