Building Project of Dumaguete Kalauman Center for Development
Philippines
Click here to read the latest update on the Kalauman Center's Building Project
As a community-based center in Dumaguete City, Philippines, the Dumaguete Kalauman Center for Development (Kalauman), whose name means "from where you can draw hope", spreads God's love through holistic services and programs, including educational programs, health services, and Christian education, with family and community engagement opportunities.
The Kalauman Center is a Child Sponsorship partner of Global Ministries. The money received by Global Ministries from child sponsors is used for education expenses, medical assistance, cultural activities and establishing a college or trade school savings fund for each child. It is the only participating center that provides higher education using sponsorship funds.  In addition to facilitating the child sponsorship program, Kalauman also works to strengthen partnerships with the nearby communities to promote opportunities for children and families to participate in community affairs, and to connect parents of children at Kalauman to employment opportunities.
After 34 years of operating on the Silliman University Campus, it is time for the Kalauman Center to move.  The center's Board of Directors has evaluated all possible options, and was not able to find another facility for rent that would be suitable for Kalauman's long-term purposes. Therefore, the Board of Directors developed and approved a design and plan for constructing a new building, and a budget to build and own a new facility on a nearby property for the long-term home of the Kalauman. The new facility will hold office space, classrooms, and a multi-purpose room for activities and special events to be used by children at Kalauman, their families, and the community.
The Dumaguete Kalauman Center for Development is excited about the possibilities surrounding the new facility.  It will be a space for community engagement and parent involvement, and ultimately a place that enables Kalauman to continue providing opportunities for success to children and families in Dumaguete City.
In order to complete the construction of the new center, the Kalauman Center is raising $129,000 towards the project. The Kalauman Center already has started fundraising through local constituents, including Kalauman alumni/ae, and they are making progress toward the final fundraising goal.  Global Ministries welcome gifts in support of the Dumaguete Kalauman Center for Development Building Project.
Update December 2016
On August 27, 2016, the Kalauman Center's Board of Directors approved the decision to begin the building project for the new Kalauman Center, which will be located on a new property owned by Kalauman. Several engineers have reviewed the construction plan, and have shared with Kalauman about the requirements and necessary permits to begin construction. The original building plan was revisited so that the Center could begin by building a portion of the original plan with the resources they currently have available, in hopes to expand the building at a later time. Prior to obtaining several of the necessary permits and arranging for services such as an electrical connection and water access, the building permit for the project was required. The process for obtaining a building permit turned out to be a longer process than initially anticipated.
However, Kalauman has shared with Global Ministries that the building permit has been approved and they are beginning to arrange all of the necessary permits to begin construction. Once these services, primarily electricity and water access are connected, the Kalauman Center can begin construction on the new space to house all of Kalauman's life-giving programs – including tutoring, child sponsorships, community engagement events, parenting workshops, and employment services for adults. Because this process has turned out to be longer than Kalauman or Silliman University anticipated, the university is allowing Kalauman to continue their ministries without interruption in their current location on the campus of Silliman University.
On October 9, Kalauman celebrated their 35th anniversary.  The day started with a thanksgiving worship service held at Silliman University Church. Following the service, there was a groundbreaking ceremony at the area where the new building of Kalauman will be built, which is less than a mile from the Silliman University. The celebration continued with a meal, games, and contests. On December 12, construction on the new center officially commenced. Kalauman plans to begin building the first floor and a roof for a multipurpose space.
As of the end of November, Global Ministries has received over $40,000 in support of the Building Project for the Dumaguete Kalauman Center for Development. Global Ministries continues to welcome new gifts in support of the Kalauman Building Project.
Update: October 2017
The Kalauman Center recently shared that they have completed 65% of the construction for their new center. On October 7, 2017, the building site was blessed in a special ceremony during the 36th Anniversary Celebration of the Kalauman Center, and the staff and community of Kalauman are anticipating the blessings to come when the building is fully functional.
Progress on the new premises is providing benefits already for Kalauman families. While the fencing surrounding the new center is unfinished, the total area of the ground floor is completed and fully operational. The second floor is still under construction, but is prepared for upcoming rains. It is covered by a tarp that will keep rain from impeding the construction. Most rooms are missing floor tiles, still in need of paint on the walls and ceilings, and are not yet connected to electricity, but they are already in use. Saturday School classes and other activities for high school and college students are held at the new center.
A representative of the Kalauman Center wrote, "We may still have a long way to go, but the experience of building this new center has allowed us to be of better service to the children and families in Dumaguete City, which is a great blessing."
Global Ministries welcomes donations for the continuation of this project and extends thanks to those who have given generously to support family services in the Philippines.
Update: June 2018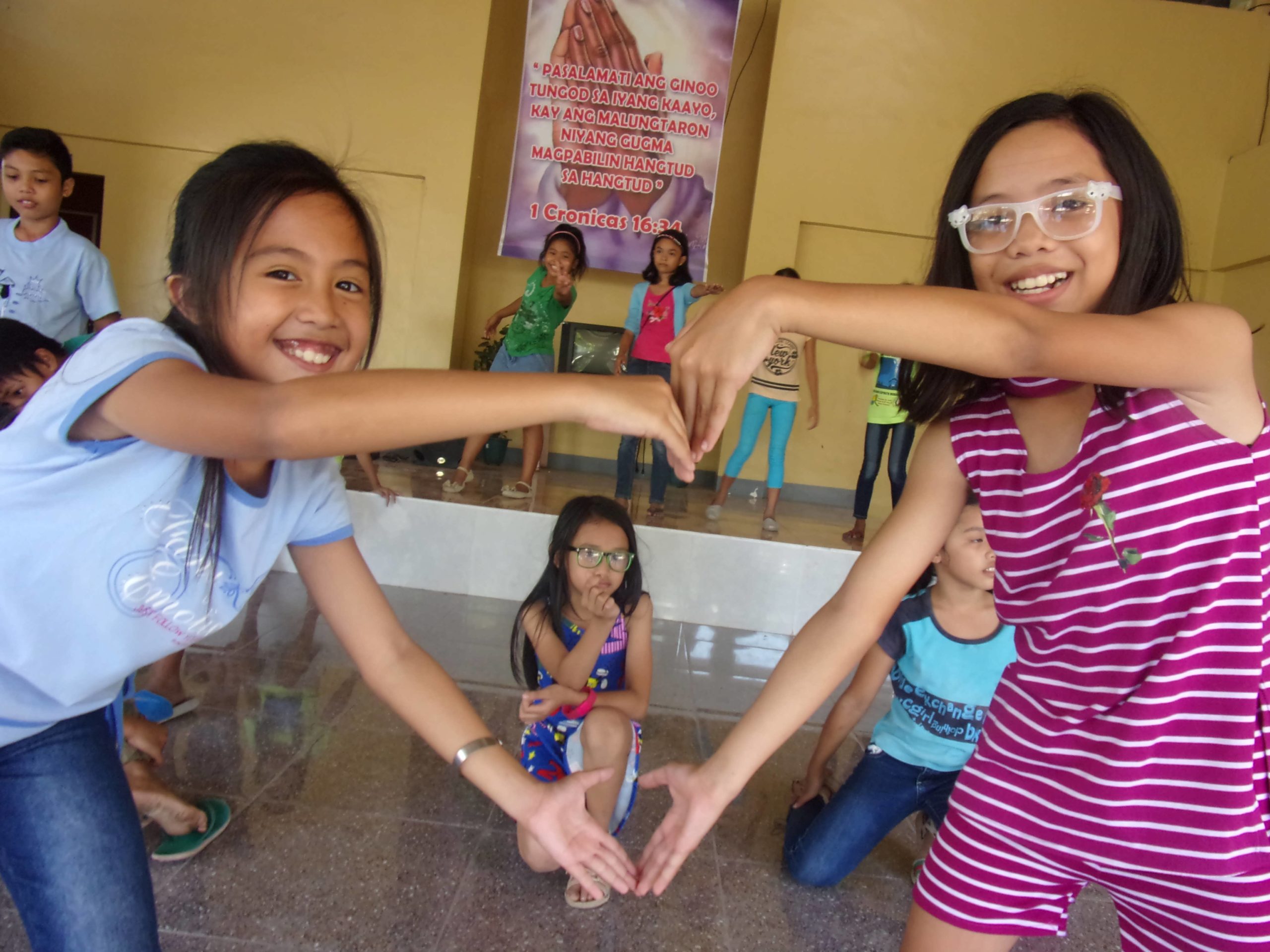 After intense efforts in 2016 and 2017, Kalauman reports that a significant portion of the building is now finished with the most recent completions of the counseling room, guest room, and three comfort rooms. A mini conference room is also near completion, but is not yet furnished.
Kalauman already is using the functioning parts of the building to its fullest. Almost all of Kalauman's activities have moved to the new building. Recently, a Vacation Bible School was conducted in the new building and soon they will host an overnight camp for high school and college-aged students. Kalauman also has received inquiries already about renting the space from other groups. They share, "The new building has not only provided the children, parents, staff, and board members with a more comfortable venue for various activities, but also has offered an opportunity for the Kalauman program to serve the larger community as well as generate funds and resources for project sustainability. "
The work that remains to be done is related to the large conference room including its ceiling, electrical work, painting, and tiling. The building also is in need of a fence for safety and security.
Global Ministries welcomes donations for the continuation of this project and extends thanks to those who have given generously to support family services in the Philippines. To see more photos from Dumaguete Kalauman Center, please click here.
Update: December 2018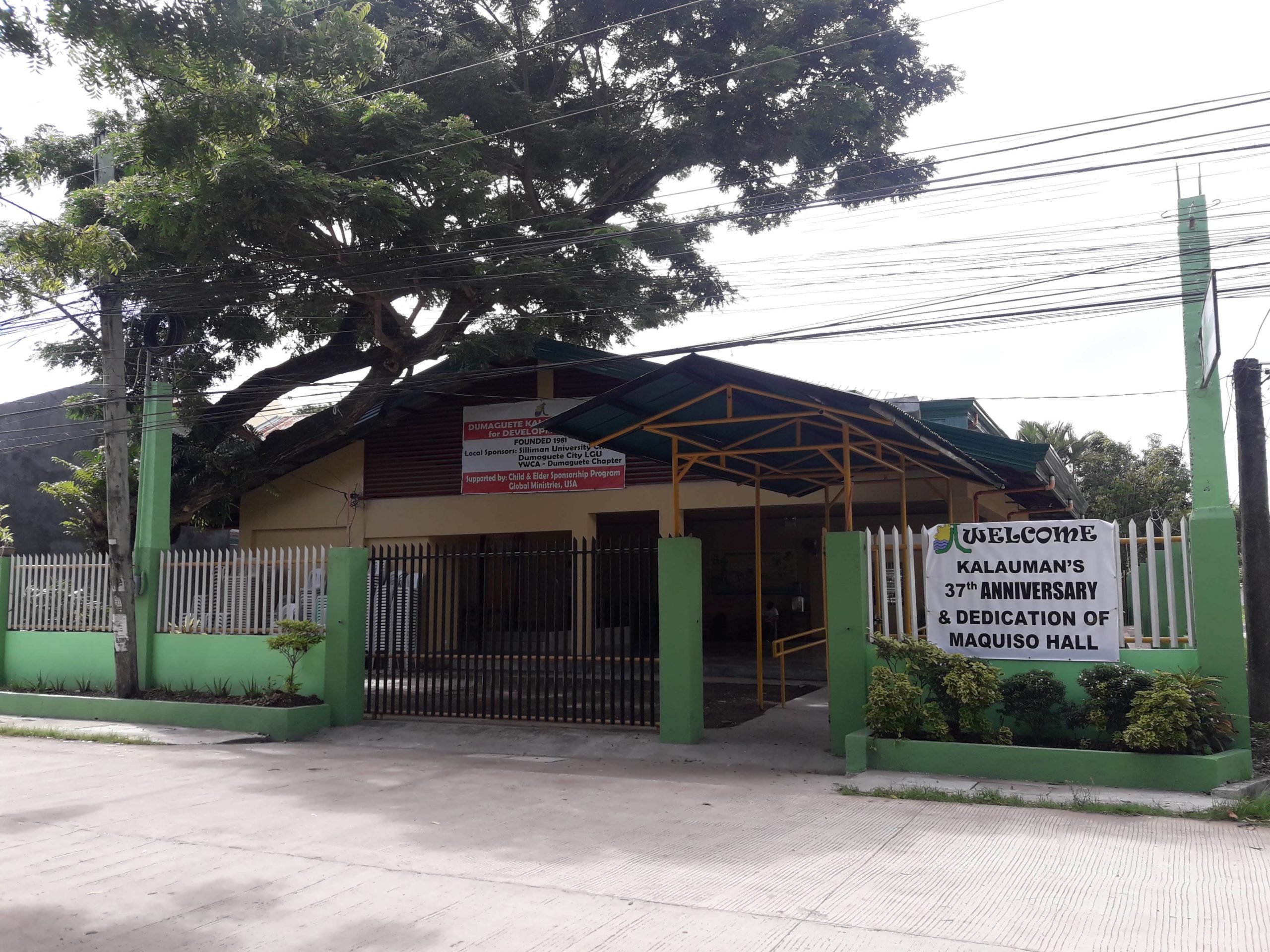 As of December 2018, Kalauman reports that the whole building is now finished and all of the rooms are fully operational. The conference hall on the second floor is being utilized regularly by the high school and college students. Once all the necessary equipment is installed the conference hall will be opened for use by the wider community. A concrete perimeter wall has also been completed. Below are pictures of the newly finished building as well as the workshops for high school and college students and Bible study and church school classes taking place in newly fished rooms.
Global Ministries extends thanks to those who have given generously to support this building project.
Update July 2019
In 2018, Global Ministries was excited to share about completing the first floor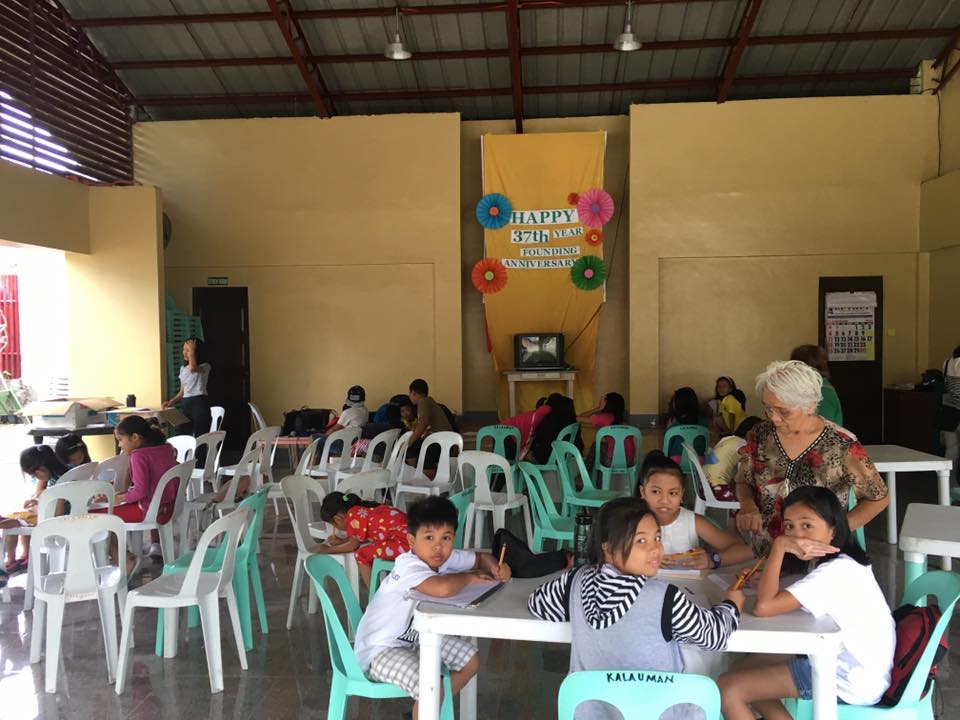 of the new Kalauman Center's construction. As a result, the children's and community programs have continued to run in the new space. The construction process was truly a community effort. Each family volunteered approximately nine hours of volunteer construction work. Once the programs began at the new building, the Kalauman Center staff noticed more participation from parents, and particularly fathers, in the programs that the center offers. They believe this is because the families now have a sense of community ownership in the center's work, because of how much work each family committed to the project's completion.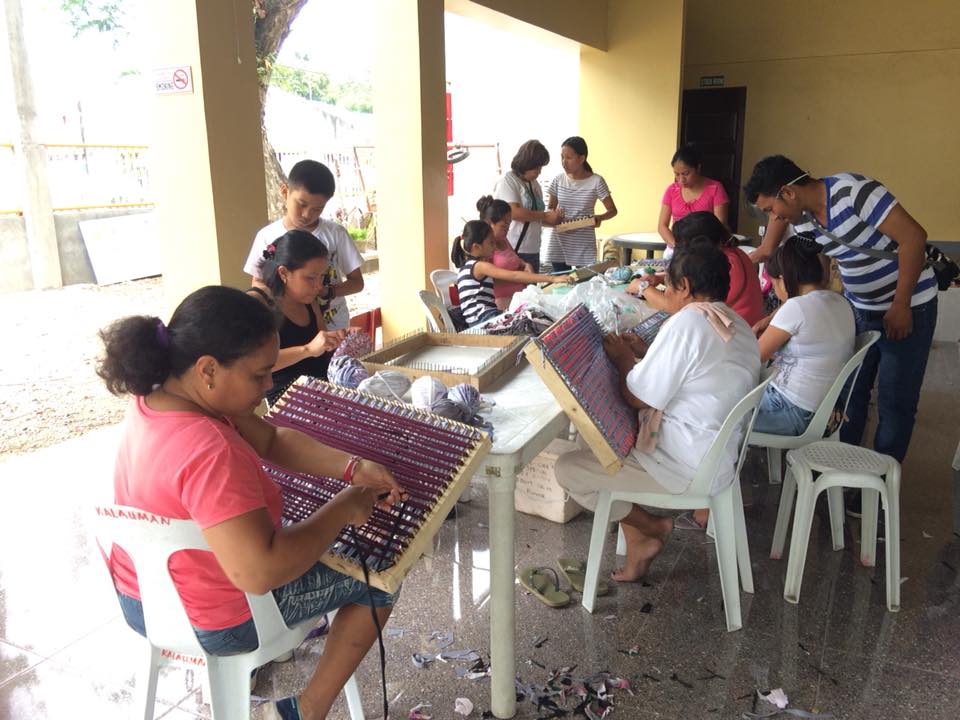 The Kalauman Center has been developing ways to become more self-sustaining. One example of this is the new catering services run by mothers of children at the Kalauman Center. Catering orders are received for birthdays, weddings, holidays, or any other event, then parents from Kalauman prepare the food at the Kalauman Center's kitchen and deliver it to the event. As this business continues to grow, it has become a priority for the Kalauman Center to complete the construction of the second floor. The second floor is a large conference room by design, where the Kalauman Center can host celebrations, workshops, educational programs, and other community events. Additionally, on nights the Kalauman Center is not using the second floor, they will be able to use it as an event and party space for families in the community to rent. This will increase the business for the Center's catering services and provide additional resources to continue supporting the work of the Kalauman Center. The Kalauman Center is raising approximately $10,000 to complete the second floor of the center. This will provide lights, a projector, speakers and complete sound system, chairs, and tables.
Update: April 2020
Since the Philippines government ordered strict lockdown measures in the country to slow the spread of the COVID-19 virus, many parents of children at the Kalauman Center and millions across the country, have lost their means to earn daily wages. This has resulted in families facing extreme challenges in obtaining food and medicine during this quarantine period. In the Philippines, senior citizens and children are not allowed to leave their homes, and only health workers, police, bank employees, and grocery store clerks can work at this time. Therefore, the Kalauman Center has cancelled all programs and activities with youth and families at this time until these orders have been lifted. Staff members are at home, working as they are able with limited access to internet. Currently, board members and staff members are exploring ways to assist families who are terribly affected by this situation. At the time of this report, there have been no known diagnoses of COVID-19 for children, family members, staff, or board members at the Kalauman Center.
Update: May 2020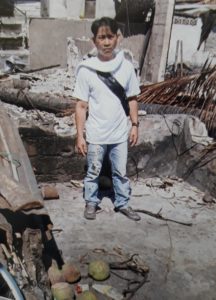 In the spring of 2020 the Kalauman community was affected when two fires struck nearby neighborhoods. Between the two fires, 75 homes were burned affecting 164 families and 635 individuals. Four of those families are sponsored by the Kalauman Center. Most houses are home to at least two families. Houses are built close together with light construction materials, which allows for fire to easily spread. These fires directly impacted four families in the Kalauman Child Sponsorship program. While all children involved in the program and their families are safe, their homes experienced significant damage or completely destroyed. Whereas the government is providing assistance it will not allow the families affected to reconstruct on the same property. Kalauman is responding to the needs of affected families and surrounding them with compassion and care. You can read more about these fires here.
Update: June 2020
As of May 14, 2020, there have been no reported COVID-19 cases in the Dumaguete City region, however, it is unknown if this is because of limited testing available currently. Quarantine restrictions in the Philippines are beginning to be modified in some regions around the Philippines to allow more movement, activity, and work. However, in Dumaguete City, students are still staying home. Staff members from the Kalauman Center are staying in contact with students, primarily through Facebook Messenger. Staff are checking in with children on mental health, providing activities to ease boredom, helping them find new interests, and encouraging them in completing their lessons.
During the preliminary set of quarantine restrictions when most institutions and businesses were closed, many of the students' families lost most or all their income. Many parents work as day laborers, such as drivers, home-service providers, or vendors and were unable to work at all. Although some businesses are beginning to reopen in Dumaguete City, many of these families remain without work. In order to help families get through this time, Kalauman is redirecting funds originally budgeted for summer activities, which have now been canceled, to be used for financial assistance for families. Kalauman has provided financial assistance to each family of the 270 children involved in the Kalauman programs.
Click here to read about a child and family at Kalauman.
Click here to read about a donor's personal experience with Kalauman.
Support this Ministry
To make a gift for this ministry online or by check use the online donation page.
100% of your gift will be directed to Building Project of Dumaguete Kalauman Center for Development
You will receive updates on the work in this area as they become available
Share in the vision of God's abundant life for all people
---
Related Content
Dear Friends, There is a joke among expatriates that we came to Hong Kong for four years and ended...
Read More