Reflection on a Virtual Pilgrimage to Ecuador with FEDICE
By: Cathy Myers Wirt, Co-Regional Minister, Christian Church in Oregon and SW Idaho
The Ecumenical Foundation for Development, Integration, Training, and Education, FEDICE, has been a global mission partner with the Oregon Regional Church and now the Oregon and SW Idaho Regional church since the mid-1990s, before Doug and I began our service as the Co-Regional Ministers of the region in 2001. FEDICE is not new to me, however virtual pilgrimages most definitely are.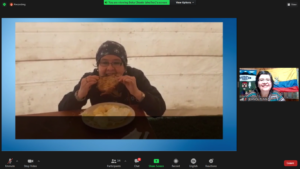 For 20 years I have gone to the airport to see people off on their journey to Ecuador every other year and have been at the airport to collect them on their return, including my husband and son. I have been at the airport to welcome Victor and Violet Vaca and Executive Director, Blanca Puma, with key volunteer and husband, Luis, and then to drop them off to fly back home. I have always been glad for the travelers but sad for me that I could not go to Ecuador myself. My body does not do well at high altitude, so I have never wanted to burden my hosts with my extra needs.
I have sold craft items, invited offerings, preached sermons full of FEDICE stories, I have posted the blogs of FEDICE trip travelers, shared videos/PowerPoint presentations about Ecuador, encouraged people in our regional church to go to Ecuador, and hosted Victor Vaca at our high school church camp where he ran circles around the teenagers on the soccer field. We have worked in stories about Ecuador into VBS and Camp curriculum. Ecuador dwells deep in my heart and the hearts of our regional church. Blanca, and Luis, are dear to me. We have traveled together, laughed, and cried together when they have visited in Oregon.
Our regional church is a global mission region and in the 2000s almost 1/3 of our Oregon congregations became "global mission churches" through the hard work of Mission Interpreters trained by Bob Shebeck, former staff of Global Ministries. I was raised in a family where my mother was a "CWF lady" and told me stories of missionaries, mostly straight out of World Call Magazine. As an adult, Disciples Women's ministries built within me a sense of critical presence through global ministry as foundational to Disciples identity. However, a virtual pilgrimage is not the same as any of those experiences.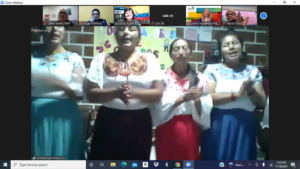 What a gift I received in being able to touch Ecuador in a new and closer way – finally MY turn to go to Ecuador "virtually in person." The concept of minga learned from Blanca on her many journeys to the United States, already had me primed to experience Ecuador/FEDICE through the community lens of people working together for the good of all to accomplish building of resource, capacity, and hope. I have seen minga in my other travels with Global Ministries visiting with our partners in person in Zimbabwe and Cuba.
My experience with a virtual pilgrimage is not so much one story but more like a series of snapshots. Here are some of mine from this minga with FEDICE….
Having faces and voices to go with staff and officers of the FEDICE board such as Hugo, Marco, Carmen, Sebastian, Cosme, Segundo, and so many others. Many of these people have been known to me in the stories that came home from Ecuador through my family and friends and through the wonderful media FEDICE creates to share their amazing story;
Experiencing the power of testimony from people involved in the development projects, small businesses and day care centers that change lives daily in communities working together;
Hearing Segundo sing a song dedicated to Victor Vaca, a person whose vision, along with Violet Vaca, made this pilgrimage possible years after the founding of FEDICE by nurturing relationships that drew Ecuadorians and North Americans together with respect and care;
Watching women dance late one evening with infectious joy, their work of abundance made witness;
Enjoying the early stories of Violet and a few women dreaming and starting small projects that grew into an effort that now serves 700 families – reminded that power and vision often build one conversation at a time – which is why these pilgrimage conversations matter so much;
Seeing FEDICE create loan funds to build community capital rather than loaning individual people money to serve themselves alone, thereby building community resilience and cohesion;
Observing the making of healing waters from vegetables and herbs to maximize health, watching traditional wisdom move step by step in creating these medicines for proactive health;
Learning how to make cuy on the grill and watching Blanca watch herself eat it with glee.
Touring an eco-tourist project, and getting caught up in the vision of sharing the beauty of the natural resources of Ecuador, catching a glimpse of the whole project being realized piece by piece, board by board, solar panel by solar panel;
Hearing testimonials about the work of those that distributed supplies to assist families impacted by COVID-19 and earthquakes and how the community built in this way continues to strengthen people;
Appreciating the presence of our Global Ministries staff with us on the virtual pilgrimage, wise, connected, and passionate about their ministries, including the soon retiring President Julia Brown and incoming President LaMarco Cable and our leaders, Lorna Hernandez and Angel Rivera, as well as all of our "fellow pilgrims" from a wide geography;
Having a conversation with a woman driving a car while video chatting with us on her way home from work – realizing how much she wanted to connect and how the world has changed so that we could have those moments of interaction;
AND the repeating over and over "God will repay you" when expressions of gratitude were spoken.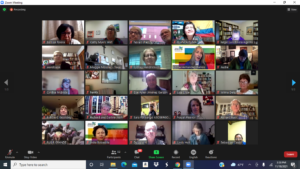 When I string together all these experiences, and many more, like prayer beads on a string, the individual beauty of each moment becomes the miracle of the whole experience. None of the moments make as much sense without the ones before and after.
A week of concentrated time in virtual pilgrimage is different than an hour once a month study, however well intentioned, "about" people far away that we may never meet. Such study invites "them/us language" to dominate the discussion. People not met in person can easily become topics or curiosities instead of partners/friends. Virtual and in person pilgrimages matter so that our "us/them language" becomes "we/us language", which is the first and common language spoken by minga. A video, an article, a one hour presentation by a visitor cannot give context to such a rare and beautiful relationship as can be found in the global church, because something is missing without the "in the moment" heart connection jumping between eyes seeing each other and voices hearing each other.
My dear friend and second mother, Lillian Moir, served in the home office of Global Ministries and in Namibia, Botswana, and Swaziland. She used to tell me that the global church is not held together by agreements or funds passed back and forth, though those parts of relationship help to put flesh around the covenants. Instead, the global church is held together by story and relationship. I agree with her truth.
In the past we did this relationship building with missionaries and fraternal workers coming "home" to travel around to church basements to try to convey the places where they had been doing church– using maps, physical items, and slides/filmstrips. Today, we have technologies that allow us to create narratives and relationships in real time ourselves. Virtual pilgrimages close the distance between people on differing continents and weaves relationships that build the witness of Christ through deep mutuality, not relying on others telling us about each other but by inviting sharing of experience together. We have our own moments of connection through testimony and loving curiosity about each other. My friends in Ecuador were right, God has repaid and paid forward over and over with abundance through our virtual pilgrimage.