Pray with Kenya, June 13, 2021
Lectionary Selection: Mark 4:26-34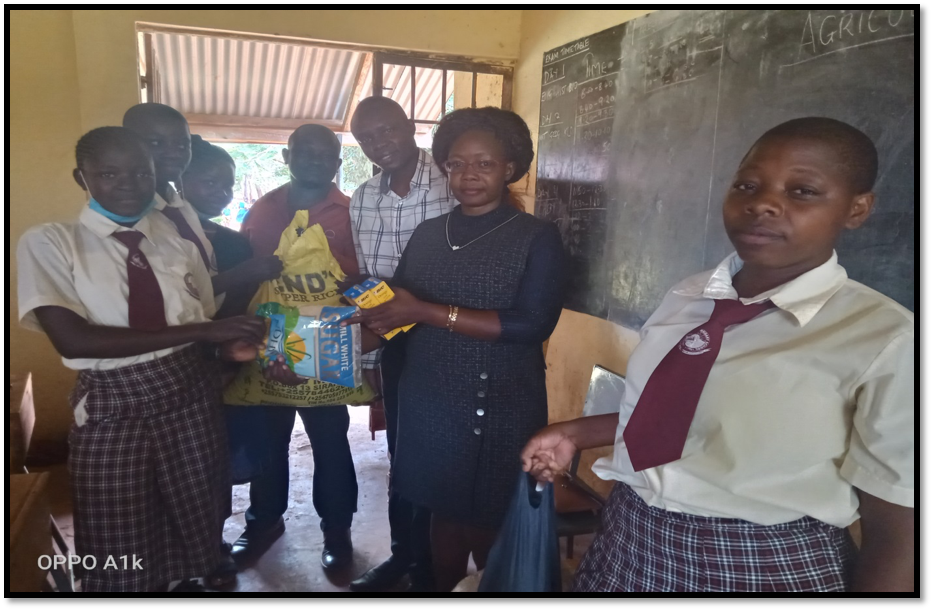 Prayers for Kenya 
God, we are grateful for the work of Diana, the community, and the OAIC in the area of child and adolescent pregnancy. We pray for the young people who have been victims of rape, early marriages, and decisions about their life driven by poverty which lead to pregnancy. We pray as we face massive job loss across Africa, the rising numbers of COVID 19 cases you will be with us and equality will prevail with the distribution of the vaccine. We pray your blessings on the work we are doing as we continue to join in with others to plant seeds of hope in Africa. 
Let's continue to plant seeds of change for a better world.
Mission Stewardship Moment from Kenya
When I think of the work of Diana and her faith commitment, I am reminded of a novel I read when I was in school entitled "A Tree grows in Brooklyn" by Betty Smith. Diana has planted seeds in a rural community called Siaya located in Nyanza Kenya. The seedlings she has planted are of hope, second chance, justice for children and adolescents, and love. Diana was posted in Siaya as a "Ward Administrator." She encountered in this position the enormity of children and teenagers who were pregnant. Teenage and childhood pregnancy is a challenge throughout Africa. The number of children and adolescent pregnancies has increased due to COVID 19 school closing and lockdown. Diana shared with me a quote from her readings and lessons learned: "Community development is a holistic approach grounded in principles of empowerment, human rights, inclusion, social justice, self-determination and collective action (Kenny, 2007)." Children and teenage pregnancy affects the foundational development and progress of society. This is so because teenagers are the future of the community, thus whatever affects them affects the future of the community. The negative impact posited by teenage pregnancy as well as its multi-faceted dimensions also shakes the very core of societal structures such as the Economic pillar, the Social pillar, the Educational pillar as well as the Political pillar.
We need an orchestra approach to the challenge of teen pregnancy each instrument has a significant role to play. This orchestra includes the children/teens, parents, government (laws) the Church (faith community), and community members as a whole working together. Each one plays an essential role. The OAIC is joining hands with  Siaya country in their work on children and adolescent pregnancy. We hope that the work in Siaya can become a model that can be used in other areas of Kenya and adopted all over the rest of Africa.
Here is an example of a seed planted in the life of a young woman by Diana and the community.
Beatrice is a 21-year-old single mother of one who delivered her child as a teenager. She is currently in Form 1 (9th grade) in one of the secondary schools in West Ugenya Ward. When her biological mother died, Beatrice went to live with her maternal uncles where she undertook her studies. However, when she got pregnant immediately after finishing her Primary School Education, (8th grade) she was chased away by her uncles and had to go back home and live with her father and stepmother.
However, coming from a poor background, she was on many occasions forced to take care of her child: food, clothing, medical care, etc. Grappling with the situation under harsh economic conditions, she came across a training program by one of our departments on "life as a teen mother." This ignited in her the zeal of going back to school. Beatrice juggles between the school program and taking care of her child. All these activities see her go to sleep at midnight every day. However, she is happy that she made the right decision to go back to school. She now feels a better future lies ahead.
"You plant seeds every single day, in the world and in others, with every thought you think and word you speak an action you take. You have influence. You're making a dent in the universe and you matter, in a very real way."- Jennifer Williamson
Prayer and Mission Moment by Phyllis Byrd
Mission Partners in Kenya:
Global Ministries Mission Co-worker in Kenya
Rev. Phyllis Byrd serves with the Organization of African Instituted Churches as the Director for the Just Communities Program. Her appointment is made possible by your gifts to Disciples Mission Fund, Our Churches Wider Mission, and your special gifts. Make a gift that supports the work of Phyllis Byrd