Resources for Youth and Children
Whether you are planning a virtual, in-person, or hybrid Vacation Bible School or summer series for children and youth, consider using Global Ministries resources! Engage children and youth in God's global mission and learn more about church partners and their ministries around the world. Each curriculum or resource includes ideas to engage children and youth, such as activities, games, music, crafts, how to cook favorite dishes from around the world, and giving opportunities. To browse a list of several current projects supporting education for children and youth around the world, click here.
All God's Children – VBS curriculum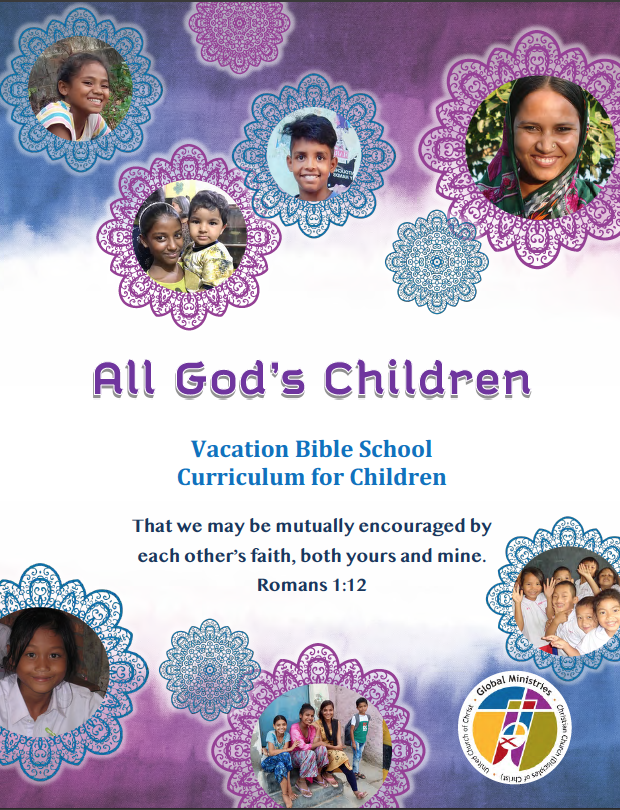 In this Vacation Bible School curriculum by Global Ministries, kids will learn about how we are All God's Children no matter who we are, where we may come from, or what we believe. Students will have the opportunity to hear Bible stories about people who were different from one another but were still able to learn from one another, help one another, or find beauty in their diversity. Kids will also have the opportunity to learn about different places, cultures, and faith traditions present in Southern Asia.
Click here for All God's Children!
Embrace the Fruits of the Spirit – VBS curriculum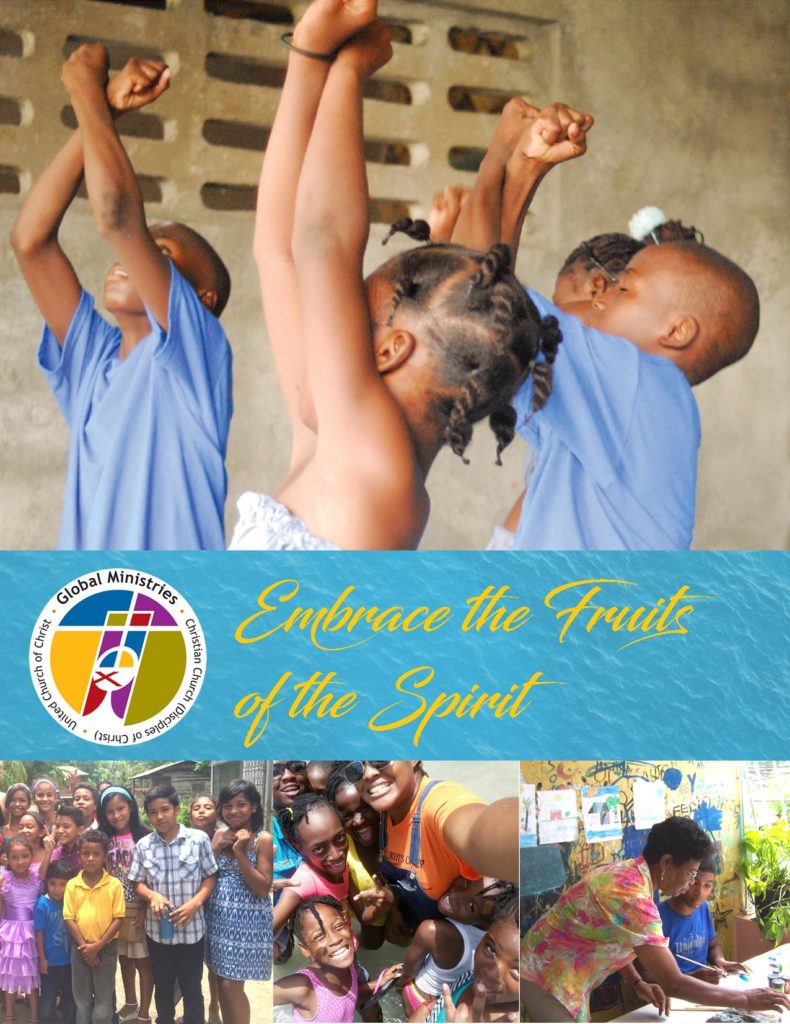 Embrace the Fruits of the Spirit is a children's curriculum designed to help children discover the fruits of the spirit and how to apply them in their daily lives while exploring the Caribbean. In this material, you will meet the children of Cuba, Haiti, Jamaica, the Dominican Republic, and Colombia. See how the children of these countries live out their values in their daily lives.
Each lesson contains a letter from a child in that country, a story from the Bible that demonstrates a fruit of the spirit, a craft, a game, and a song. Connect your children to Global Ministries' Caribbean Initiative and help them see how their faith is connected to real children and real places in the world today. The Bible stories are paired with children today, encouraging children to consider how these lessons apply to their own lives.
Click here to Embrace the Fruits of the Spirit!
Ahlan Wa Sahlan! Welcome – Exploring the Holy Land
Ahlan wa Sahlan: Welcome! is a 10-session children's curriculum designed to help children connect the stories in the Bible to real children who live in those places today. In this material, you will meet the children of Israel/Palestine as you visit Nazareth, Ein Karem, Bethlehem, Beit Sahour, Bethany, Jericho, Nablus, Taybeh/Ephraim, Cana, and Jerusalem. See how the children of these cities find meaning in the stories from the Bible that happened in their hometowns!
Each lesson contains a letter from a child in that city as well as a game, craft, activity, and other supplementary elements such as snacks and storybooks. Connect your children to Global Ministries' Middle East Initiative and help them see how their faith is connected to real children and real places in the world today. The Bible stories are explained in their historical context and encourage children to consider what these stories mean for them.
Click here for Ahlan Wa Sahlan!
Save
Save
READY Youth Curriculum
Are you R.E.A.D.Y!? Ready for a new discovery of yourself, the church, your community, and the world? You and your youth can begin the journey of experiencing mission in new ways with this curriculum created by Global Ministries.
The vision for this curriculum is to enable youth of all ages to re-imagine and redefine their understanding of God's mission. Life is full of crossroads where we must make decisions on how we will engage the world and, most especially, those who are different from us. During this quest, our hope is to challenge participants to broaden their view of their role in the church, community, and world.
Included in this curriculum is a wellspring of information and resources selected to aid you as you journey with your youth. In the four sessions, youth are asked to unpack their prejudices, both conscious and unconscious. They will also be equipped with tools to help them constantly evaluate their world and God's mission.
Kids to Kids VBS Curriculum
The best VBS (Vacation Bible School) are ones that use a learning center model and that are flexible. The following VBS materials are free downloads. All of them are directly related to Global Ministries of the United Church of Christ and Christian Church (Disciples of Christ). All of the "Journey" VBS programs relate to Kids to Kids because they are opportunities for children to learn about and contribute to global mission projects that serve children.
Kids to Kids Project Guides:

Kids-to-Kids VBS Resources:

Other VBS Resources
God's Love is Everywhere
God's Love is Everywhere! is a multi-year VBS program, written by a former Global Ministries missionary, which helps children visit a different mission site each day. The last day of VBS is a study of the local congregation and their mission and outreach projects.
Special Giving Opportunities for VBS and Summer Camp Programs
Activities
World Resources Simulation Game
This game explores the disparity of resources distribution around the world.
Children in International Mission
Ever wonder what it's like to be a kid of international missionaries? Hear first hand from kids who grew up living abroad and consider themselves "global citizens."
Fold Paper Cranes for Peace
Read the special meaning of origami cranes and how your group can send them to the Children's Peace Memorial in Hiroshima, Japan.
Chinese Moon Festival
Celebrate the Chinese Moon Festival on September 21 with sweet moon cakes and paper lanterns. From Douglas and Elizabeth Searles who served in China.
The Chopsticks Game
Using chopsticks isn't easy! This fun game comes from the Searles, a missionary family who lived in China.
Plan a Youth Mission Day
Gather for an exciting day of Mission! This site shares a sample game plan for a youth mission day. Use any part of it as you plan your own youth mission day.
Ideas for Bible School Teachers and Camp Counselors
"Are My Hands Clean?" Fair Trade Activity
Whether we mean to or not, when we purchase goods and services we support the businesses that produce, deliver, and sell them. As a consumer, our choices directly or indirectly sustain the industries and practices that go into making the products we buy.
Child & Elder Sponsorship
Child & Elder Sponsorship
The Global Ministries Child Sponsorship Program is the place to get connected! You, your Sunday School Class, Youth Group, and congregation can participate in sponsoring a child from one of the Global Ministries partner centers. This global children's ministry works closely with private centers that have long-established links with a UCC or Disciples global partner. Through partners, we work in collaboration with our agencies to provide food, basic health care, clothing, and in some cases housing, school fees, uniform, books and training, and livelihood opportunities to many poor and destitute children in Asia, Africa, the Caribbean, the Middle East, and Europe.
Global Ministries Videos
Global Ministries YouTube Channel
Learn About Another Country